Establishing a social network and experiencing a genuine sense of belonging contributes significantly to a smooth academic transition. There are a wide range of initiatives students can get involved in to help meet like-minded people outside their programmes of study. The information below is generic – you can find school-based ideas in the good practice section of this Toolkit (in the thematic summary  and on the good practice spreadsheet – see the Connectedness & Belonging sections of each document). See also the university's Connect & Belong initiative (awaiting link).
STaR Mentors (Students Transitions at Reading)
Every new first-year undergraduate student is allocated a STaR Mentor, a fellow student in their second or third year of study as a helping hand and someone who can offer reassurance, support and advice from a student point of view. They signpost mentees where necessary, but it is also comforting for new students to be able to ask trivial questions they may be hesitant to approach staff members with. STaR Mentors will contact their mentees at the start of the academic year to introduce themselves. If a student needs help accessing their STaR Mentor, you feel they would benefit from a Mentor to talk to, or if you have any questions please email: starmentors@reading.ac.uk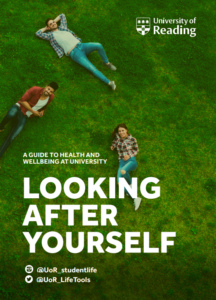 Looking After Yourself
Student Well-being Services has a booklet
:
Looking after yourself,
designed to provide students with key information to help them self-manage their transition to university. It is for all new and returning students. It also provides information on resources they can access during the academic year.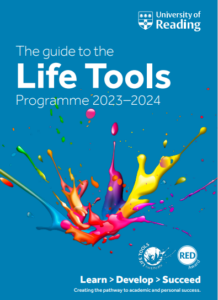 Life Tools programme
The Life Tools programme is a psycho-educational training programme. It is part of the Student Wellbeing Services' proactive strategy to support students in managing their transition to university and throughout their studies. The aim is to provide the knowledge and skills contributing to students' ongoing personal, academic, and professional development. Students can access the Life Tools blog, covering topics related to the talks/webinars. For a list of the topics covered in the programme, see the link on the Life Tools page on Essentials, or click on the brochure to the right.
This year, we will do talks during Welcome Week, and we will continue to provide our talks as webinars during the year. They are about 45 minutes long, including time for questions about the topic. Topics are related to doing well academically and keeping well, for example, preventing procrastination and productivity, sleep, managing pressure and building confidence.
Student Events
If a student wishes to find out about events happening on campus, which they could join to meet other students, all events across campus are listed on our Essentials: Student Events page. We know that all students have different interests and preferences for the types of events they are looking for. Events which do not include alcohol are clearly marked.
Get-Togethers

&

Socials for Under-Represented Student Groups
During Welcome, Reading SU host a variety of student Get Togethers. In addition, the Transition and Retention Team host socials for different under-represented groups. These give students a safe place to meet like-minded peers  and form connections. Some socials continue throughout the term and initial sessions can be found on the UoR Welcome App.  
BAME Students' Get Together

 

Women's Students' Get Together

 

LGBTQ+ Students Get Together

 

International Students Get Together

 

Disabled Students Get Together

 

Mature Students Get Together 

 
Welcome Student Socials  
Mature Students

 

Students who are parents

 

First Generation/ First in Family to go to University

 

Commuter Students

 

Students who are under 18

 

Care Leavers, Care Experienced & Estranged Students

 

University Sanctuary Scholars

 

Students with Caring Responsibilities 

 
RSU have begun publishing tailored information for underrepresented groups (awaiting link) 
Reading Students' Union Societies
Reading University Students' Union has over 80 societies and 50 sports clubs. All of these are student-led and provide another great opportunity for students to engage and meet fellow students. Full list of clubs and societies.