Reading graduate Hilary Withey's dedication to helping people is evident to see through both her career in social work, and her voluntary role with Amnesty International. Hilary speaks to CONNECTED to share her journey and to invite you to participate in a poetry competition for social justice.
Having originally studied English Literature at university, Hilary went onto have a career in English Language Teaching (ELT). But with her children growing up, she decided it was time for the next challenge – a move which took her into the mental health profession and led her to Reading.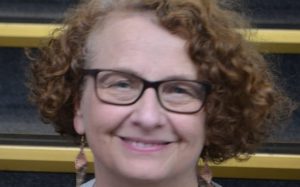 Hilary said: "I've found that a lot of people who work in mental health either have their own experience of mental health problems, or know somebody else – perhaps family or friends – who have suffered. For me, it was one of my good friends who had schizophrenia who inspired me to move into the profession."
Hilary began working for Wokingham Council in their mental health services, before they sponsored her to study social work as a mature student at the University of Reading.
She said: "The course at Reading contained lots of practical elements – for example, people would speak to us about their experiences in the care system and we were able to undertake observations of children.
"I enjoyed the degree and learnt many values I carried into my career as a social worker. We had a diverse mix of people on the course, from many different backgrounds, which offered different perspectives to study, and I formed some wonderful friendships.
"However, I don't think anything can truly prepare you for the intensity of social work."
After graduating from Reading, Hilary worked for the NHS and Wokingham Borough Council's Crisis/Home Treatment Team, before moving into the main Community Mental Health Team where she worked on longer-term cases. She reflected:
"A career as a social worker is very rewarding, but also very intense and emotional.
"For example, I would visit somebody and I had to decide whether I believed they would still be there the next day, or whether they were a risk to themselves. Especially in the Crisis Team, there is a lot of out-of-hours work where you have to constantly think about how you can do your best to keep these people safe, and you need to be able to think fast on your feet."
Taking action
Despite being busy with work, Hilary knew she wanted to dedicate some of her time to a voluntary organisation where she could try and change things for the better. She chose the Reading Amnesty International Group, who describe themselves as active, ordinary residents with a common passion for human rights in the UK and around the world.
Hilary said:
"I've always believed that if you don't do anything, then nothing's going to change. I decided to get involved with Reading Amnesty International because I felt their beliefs and values chimed with mine, and I've been volunteering with them for eight years now."
Hilary attends monthly meetings which are currently held online during the pandemic. She tells CONNECTED more about Reading Amnesty International's activities, and how COVID-19 has impacted their work.
She said: "We often have speakers on people's areas of interest at our meetings. For example, I have organised a presentation about the forced disappearance of individuals in South Asia, and asked group members to join me in campaigning against these actions. Our campaigning ranges from writing emails and joining petitions, to sending letters and organising fundraising activities. We also organise public events to raise awareness such as plays and films.
"Our meetings and the issues we focus on are member-driven, which means we cover a huge range of topics relating to human rights.
"For example, just before lockdown in February 2020, I was working with a group of Nepalese women in Reading to organise an event about Nepalese women's human rights – both in the UK and in Nepal; and we have another person in the group who campaigns for the abolition of the death penalty, so she brings actions on that topic to the group.
"During the pandemic we have managed to keep going virtually, but I miss the friendship and interactions you get in a face-to-face group. Lockdowns have also thrown up new issues as well as exacerbating existing human rights problems, such as domestic abuse and migrant worker conditions, giving us new directions to focus our efforts on."
Creating change through poetry
Hilary is now looking for aspiring poets around the UK who are passionate about human rights, and wish to lend their voice to the social justice movement.
She explained: "There's a little group of four of us from Reading Amnesty International who are leading on organising this poetry competition, which is part of the Amnesty Festival of Social Justice that is taking place across the region.
"Ultimately, we hope this competition will help raise awareness of the many human rights issues people are facing, and to encourage anyone interested to join our group. Poetry can be a powerful tool to spread the word and you can voice things more effectively through poetry, or indeed any art forms as opposed to lecturing people."
The deadline for poetry submissions is 23 April 2021, and there is a category for 16-17 year-olds and a category for adults. The theme is on social justice and human rights, and Hilary is keen to encourage as many people as possible to join in across the UK.
There will also be a virtual finale event held on 27 May 2021, 18:00 – 20:00 (UK time).
Hilary explains:
"An Evening of Poetry for Social Justice will include readings from the winners as well as from our judging panel, which includes well-known published poets and University of Reading lecturers, Professor Peter Robinson and Dr Yasmine Shamma.
"Volunteers will also read poems written by people imprisoned for their beliefs who aren't able to read their own work. Poetry benefits from being spoken, and this will hopefully make the event quite lively."
There is no entry fee for the competition, and prizes include a place on a choice of poetry courses.
Find out more information or submit your entry.
The Reading Amnesty International Group welcomes new members and anyone interested is welcome to attend their monthly meetings. Find out more, or contact Anne McFarlane to get in touch.