As you will have seen if you've been to the Earley Gate side of campus recently, we've been making some improvements to the shared paths there. Widening them to allow more space for cyclists and pedestrians to share space safely. The improvements in this location are a direct result of your feedback in previous Travel Surveys, that this was the spot that concerned the largest number of respondents.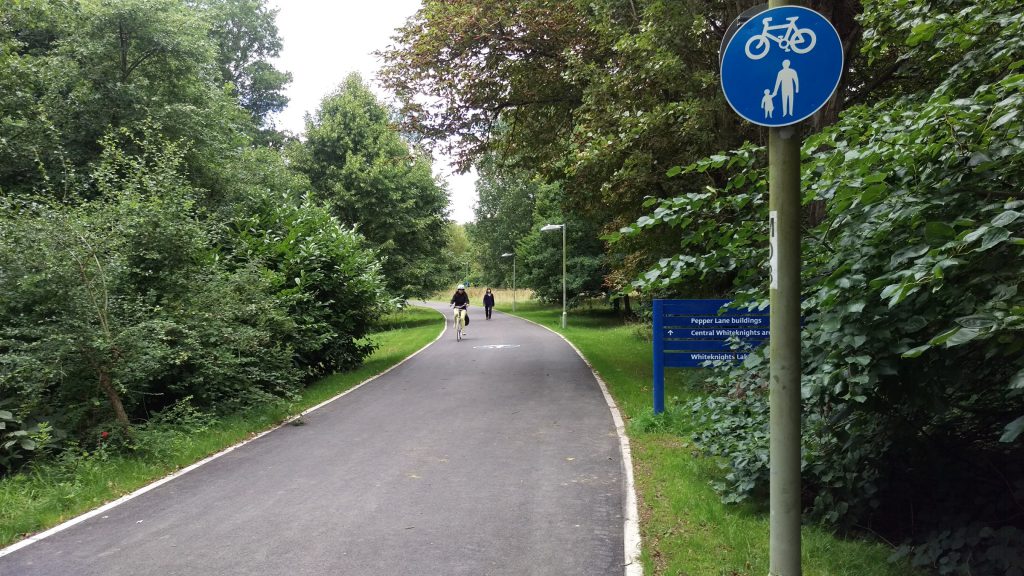 This work forms the start of a programme of improvements to routes on campus. We hope you managed to view and comment on our proposals for Campus Routes and Quads development in the consultation earlier this year.
Why not segregated paths?
We have opted to widen paths for shared use, rather than provide segregated routes. This decision was based on recommendations from our consultants, based on an assessment of the usage levels of the routes, and is in accordance with current guidance for heavily used routes. (See below for links).
Reports suggest that while people often express a preference for segregation of pedestrians and cyclists, it doesn't always perform well in practice, particularly where there are larger groups of pedestrians and where pedestrian movements might be at variance with the linear paths taken by cyclists. The reports note that larger groups of pedestrians tend to disregard segregation techniques, rendering them ineffective.
The conclusion for Whiteknights Campus was that a fully shared surface would provide a better environment than attempting to define segregated spaces which would need to be crossed frequently. By comparison, a level wider surface gives users a better opportunity to navigate past one another without conflict.
Our intention is to provide sufficient space for all path users to share the space safely. We will continue to monitor the situation and your feedback.
For those interested in further reading:
DfT Guidance on share use routes, including LTN 1-12 and the 'Operational Review' report
https://www.gov.uk/government/publications/shared-use
A literature review for Wales Govt at: http://www.sustrans.org.uk/sites/default/files/file_content_type/phil_jones_associates_report_-_september_2011.pdf
A more recent feasibility study for the Royal Parks.
https://www.royalparks.org.uk/__data/assets/pdf_file/0003/63165/Shared-Use-Cycle-Paths-Feasibility-Study_FINAL_ISSUED-reduced.pdf