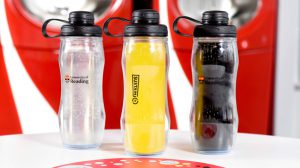 Spearheaded by the Catering and Bar team at the University they identify that the Sustain It bottle was a way to reduce the waste generated from plastic bottles consumed across our Whiteknights and London Road campuses – previously around 650,000 bottles a year!
We were pleased to announce the launch of the Sustain It bottle back in September 2017. The bottle uses innovative technology to offer a customisable range of drinks, in a reusable bottle.
This being the first university outside of the United States to introduce this model, that offers a reduction in our single-use plastic waste plus being able to offer students and staff an increased range of drink options as well as dispensing water freely.
The scheme has been overwhelmingly successful with 132,705 plastic bottles being diverted away from waste for the period of September 2017 until April 2018. This equates to over 3.2 tonnes of plastic a massive achievement to stop plastic going into waste streams.
Catering continues to deliver a range of other sustainable activities which can be found on their website Sustainable Catering page.