The University has again been awarded a '1st Class' rating in the latest People & Planet Green League for its environmental and ethical performance, ranking 28th out of 154 institutions in the scheme.
People & Planet, an independent student campaigning network, reviews the environmental performance of higher education institutions across the UK in 13 topic areas.  They award degree-style classifications for their overall environmental and ethical performance, based on publically available data, both from institutions' own websites and Higher Education Statistics Agency data.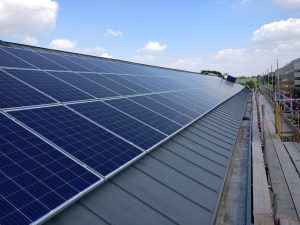 Reading scored top marks for its environmental management and auditing systems.  It also performed well in the Policy, Resources, Energy Sources and Carbon Management categories. In the areas of Ethical Investment and Education for Sustainable Development, the league highlights the University has more work to do to keep up with its peers.  The University is currently re-tendering its investment services, with the new contract intended to have a much greater emphasis on ethical investment.
Dan Fernbank, Energy & Sustainability Manager, said "It's great to see the University retain its 1st Class award in the People & Planet league for another year. This is the most high-profile review of universities' environmental performance.  Whilst we should celebrate another solid performance, we must also recognise the need to address those areas in which we are performing less well."
Whilst such league tables provide a useful benchmark of performance, there are inevitably some limitations too.  In the Carbon Reduction section, the University scored unexpectedly low compared to the previous year – only scoring 50% rather than the previous 100%.  This is largely due to the way the carbon intensity score is calculated.  A particular spike in the University's income (due to some land sales) in 2016 has adversely affected this score, as it compares year-on-year changes in carbon emissions relative to 3 metrics, including income.
The University recently reached a landmark 40% reduction in its carbon footprint, and is developing plans for how to reach a net zero carbon position in the years ahead.