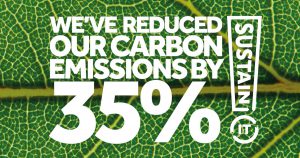 The University aspires to be a leader in reducing its impacts on the local as well as global environment, by embedding a culture of sustainability throughout its teaching, research and operations.
We are a sector leader in reducing our carbon emissions, and have won multiple national energy efficiency awards.
As a large organisation with a large carbon footprint, in 2011 the University Executive Board (UEB) recognised the need to set an ambitious target to cut the University's carbon footprint, setting a 35% reduction target compared to the 2008/09 academic year. The scope of the target includes all buildings under our operational control (plus on-campus halls of residences), business travel, waste, water and refrigerant gases.
As a result of a significant programme of investment, totalling over £4 million in energy efficiency initiatives specifically, as well as influencing major capital projects to consider energy efficiency, we delivered on our 35% target in late 2016, reducing our annual carbon emissions from 44,000 tonnes of CO2 in 2008/09 to just over 28,500 tCO2 per year. Not only have we seen these significant carbon savings, we've saved £17 million in energy over the 5 year period giving a saving of over £4 for every £1 spent specifically on energy efficiency. We've also seen the comfort of buildings increase as heating systems are improved and lighting systems replaced. This has increased staff and student satisfaction, improving the work/study experience.
Led by the Sustainability Services team in Estates & Facilities, the University's carbon reduction initiatives are split across several key areas:
Electricity Improvements
Heating and Ventilation Improvements
New Energy Centre & District Heating Network
Wider Sustainability
Better space utilisation
Halls redevelopments and efficiency
UK emission factors
Find out more about our next reduction targets.