Building on success
In 2016, the University met its ambitious 5-year target to cut its carbon emissions by 35% against a 2008/09 baseline.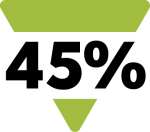 To align with both the current 2026 Estates Strategy and the overarching University Strategy, the next milestone will be 2021, with a target of achieving a 45% absolute carbon reduction against the 2008/09 baseline. The University has also set an aspirational target of 50% absolute carbon reduction by 2026.
These will be challenging targets in what is expected to be a period of sustained growth for the University, but also achievable with the appropriate investment and the right management.
Included in this target are all University operated buildings, halls of residences, business travel, waste, water and refrigerant gas emissions.
We have also cut our non-residential water consumption by 26% since 2011, and have set 'base' and 'stretch' targets of 30% and 35% respectively by 2021.
Why is it important?
The University has ambitious growth plans for the coming years. Without intervention, this is likely to result in a significant increase in the University's carbon emissions. This has implications for energy costs but also more widely in terms of reputation and the University's impact on the environment.
The University is a leader in climate change research, low carbon building design and environmental studies, and strives to deliver strong environmental as well as financial sustainability in its operations. Continuing to manage our carbon emissions effectively therefore remains a priority.
The higher education sector as a whole is struggling to deliver against its ambitious targets to reduce its carbon emissions by 43% by 2020, and so delivering the target 45% emissions reduction by 2021 will confirm our position as one of the leading universities in this field.
Find out more
Read more detail about our ambitious plans in our Carbon & Water Management Plan 2016-2021.