Building on success
In 2016, the University met its ambitious 5-year target to cut its carbon emissions by 35% against a 2008/09 baseline.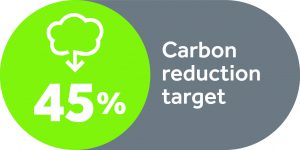 To align with both the current 2026 Estates Strategy and the overarching University Strategy, the next milestone will be 2021, with a target of achieving a 45% absolute carbon reduction against the 2008/09 baseline. The University has also set an aspirational target of 50% absolute carbon reduction by 2026.
These will be challenging targets in what is expected to be a period of sustained growth for the University, but also achievable with the appropriate investment and the right management.
Included in this target are all University operated buildings, halls of residences, business travel, waste, water and refrigerant gas emissions.
We have also cut our non-residential water consumption by 26% since 2011, and have set 'base' and 'stretch' targets of 30% and 35% respectively by 2021.
Why is it important?
The University has ambitious growth plans for the coming years. Without intervention, this is likely to result in a significant increase in the University's carbon emissions. This has implications for energy costs but also more widely in terms of reputation and the University's impact on the environment.
The University is a leader in climate change research, low carbon building design and environmental studies, and strives to deliver strong environmental as well as financial sustainability in its operations. Continuing to manage our carbon emissions effectively therefore remains a priority.
The higher education sector as a whole is struggling to deliver against its ambitious targets to reduce its carbon emissions by 43% by 2020, and so delivering the target 45% emissions reduction by 2021 will confirm our position as one of the leading universities in this field.
Find out more
Read more detail about our ambitious plans in our Carbon & Water Management Plan 2016-2021.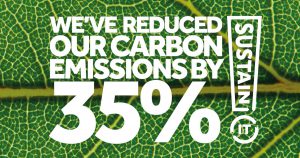 The University aspires to be a leader in reducing its impacts on the local as well as global environment, by embedding a culture of sustainability throughout its teaching, research and operations.
We are a sector leader in reducing our carbon emissions, and have won multiple national energy efficiency awards.
As a large organisation with a large carbon footprint, in 2011 the University Executive Board (UEB) recognised the need to set an ambitious target to cut the University's carbon footprint, setting a 35% reduction target compared to the 2008/09 academic year. The scope of the target includes all buildings under our operational control (plus on-campus halls of residences), business travel, waste, water and refrigerant gases.
As a result of a significant programme of investment, totalling over £4 million in energy efficiency initiatives specifically, as well as influencing major capital projects to consider energy efficiency, we delivered on our 35% target in late 2016, reducing our annual carbon emissions from 44,000 tonnes of CO2 in 2008/09 to just over 28,500 tCO2 per year. Not only have we seen these significant carbon savings, we've saved £17 million in energy over the 5 year period giving a saving of over £4 for every £1 spent specifically on energy efficiency. We've also seen the comfort of buildings increase as heating systems are improved and lighting systems replaced. This has increased staff and student satisfaction, improving the work/study experience.
Led by the Sustainability Services team in Estates, the University's carbon reduction initiatives are split across several key areas:
Electricity Improvements
Heating and Ventilation Improvements
New Energy Centre & District Heating Network
Wider Sustainability
Better space utilisation
Halls redevelopments and efficiency
UK emission factors
Major developments
The University's Estates Strategy to 2026 sets out a commitment to build all new buildings and major refurbishments to the BREEAM Very Good environmental standard.  Currently, this includes:
The Science Park Gateway building - which achieved a BREEAM Very Good Certificate in May 2018
The Library refurbishment (completion due 2019)
The Health & Life Science Building (completion due 2019)