Blackboard Assignment: When should I use 'Save Draft' when marking?
Saving a mark for an attempt as a draft means you have not finished marking and you would like to come back to it before being revealed to the student.
Using 'Save Draft' is useful to keep assignments listed in Control Panel > Grade Centre > Needs Marking. For:
Named assignments: this is helpful so you can easily go back to an attempt.
Anonymous assignments: this allows you to re-locate a specific attempt ID without having to scroll through all attempts in the Grade Centre.
Please see our guide on Accessing Blackboard Assignments for more information.
Access the Assignment Submission
Access the Assignment as usual from the Blackboard Grade Centre (or the Needs Marking View). Please see our guide on viewing and accessing Blackboard assignments if you are unsure.
Save and return to a paper
1. When ready to save and leave a paper, expand the 'Grading Panel' located under the ATTEMPT by clicking the 'show/hide grading panel arrow'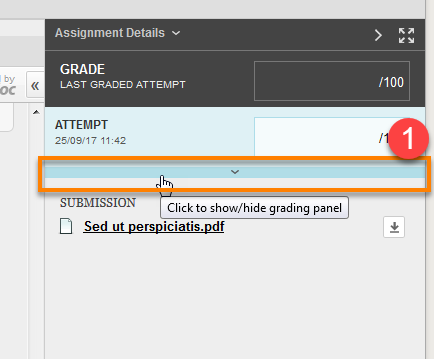 2. There you will see the option to Cancel, Save Draft or Submit.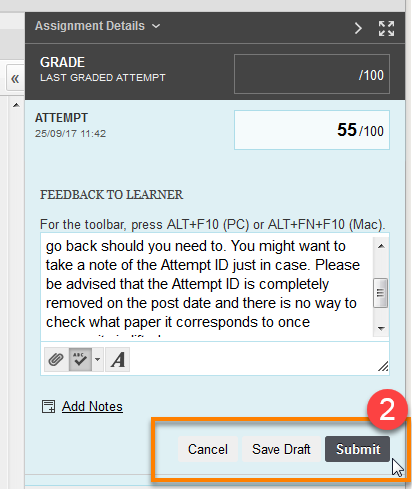 3. Click Save Draft. The page will then refresh and bring up the next attempt to be marked, if any are available.When you have finished marking a paper and do not want to return to it, click
4. Submit. The page will then refresh and bring up the next attempt to be graded if any are available.



If you Save Draft the attempt will still show up in the 'Needs marking' section.



If you Submit the attempt will no longer appear in 'Needs Marking'.


Please note that if you are marking an anonymous assignment, it can be more difficult to go back to a specific paper should you need to. Make a note of the Attempt ID so you can identify it again.

The Attempt ID is temporary and only visible before anonymity is lifted so you can only use it for reference before the date is reached when anonymity is removed. After that the student's name will be shown and the Attempt ID will disappear.