Blackboard: Creating Discussion Forums
Setting up the Discussion Board in your course
You can add Discussion Boards as a tool link in your Blackboard course. On the course navigation menu:
Hover over the Add Menu icon (+)
Select Tool Link
Give the link an appropriate Name
For Type choose 'Discussion Board' from the drop down list and click Submit
The Discussion Board tool link will now appear in the left hand course menu. Click the link access the tool.
Set up Forums in your discussion board
Once you go into the Discussion Board, you will see there are two grey buttons at the top of the course area ('Create Forum' or 'Search'). Click Create Forum to begin a new discussion topic, or Search to browse the Forums you have previously created.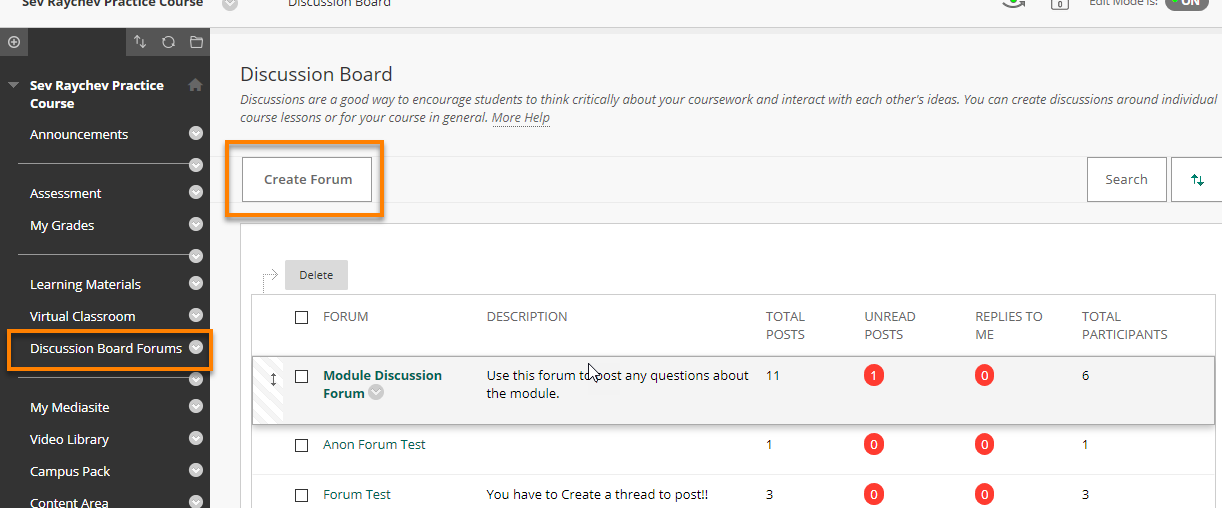 Give the new Forum a Name and a Description
The next option is to Set the Forum availability

You can make the forum available right away, by clicking the 'Yes' radio button.
Or you can Enter Date and Time Restrictions, to set a specific date and time for release
You can also set an end date; the forum will become unavailable after this date.

Set the Forum Settings

Viewing Threads/Replies

Standard View – All content is visible to everyone enrolled on the course
Participants must create a thread in order to view other threads in this forum


If participants are required to create threads in order to view other threads in the forum, they cannot delete or edit their own posts, and cannot post anonymously.

Grade

No Marking in Forum – is the standard option, where marking options are not enabled
Grade Discussion Forum – allows you to grade posts based on the whole forum

You will need to set the maximum number of points
You can set a grading notification after a number of posts have been made
You can set a due date for the posts to be made by

If a Due Date is set, submissions are accepted after this date, but are marked 'late'.

Grade Threads – Allows you to grade members based on individual threads inside the forum

Grade Threads will automatically turn off 'Allow Members to Create New Threads'.

Subscribe – Here you can choose to let students subscribe to threads or whole forums and decide what content will be emailed to the students in the notification emails.
Create and edit – The options here concern the posts members can make. You can allow them to be anonymous, allow editing and deletion of posts, allow file attachments, and allow users to quote other posts in their replies.
If you select to enforce moderation , you will need to approve every post before it becomes public.For further information, check our guide on Moderating Discussion Board Forum Threads.
Additional Options

Post Tagging – This allows you to add tags to the posts inside a forum to make them easily searchable (Please see our guide on Post Tagging and Searching for more details)
Post Rating – This enables the Post Rating system for members to use and give other posts a rating which is then displayed