Learning Science
What is Learning Science?
Learning Science is a resource library of interactive virtual lab simulations, videos, guides and worksheets relating to common STEM topics. It is particularly useful for helping students prepare for laboratory classes or developing student lab skills remotely. University colleagues can deploy the resource library in their Blackboard module. It is also possible to request preloaded 'Smart Worksheets' and bespoke worksheets, at an additional cost (liaise with your DTS business partner prior to requesting).
Before deploying Learning Science library resources, check they align with your expectations of content and approach.  You can check by having a go yourself!
Below is a screenshot displaying a typical simulation resource and accompanying scenario/question: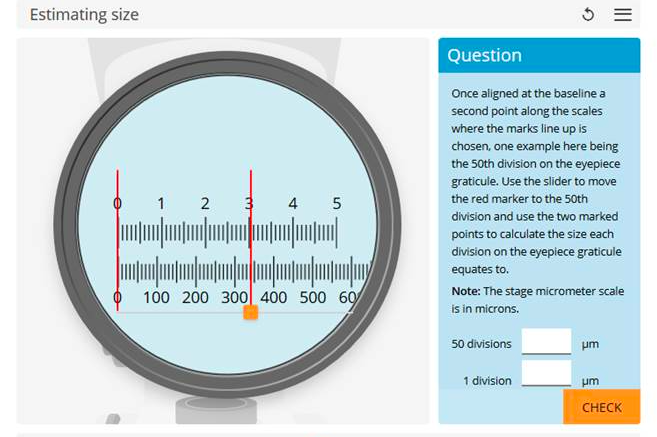 Availability
Learning Science is available via an annual license; whilst the licence is active all University of Reading staff can access Learning Science and deploy content in their modules.
Learning Science cannot be used by students in China (NUIST) or University of Reading Malaysia (UoRM).
University of Reading colleagues can deploy Learning Science resources in their Blackboard module using Blackboard Instructor, Teaching Assistant or Course Builder permissions.
To get access to Learning Science content (for deployment in Blackboard) you need to contact Learning Science directly to register as a University of Reading user.
Benefits
Resources can be embedded into Blackboard (see 'How do I browse the Learning Science resource library and deploy content into a Backboard module?' below).
Grade Centre integration for non-credit bearing formative assessment (see 'Can I use Learning Science for Assessment?' below)
An extensive library of online interactive pre-lab resources available to support students encountering common challenges in teaching laboratories. Students can explore a wide variety of laboratory techniques and equipment, topics include standard laboratory techniques such as:
*Setting up equipment
*Taking accurate measurements
*Analysing data
*Understanding risks and working safely
Bespoke and/or ready-to-use 'Smart Worksheets' covering a wide range of essential calculation practice and data analysis activities ('Smart Worksheets' are pre-loaded with auto generated data for students to analyse, and cover a broad range of disciplines across bioscience, chemistry and maths). Worksheets are supplied at an additional cost (speak to your School DTS business partner prior to requesting from Learning Science).
How do I browse the Learning Science resource library and deploy content in a Backboard module?
It is advisable to review and deploy selected resources rather than allowing students access to the entire Learning Science library (students are likely to disengage where many irrelevant resources are available).
To review and select resources, go to learningscience.co.uk/resources.
Learning Science provides a link to selected resources (you will need to register first using your university email – do not use your university password when signing up to Learning Science).
Deploy links to the resources in your Blackboard module. To deploy links in your Blackboard module, go to Build Content > Web Link. Create a weblink and tick the Tool Provider box (see screenshot below).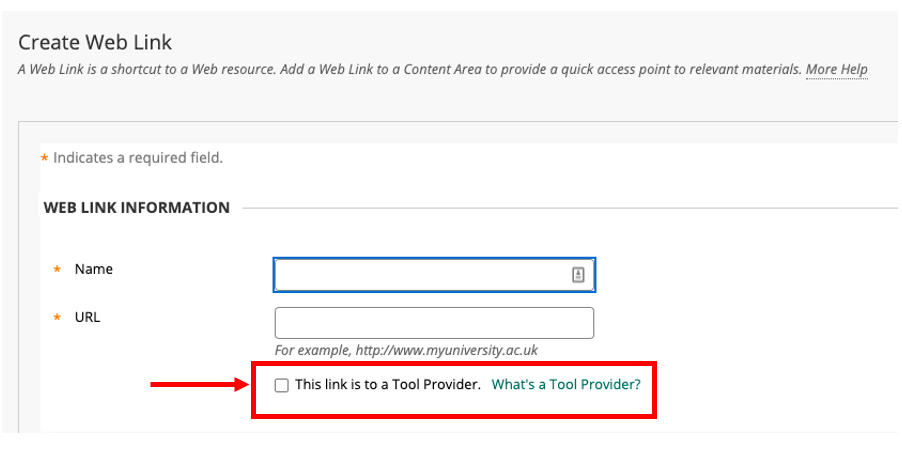 *When deploying web links, you can place into content folders or create a new course menu link (please use naming convention 'virtual labs' or 'Learning Science' for institutional consistency in course menus).
*When students select the web link in Blackboard, the Learning Science content will open within the Blackboard module page.
Considerations and limitations:
Who do I contact if I have a technical issue?
There is no University support for technical queries relating to use of the tool, please contact Learning Science directly for queries. If you wish to purchase additional features from Learning Science (such as custom worksheets) contact your School DTS business partner.
Can I use Learning Science for assessment?
Learning Science is primarily used for informal formative assessment activities.
Do not use Learning Science for summative or formative assessment:
Any student successfully completing a task gets 100%, even if they needed prompts or several attempts (within the simulation) to do it correctly. All students will likely score 100% (Learning Science is better utilised as an engagement tool or self-assessment resource).
Answers may have already been seen by students when studying other Blackboard modules (content is available for deployment in all Blackboard modules).
The University does not provide service desk support for student queries/technical issues regarding Learning Science – for example, if students experience a system timeout when using the resource and subsequently experience data loss (i.e. input answers).
Availability is restricted to duration of the annual license (at time of writing, this is paid for by select Schools, however, any staff member can access with their University credentials). In the event the license expires/is not renewed, Learning Science would turn off access and none of the links to activities would work at that point. However, any scoring that had previously been sent back to GradeCentre would remain in place as a record of achievement.
Students do not receive a submission receipt (however, they will see a GradeCentre mark if using LTI GradeCentre integration.
Recording student interaction with Learning Science
There are several options to record student interaction with Learning Science:
Enable tracking on Learning Science content items, or
Insert Learning Science library resources into Blackboard Tests; however, availability is subject to duration of the annual license, meaning that Learning Science content may become unavailable at a future date, or
Purchase bespoke and/or ready-to-use 'Smart Worksheets' (contact your School DTS business partner prior to purchase).
Request an 'assessment' (GradeCentre LTI integration) from Learning Science to automatically record scoring in the Blackboard module Grade Centre. See below for details.
Important points when using Learning Science 'assessment' (GradeCentre LTI integration):
Contact Learning Science directly to request, they will provide an assessment 'item' for you to embed in your course,
The assessment 'item' will generate a new column in the Grade Centre to record scoring, please inform your programme administrator of its presence.
Specify multiple attempts allowed (to mitigate the lack of University technical support available) and score using the highest attempt.
Student must 'submit' to push marks to GradeCentre. If needed, contact Learning Science to force complete assessment and push unsubmitted responses to GradeCentre (*note: this will close any further attempts by all students).
Manually hide column in grade centre, until ready to release 'scores' to students.
Can I get course reports about usage of Learning Science in my wider programme?
It is advisable to enable content tracking for each Learning Science resource in your Blackboard module to see usage reports relating to your module. To request further reporting, contact Learning Science directly.
Learning Science personal data and privacy advice
You need to contact Learning Science directly to create an account. You will be asked to provide basic details such as name and email address. Do not use your University password when creating a Learning Science account.
Your students do not need to sign up to use Learning Science, it is available via their Blackboard module when activated by Blackboard Instructor, Teaching Assistant or Course Builder roles.
You are responsible for managing your Learning Science account, directly on the Learning Science website via the customer service team.
Staff registering to use the Learning Science license will be subject to accepting terms and conditions; and understanding Learning Science Privacy Policy
In the event the license expires/is not renewed, Learning Science will maintain the data on their systems for as long as required by GDPR.
Does Learning Science meet accessibility standards?
Learning Science 'LabSims' meet accessibility standards in some ways:
Perceivable – No 2D scrolling, no text in images, semantic HTML, alt text, text resize, non-reliance on colour to transfer meaning, effective contrast, adaptable orientation.
Operable – No flashing content, no time-limited content, keyboard navigation, assistive technology (screen reader).
Understandable – Readable, Predictable UI, consistent navigation, consistent identification.
Robust – Appropriate and accurate HTML, UI components have name, role, value.