MS Stream: Batch Uploading Videos
Teaching and Learning video content for 2022/23 onwards should be stored in Yuja.

Stream Groups will not be created for Blackboard courses in 2022/23, and Stream should not be used for new Teaching and Learning content after 10th July 2022.

For updates check the TEL website.
Microsoft Stream allows you to upload multiple videos in one go. The videos are queued and upload one at a time.  This can help you upload multiple videos directly into to a course group for a Blackboard module and permissions will automatically be set.
Batch Uploading Videos
Select or drag your video into the upload screen. Once any video is uploading you can add or drag and drop more videos in to the upload screen. You can set your video language and add any permissions as well.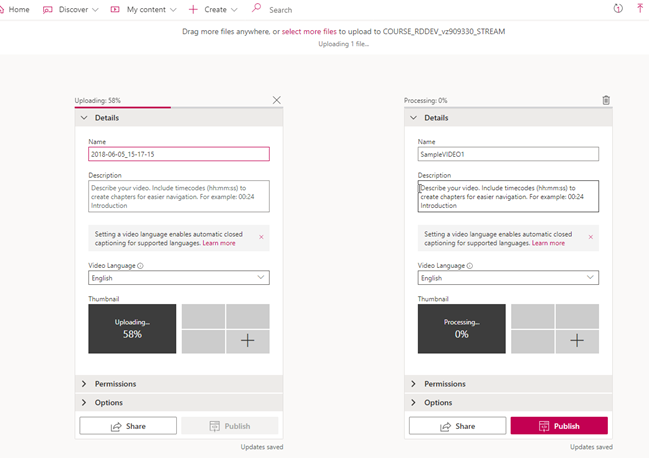 Batch Uploading Videos To Your Course Groups
Where all your videos are for the same Course group (Blackboard Module) you can add multiple videos to the group at once.
In Microsoft Stream go to My Content > Groups and select your group.
Click on Upload video and then keep adding the videos you need to.

The uploaded videos will automatically be associated with the Blackboard Module course group and visible to your students.
This can be useful if you have pre-existing videos on Blackboard, or stored elsewhere, you would like to transfer them Microsoft Stream so they are more accessible for your students.