Blackboard: Using the Library Liaison role
Introduction
Subject Liaison Librarians are assigned admin privileges in Blackboard, providing you with the ability to self-enrol on courses within the School or Department with which you work.
The privileges have been granted in order that you can
·        advise on copyright compliance in relation to PDFs uploaded to Blackboard, where necessary
·        provide updated links to scans made available via TADC
·        add links to online Reading Lists on Blackboard modules, if assistance is needed.
Once enrolled on a course, you have Instructor privileges, but clearly you should limit your activity within the Blackboard course to Library-related matters, and should not make changes to a course without having discussed this with the Module Convenor or other member of the teaching team.
The Library Liaison role is assigned at 'domain' level. In most cases this equates to a School, except in SPEIR and SACD where each Department has a separate domain. This means that you are able to search for and enrol yourself on any Blackboard course categorised as belonging to that School or Department.
Searching for courses
Go to the Admin from the Blackboard menu.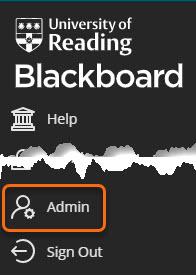 You have limited access to admin functions. The only area you need at present is Courses.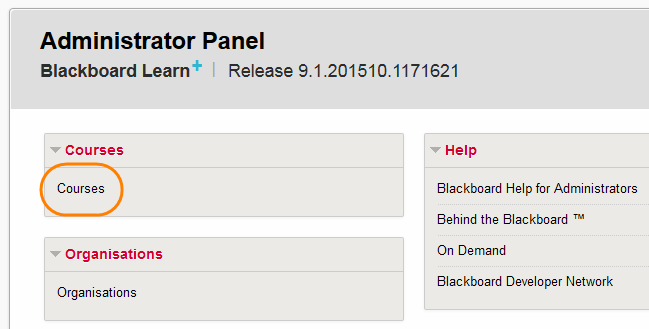 The course search defaults to Course Name.
Enter your search terms and press Go.

The search automatically truncates – so a search for 'develop' will automatically return results for 'developing'. 'development' etc.
You can also
·        search by Course ID (i.e. Programme or Module code)
·        change 'Contains' to 'Equal to', 'Starts with' or 'Not blank' (this will bring up all courses in your domain)
·        restrict your search to courses created before or after a certain date – useful if you want only courses created for the current academic year.

There is no advanced search facility, but you can sort search results by any of the column headings e.g. by course name, course code, or date created.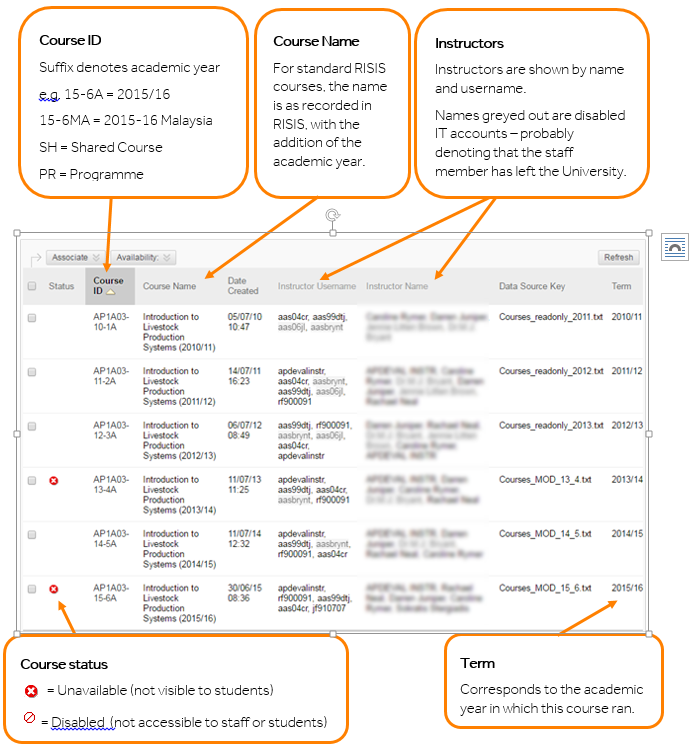 How to Self-enrol on courses
Having found the course you need, click on the course ID to go to the course.

You will now almost certainly see some kind of warning or error message – don't panic!
Simply click on the Quick Enrol button below the course menu.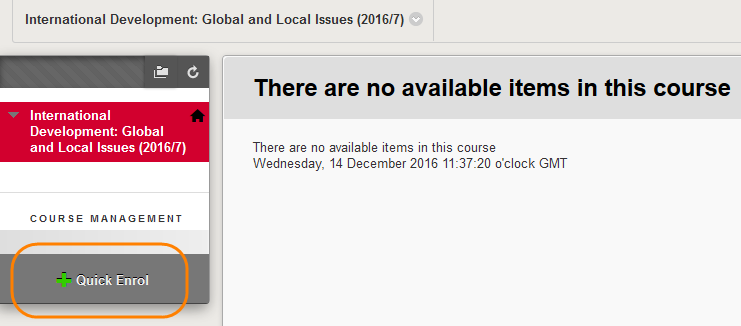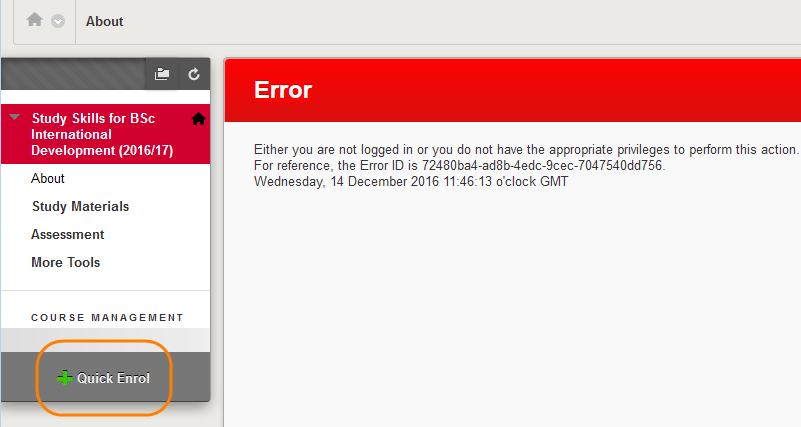 You will see a pop-up message – click OK.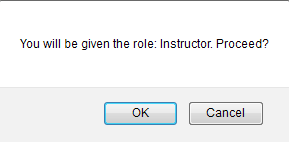 You are now enrolled on the course, with instructor privileges.
Changing your role in a course
The most appropriate course role for non-teaching staff is actually Teaching Assistant, but
·        the Quick Enrol option always enrols you as an Instructor
·        Instructor is the only course role which gives you editing control over Talis Reading List links in Blackboard.
If you do want to change your role you can do this by going to Control Panel > Users and Groups > Users.
Find your user record – use the search box above the user list, remembering to change the default 'Not Blank' to 'Contains'.
Hover over your username, and click on the chevron to get the contextual menu. Choose Change User's Role in Course.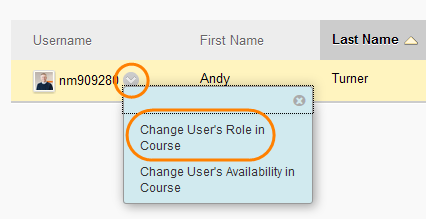 Select the new role from the list and press Submit.
You are able to change your role from Instructor to Teaching Assistant and vice versa.
To remove yourself from courses
Simply click on the Quick Unenrol button below the Control Panel.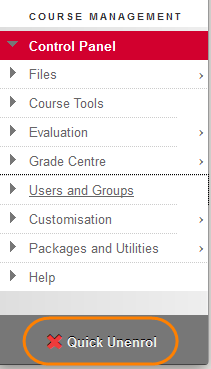 You will see a warning message:

In most cases there is no problem saying OK – this will not delete any content you have uploaded to the course, or Talis links you have created. It will anonymise any contributions you had made to Discussion Board forums, Blogs, Wikis, Announcements etc.