Introduction
You can record a Collaborate session so you or your students can watch it again. This is useful if some students aren't able to take part in a session at a specific time.
IMPORTANT: If you record sessions please read the guidance below about what you need to tell your students and copyright limitations on any materials you can show within the session.
Recording your Collaborate session
Please see How to record your session (Blackboard Help site).
Accessing Collaborate recordings
Please see Access your Collaborate recordings
How to comply with Data Protection and Copyright Law when recording sessions
Data Protection
University staff are required to inform students that sessions are being recorded at the beginning of the session before recording begins.
It is recommended that students have the space to ask questions in the parts of the session that are not being recorded, for example, at the end of the session.
Staff should be aware that where individuals (staff and students) are identifiable within recordings the requirements of the Data Protection Act will apply.
Queries or issues arising in respect of Data Protection should be referred to Information and Management Policy Services (IMPS) imps@reading.ac.uk
Copyright
Recordings are for internal University use only and should not be publicly shared, disseminated or otherwise made available to the public via other means (for example YouTube).
Students are also advised that recordings remain the property of the University and are not for wider publication, however staff should be aware that residual risks remain where it is technically possible to share linked content or record sessions on other devices.
For this reason:
Bb Collaborate should be regarded as a public environment (so no expectation of privacy – recordings are disclosable) and,
The University's licence agreements permitting some sharing from published resources via Blackboard / Talis do not permit any sharing within Bb Collaborate recordings.
Queries or issues arising in respect of Copyright should be referred to copyright@reading.ac.uk
Suggestion: If you need to share published resources you can ask students to look at these separately and open them from within the Blackboard course during the session.
Guidance for students
You can signpost your students to the following guidance: Recorded sessions – legal guidance for students.
Anonymising chat messages in a recording.
Tick the 'Anonymise chat messages' box under Session Settings, when creating a scheduled session. The names in chat are removed from the recording of the session and is replaced with generic placeholder names.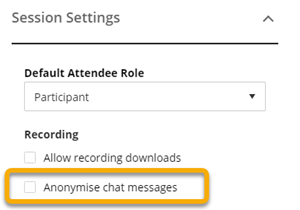 Privacy settings for Collaborate recordings