What is a Video Library?
The Video Library is a catalog which displays all videos available in your Blackboard Module.
You must create a 'catalog' for your course by creating and opening a 'Mediasite Catalog' link.
This creates a unique Video Library, displaying selected videos you have specifically associated to the module.
The library gives a quick overview of all videos linked to the Blackboard Module.
Creating a Video Library for your Blackboard Module
To create a Video Library for your course, you must create and follow a 'Medasite Catalog' link.
To create a Video Library, first create a 'Mediasite Catalog' Tool Link in the content menu of your Blackboard Course. You will need to do this for every Blackboard Module you wish deploy videos to.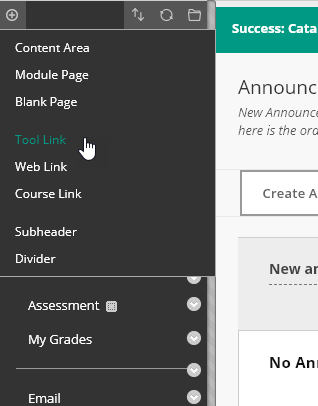 Select Mediasite Catalog from the drop down menu.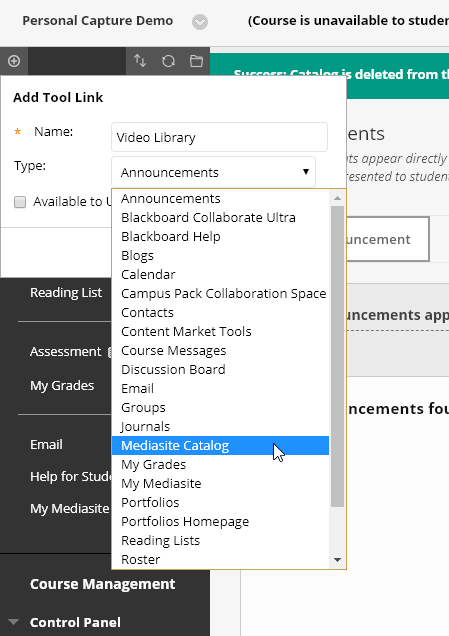 Press submit to create the Tool Link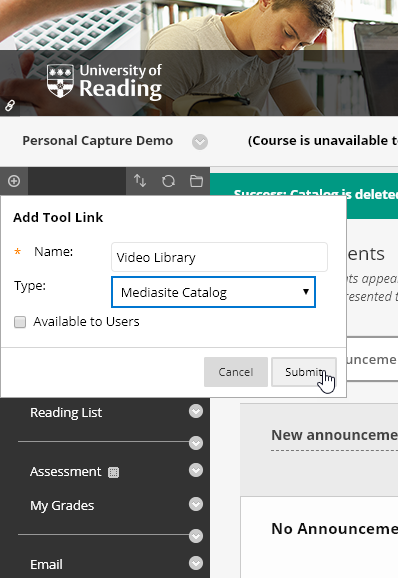 The new link will be created at the bottom of your course menu. Click the link to create your Video Library.

It may take a few moments for Mediasite to load. Once your Video Library has been created, your Module's Blackboard Course ID will display in the top left of the screen.

Once you have created a Video Library for each of your Blackboard modules, you will be ready to associate videos with them.
Please note:
If you wish to deploy a video in another area of your Blackboard course, you can do so using an embed code. The embed code is available via the Video Manager link.
All videos are automatically set to 'hidden' – to allow students to play your embedded video, or the copy stored in the Video Library, you must set the status of videos to 'viewable'. This is done in the Video Manager link.
The Video Library link can be hidden from students if required (please consider how else students can view the videos, such as embedding).