This post is useful for academics and professional staff who use MS Stream with Blackboard modules. 
Removing a Group in Stream – Please don't click Delete! 
Staff are inadvertently deleting Groups in Stream when they are trying to prevent themselves from seeing unwanted Groups.
Do not click 'Delete' for a Group in Stream that is connected to a Blackboard course. This:
deletes the Group entirely.
removes students from the Group, so that they lose all access to videos that had been shared with the Group.
prevents academics from adding permissionsfor new videos.
Note: DTS can restore the Group and permissions to the videos but the automated feed can take 24 hours to return access.
Do not ever select this option!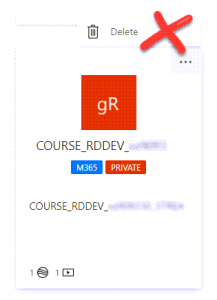 How do I remove a Stream Group I don't need to see?
Membership of a Stream Group is based entirely on who is enrolled on the Blackboard course. The only way you can remove yourself from a Group in Stream that is connected to a Blackboard course is to set your enrolment in the Blackboard course to 'unavailable'.
Important: This will also remove you from the Blackboard course and you cannot add yourself back, so only use this if you also no longer need to be on the Blackboard course.
Follow the steps in this guide Removing yourself and colleagues from a Blackboard course.
What is the best way to find the Stream Group I need?
If you have a long list of groups, the easiest way to identify the relevant Group for your Blackboard course is to go into Blackboard, click on the Microsoft Stream menu item and click the link to 'Open Stream to view videos for this module'. This opens the Group in Stream.
Currently, Stream does not have any options to order or favourite Groups.