What is the Ultra Base Navigation?
Ultra Base Navigation (UBN) is the name given to the new design and navigation within Blackboard, before you enter a module or organisation. Module and Organisation menus, tools and content are unaffected by this update.
Benefits
UBN has a modern, simple, accessible design and is fully responsive for difference devices.
It helps you and your students find and locate what you need more easily.
This update is the next step in moving to the new version of Blackboard called Ultra.
When is Ultra Base Navigation happening?
The move to UBN took place on the evening of Monday 9th August, 2021.
For guidance on finding your way around the new interface please see
What's new!
A simplified global navigation menu on the left-hand side of the screen gives you and your students immediately access to the most important features.
An Activity Stream shows personalised upcoming and recent activity across all of the Modules and Organisations you are enrolled on, in a single place.  This can be a due date for an assignment, an announcement or newly uploaded learning materials. You can jump directly into a module from an item listed in the Activity Stream.
The Courses page has been designed to make it easier to navigate and find your modules. They are listed by academic year (referred to as Terms by Blackboard) and can be searched, filtered, and displayed in different ways. You can also favourite Modules.
Organisations have greater prominence by being part of the main menu. The School & Department Tab (Portal Pages) is being replaced by Organisations. (See below for more information.)
The Marks page (referred to as Grades by Blackboard) gives you quick access to mark coursework across modules. Students can use this to view their marks and feedback.
The Profile page allows you to add a profile picture and customise the notifications you want to receive in the Activity Stream, by email or on the mobile Blackboard App.
The Help provides a focus for guides for using Blackboard and links to University Central Services. This replaces the School & Department Tab (Portal pages), which are disappearing. See below for more information on how Organisations will be used to replace the School Tab.
Video overview
This 5 minute video gives an overview for staff of Ultra Base Navigation,
School and Departmental tabs (portal pages) is not a feature in Ultra Base Navigation (UBN) and is being replaced using Organisations. This transfer needs to be completed before 9th August.
Over the last few years, CQSD TEL have been working with portal administrators in programme administration teams to reduce reliance on School and Departmental tabs in Blackboard and move towards the use of Organisations (often called a "Briefcase") to share School / Departmental / Subject / Programme-level information. The move to UBN completes this process. School tabs will completely disappear from the interface.
Organisations have numerous advantages over Tabs in Blackboard, not least the fact that new content and announcements in organisations trigger notifications to students, organisations are accessible via the Blackboard mobile app, and students are able to use Ally to access content in a variety of alternative formats.
CQSD TEL are working with specific staff involved in maintaining School Tabs, including Programme Managers and Senior Programme Administrators in Support Centres, to ensure that:
All required Organisations are in place (in most Schools this is already the case).
Information currently provided via a School tab is transferred to the appropriate organisation(s).
Redundant Organisations are removed.
This move provides an opportunity to review the existing content and improve how key School information is presented and communicated to students.
The update being introduced in August 2021 only affects Blackboard's opening pages, main navigation and how your modules and organisations are listed, but otherwise Blackboard module and organisation menus, tools and content are not affected.
Disclaimer: These screenshots are for illustrative purposes only and the final design may differ from what is shown. TEL and DTS are currently testing Ultra Base Navigation.
Activity Stream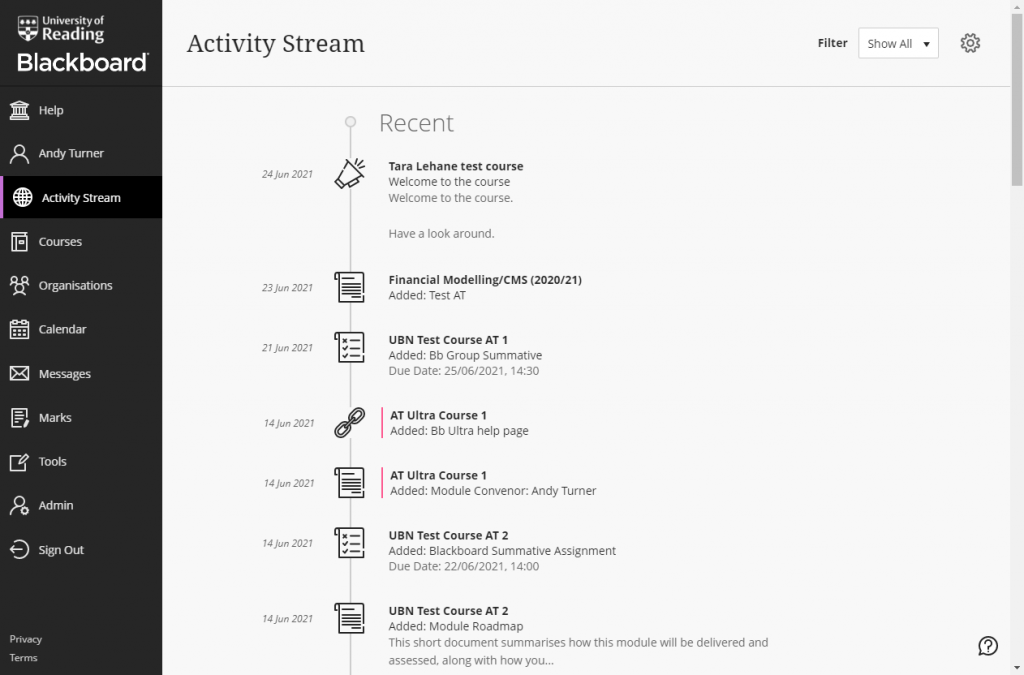 Help Page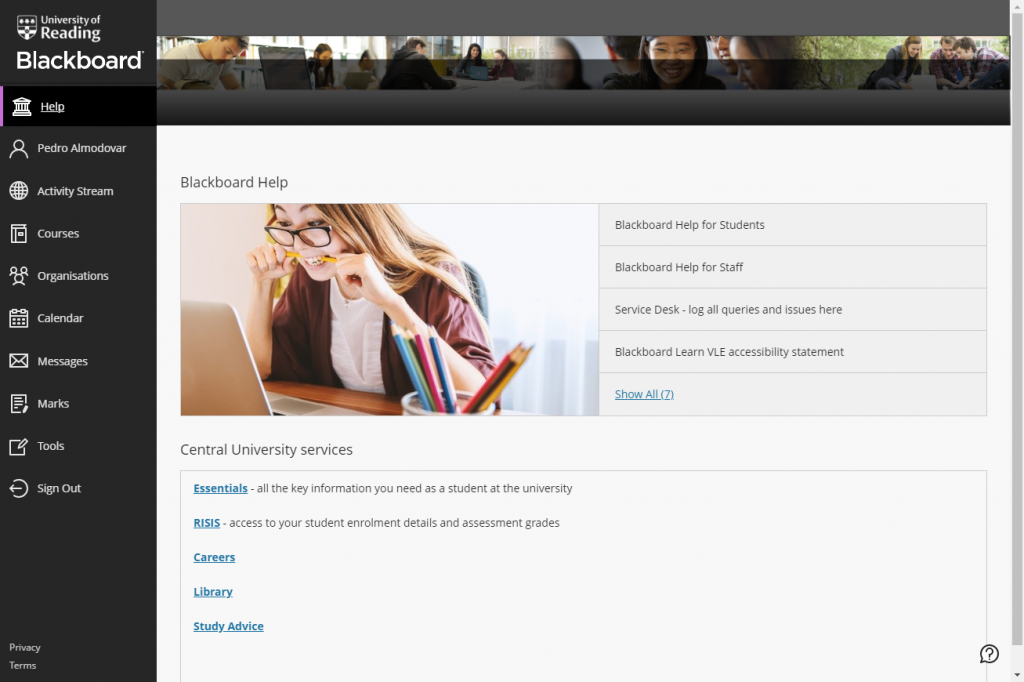 Courses Page
List view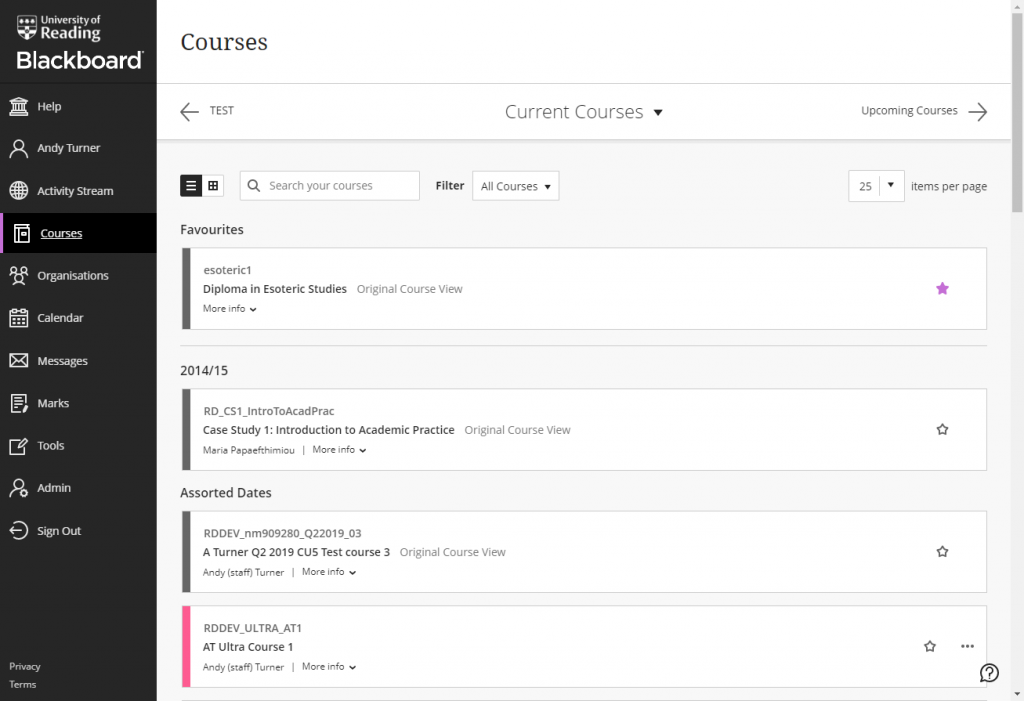 Tile view