We have identified a set of 12 use cases for Blackboard Collaborate that would provide maximum benefit and value across the University, regardless of discipline. These use cases are defined within the context of the University of Reading, and are based on our requirements. They can be categorised broadly to:
enhance Provision
provide extended Support
facilitate Delivery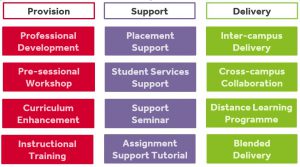 Aligned with this is a set of generic approaches that as focus on suitable session types, including small group seminars, mentoring, group work and workshops.
Session types
Lecture and guest lecture
Disseminate content or explore a topic. Incorporate active learning techniques. Offer Q&A using chat. Collate the questions to be answered at key points during the lecture. Let students vote online using polls.
Invite external speakers using the guest link to share their professional experiences or different perspectives on topics.
Revision sessions
Revisit key topics in preparation for exams. Use polls to test understanding and identify gaps in knowledge. Use Q&A to provide advice on areas of concern.
Lecture review
Extend the opportunity to consolidate learning following a face-to-face lecture. Allow students to come together and discuss the key concepts from a lecture with their peers a short time after the lecture has happened. They can use the virtual classroom to share notes and agree the main / supporting ideas from the lecture.
Online group work
Groups tackle set tasks during teacher-led sessions using breakout rooms. Students provide peer support in separate planning / task / support / revision groups outside of scheduled sessions.
Group or individual student presentation
Students deliver online presentations for formative assessment and peer review or as follow-up to feedback. Use the recording feature to watch again. Use chat to collate questions and comments.
Small group seminar
Enable a group to meet together for a session. Offers a convenient way to bring learner together – perhaps before the start of a module or during vacation periods, for international cohorts, professionals working off-site, mature students, learners with a disability and distance learners. Use the web camera to promote group cohesion. Encourage student to student interaction in chat. Invite students to use their microphones and speak to each other.
Individual tutorial
Enable a student to have one-to-one contact time with you. Provide equality of opportunity for those students who are unable to come onto campus to meet you at particular times or who are overseas.
Student support and skills workshops
Provide guidance or support to learners. Use visuals, chat, audio and application share.
Placement mentoring
Remain in contact with students when they are on placement to provide responsive support or assistance. Build and maintain students' relationship with the University while they are away. Bring students together to share their experiences. Use video and audio for tutorial discussions.
Virtual office hours
Offer the opportunity to for students to contact you or ask questions at times when you or the students are not on campus.
Instructional training
Demonstrate software or processes to students using the application share feature. Or use a flipped classroom model to invite students to watch a recording or video before attending the virtual classroom session, where they work on tasks and problem-based learning. Use breakout rooms for different tasks or problems.
Online conference / event
Deliver your conference sessions entirely online to allow people to join remotely. Use file share to upload presentation slides. Use chat for Q&A. Attendance is not limited by physical room size and location. Attendees can join from anywhere in the world.
Meetings (Webinar)
Meet online with colleagues and students in a different location. Use the whiteboard for collaborate work. For simple meetings use the chat, audio and video features.
Blended delivery
Use the virtual classroom to allow students at different locations to join a face-to-face session being taught in a physical room. This could include students studying at our international campuses, partnership institutions, students studying similar topics but on different modules or courses.