Resources for Academic Tutors who will play a crucial role in supporting students' academic transitions, into university and between years.  
Striking the right tone in meetings, signposting students to appropriate sources of support, and helping students identify their strengths and weaknesses are all vital in ensuring students feel confident in starting the next part of their university career. 
To help Academic Tutors do this effectively, the following resources, along with all the other information in this Toolkit, may be useful: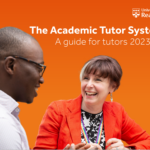 Guide for Academic Tutors, 2023-24 
Suggested meeting outlines/topics 
Guide to running Welcome Week tutor meetings
Document with other useful links for tutors
There are also a number of documents and links that you may want to share with your students: 
Meeting guidelines and downloadable guide 
Please also encourage all your first year tutees to complete the online Study Smart course. (Direct link to course: Study Smart 2023 link)
There is a self-reflection section on the back of the certificate where students can rate their confidence in some of the key academic skills covered in the course. Academic Tutors could start a useful conversation with their students by asking to see these at meetings.