Closing the Feedback Loop
Why close the feedback loop?
In an era where both excellence in Teaching and Learning, and enhancement of the Student Experience are gaining greater prominence in the HE sector, it is not surprising that universities are increasingly seeking the views of their students on a wide range of aspects. Nor is it surprising that students increasingly expect transparency around the outcomes of evaluation processes (Spiller, 2011). However, as Tsirchart and Pratt-Adams (2019) identify, students are often unaware of the outcomes of their feedback; students who have provided their views often move on without seeing the results of their feedback, while incoming students often don't know what changes have been made. Failure to close the feedback loop can create a climate in which students do not value the evaluation process which can lead to declining response rates, poor student engagement, lower levels of trust, and general cynicism from both students and staff. (Shah et al, 2017)
Engaging with students in a meaningful way to close the feedback loop also helps in building a sense of community and to improve general satisfaction of the overall student experience. When closing the feedback loop is viewed as a dialogic process then there is potential benefit for both staff and students, as together they are able to work in partnership with a common goal of improving learning (Cooke-Sather et al, 2014).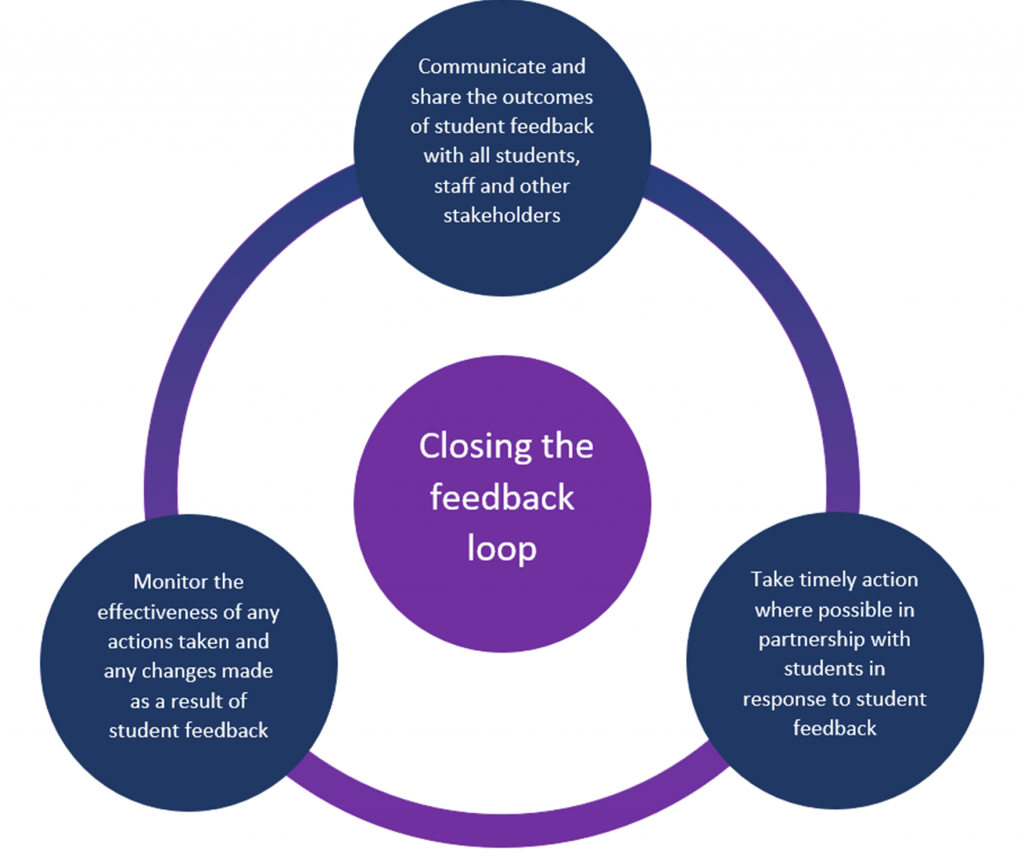 Adapted from Shah et al 2017
References
Cook-Sather, A., Bovill, C., & Felten, P. (2014). Engaging students as partners in learning and teaching: A guide for faculty. Jossey-Bass, San Francisco
Shah,M., Cheng,M., Fitzgerald, R. (2017). Closing the Loop on Student Feedback: The case of Australian and Scottish Universities. Higher Education 74(1) Springer, Dordrecht
Spiller,D. (2011) Student evaluations: do lecturers value them and use them to engage with student learning needs?  Conference paper accessed 20/11/19 from http://usir.salford.ac.uk/16999/ on 20/11/2019
Tschirhart, C., & Pratt-Adams, S.D. (2019). Closing the loops: An evaluation of student-led module feedback at one UK higher education institution, International Journal for Students as Partners, 3(2).