Why have a Curriculum Framework?
Our Teaching and Learning Strategy 2018-21' sets out our two key strategic priorities: To deliver academic excellence and offer students an outstanding learning experience. The curriculum ('what' and 'how' we teach) is central to achieving these priorities.

The Curriculum Framework aims to:

Articulate the distinctiveness of the curriculum and the skills and attributes of the Reading graduate, whilst recognising the primacy of the discipline; act as a catalyst for programme teams working in partnership with students to: take a holistic programme level approach; share existing good practice; and explore creative ways for further enhancing the curriculum.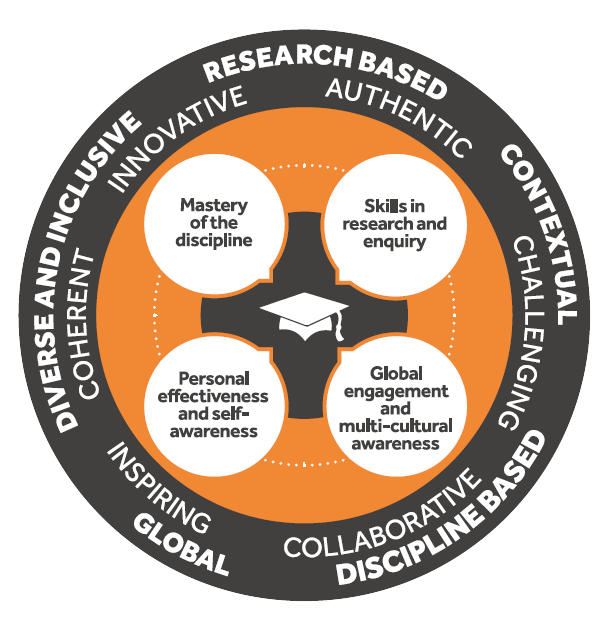 What is the Curriculum Framework?
The University of Reading Curriculum Framework:

- articulates the knowledge, competencies and skills that we want our graduates to attain;

- establishes a set of academic principles upon which our curriculum is based;

- defines a set of pedagogic principles which underpin our curriculum; and

- aligns with processes for programme design, approval and review.
Engage in Curriculum Review: Toolkit & Resources
The 'Engage in Curriculum Review' online guidance and resources are here to support you in curriculum review. The framework will also be used to inform the development of any undergraduate and postgraduate programmes in new areas.

The 'Toolkits & Resources' are here to support you in reviewing all areas of your programme. Toolkits and resources cover all seven key themes of the Curriculum Framework including assessment, feedback, employability, diversity & inclusion, globalisation, research & enquiry and student engagement.

Download The Curriculum Framework document here