Academic Principles
The following academic principles underpin the curriculum at the University of Reading:

Discipline based
The curriculum is based upon the primacy of the discipline/field of study. It enables the acquisition of deep knowledge of one or more disciplines/fields of study, with each articulating the knowledge and skills that its students will attain.

Research based
Students and staff working together within a community of scholars. The curriculum engages students in research and enquiry throughout their studies. Students learn about current research in their discipline/s; engage in research discussions; are equipped to progressively develop their skills in research and enquiry; and pursue their own research and enquiry. They are provided with opportunities to disseminate their research and enquiry.

Diverse and inclusive
The curriculum is designed to meet the needs and be representative of the world we live in, recognising the contributions made by different genders, cultures, races and the perspectivs of/impact on different groups. It is representative of the discipline/s subject matter and the contributions and perspectives of different groups on that subject matter.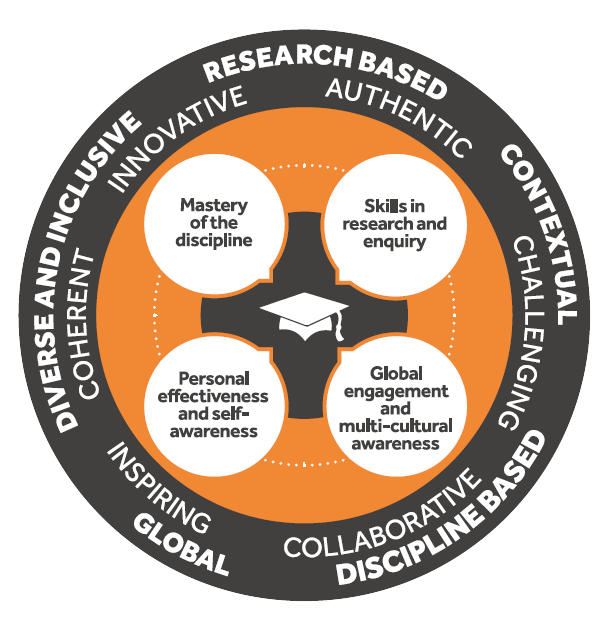 Global
The curriculum is not limited by the scholarly perspective of one culture or country; rather, it is defined by the opportunities it gives students to consider global perspectives on their subject and its application, and to develop intercultural competence.

Contextual
Concepts, theories and ideas are related to the current context so that students gain an understanding of their applicability and use. Students develop an understanding of how knowledge/skills can be applied to real world problems. They develop critical perspectives on current thinking and practice by drawing on theories and wider research.