At Reading, we know that academic success is dependent on having the right support available along the way. For almost 20 years, University donors have given generously and enabled us to develop an effective support programme that bridges gaps and transforms lives.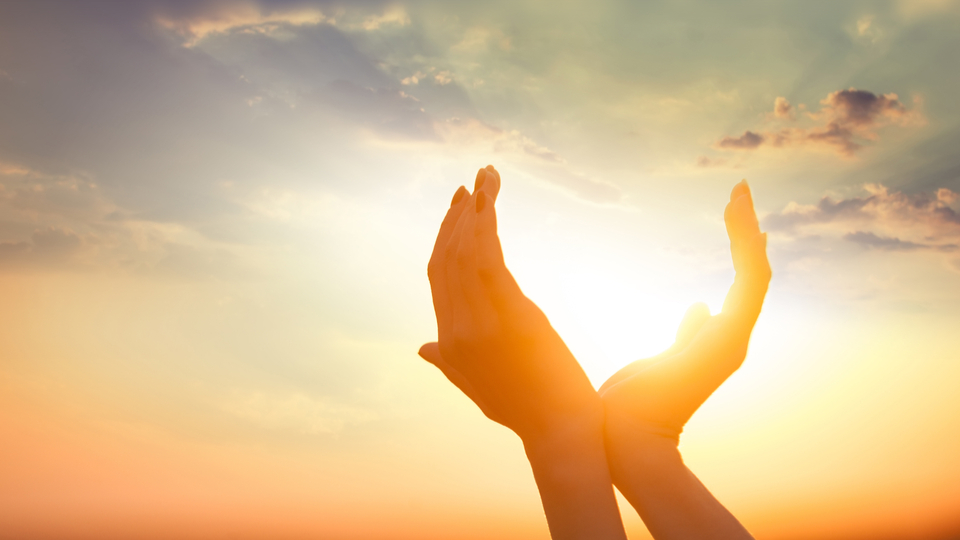 Donors support every stage of the student journey. You can help someone take up their hard-earned place at Reading, make a difference during their course and help optimise their future employability.
Right now, our priority is to support students who have been affected by the COVID-19 pandemic.
Students are facing financial challenges for which they could never have prepared. Emergency requests for help continue to come in daily from students who have lost their income and whose families are unable to help.
We need your help now more than ever.
How your gifts support students through the COVID-19 pandemic:
Today's students rely on paid work to make ends meet. But since the start of the pandemic those vital part-time job opportunities have simply disappeared. Paying the rent and finding money for essentials is now so much harder. Students are now facing financial challenges for which they could never have prepared for.

The Student Support Fund provides emergency grants to students in crisis, when they have run out of other options and dropping out of university is a very real possibility.

Your support will make a crucial difference to a student in crisis.

The sudden switch to online learning at the start of the first lockdown highlighted just how essential access to a laptop and the internet is. Teaching continues to be delivered as a blended model of both face-to-face and online, while social distancing measures are in place. So whether accessing library resources, attending seminars or submitting coursework – everything is heavily reliant on access to a laptop and the internet.

This greater reliance on technology presents a very real struggle for those without their own laptop or a reliable broadband connection. There is a new Digital Support Fund to help the most disadvantaged students from low income households, providing grants for essential IT equipment.

You can help bridge the digital divide, ensuring all students can get online.
"It is really important to me that students have access to fundamental essential equipment to continue their studies. When I was at university all we needed was the library, but now students need access to a laptop and the internet, and they need our help to get it."
Other ways your gifts can help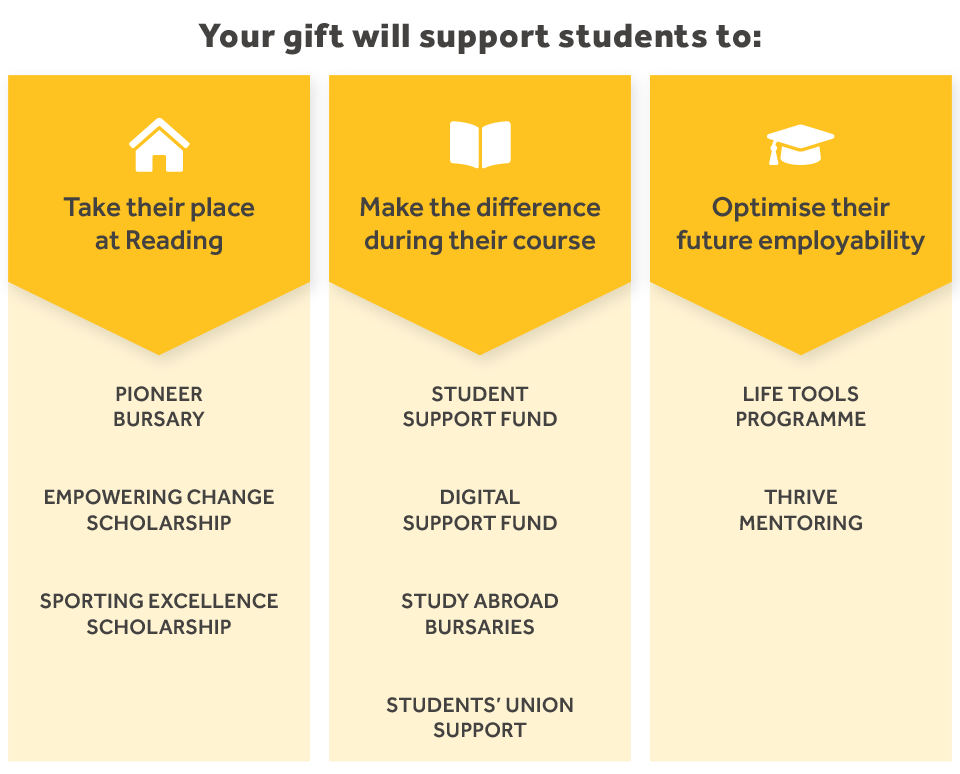 You can help students to take their place at Reading
Family income should never be a barrier to education, but we know that students from low income families in the UK are struggling because means-tested student loans aren't enough to cover day-to-day living costs. The system is disadvantaging those from the poorest backgrounds who feel the impact the hardest.
You can help a disadvantaged student with a Pioneer Bursary support package at the start of their degree.
"My mother served in the armed forces, but has struggled to find work in civilian life, so is unable to support me financially. The Pioneer Bursary has helped me transition to living in Reading and to buy important textbooks. I'm really grateful to my donors for that."
For our international master's students, taking up their place at Reading is especially challenging due to the rising cost of living in the UK, visa restrictions on part-time work, and no access to UK government student loans.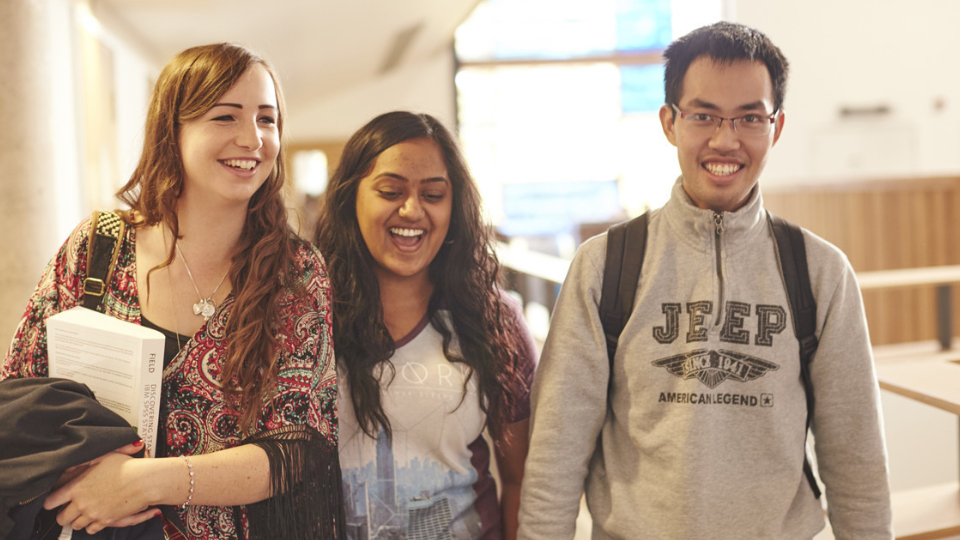 The Empowering Change Scholarship supports international students studying on our specialist postgraduate programmes in the School of Agriculture, Policy and Development. These courses tackle major global issues of poverty, food security, climate change and equality.
You can help address the world's most pressing problems by supporting the change-makers of tomorrow.
Reading is home to a wealth of sporting talent and we count Olympic gold medallists and world champions amongst our alumni. The Sporting Excellence Scholarship provides funding to students who compete in sport at national level, or who are on the national pathway. Donors are helping nurture talent and further success by providing funding for coaching, specialist equipment and competition entry fees.
You can help our elite student athletes to aim higher and achieve both sporting and academic success.
"My training and travel costs last year were around £2,000. As a member of the GB team, we pay our own way for even the major European and World Championships, despite being the leading team in Europe and the reigning gold medal winners."
You can help make the difference during their course
Reading is proud to have study partnerships with more than 60 global institutions. So whether it's taking a field trip to Iceland, attending a summer school in China, or studying for a term or two in Australia, donors make it all possible by providing travel bursaries.
Your support will enable students to gain broader life experiences and push themselves beyond their comfort zones.
"I became a donor because I wanted to give something back, and for my gifts to inspire others. When I was a student, I was lucky to spend a term in Portland, Oregon. Looking back, that experience was a pivotal one for me in so many positive ways."

The Reading University Students' Union (RUSU) is at the heart of campus social life. RUSU directs the activities of over 150 student sport clubs and societies, and facilitates student volunteering and local community activities. These activities help students unwind, discover new skills and passions, and make life-long friendships.
Your support will give students vital access to equipment and activities that will increase their confidence and enhance their enjoyment of university.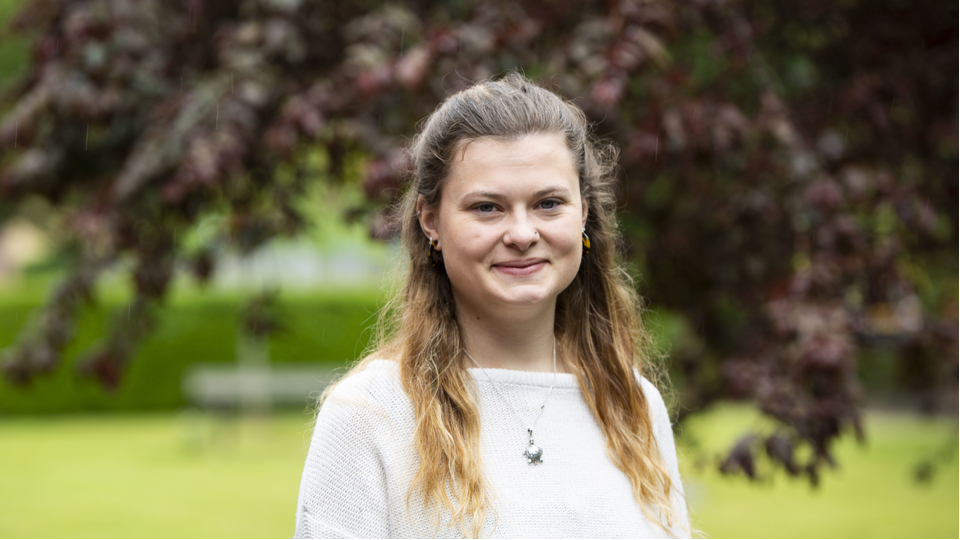 Help optimise future employability
Life Tools is a series of talks and workshops designed to help students manage their academic demands, achieve their potential, and improve their resilience when life becomes challenging.
Every part of the programme is about developing tools to use in daily life and covers everything from improving wellbeing to polishing presentation skills, coping better with exam pressure and getting a better night's sleep.
Your gift will help expand this programme which equips students with the skills to thrive at university and beyond.
"The talks helped me to feel like I was working on improving myself, not just improving academically."
How your gift will make a real difference:
£5,000 will provide a scholarship for an international student
£2,000 will enable an elite student athlete to compete at National Level
£1,100 will provide a Pioneer Bursary for a disadvantaged UK student
£800 will fund a student-led community project
£500 will fund a Digital Support Grant and provide essential IT equipment
£100 will provide resources for the Life Tools Programme
£42 will provide a student in crisis with hot meals on campus for a week.