We have switched to a new version of Turnitin.
The new version of Turnitin is being used
for all assignments due 1st August or later – including coursework resubmissions and resit exams
on all Blackboard courses for 2022/23.
For help with the new version of Turnitin please see Turnitin LTI Assignments
When submitting a piece of work to Turnitin you may need to find your Submission ID. This can also be known as a Paper ID. This is a unique number given to each of the submissions you make. You can find your submission ID:
In the email receipt you receive after submitting your work.
By viewing your submitted work in Turnitin.
In your email receipt
When you submit a paper through Turnitin you should receive an email from Turnitin acknowledging receipt of the submission. Your submission ID will be within the email.

However, you may not have received or have misplaced the email.
Viewing your submitted work
You can find your submission ID by returning to the place you submitted your work in the Course > Assessment > [Name of Assessment]. Click the View / Complete link.
From the Assignment Inbox click the View button.

Your submitted paper opens in a new window (Feedback Studio). Go to the panel on the right hand side and click the Submission Information button (the 'i' icon). In the Info panel that opens, your Submission ID is shown.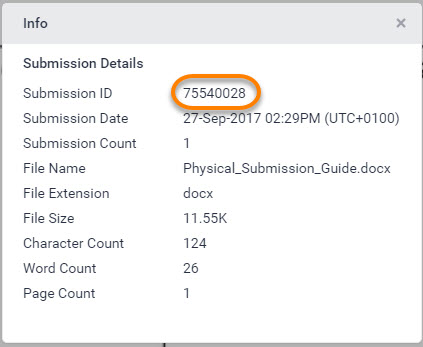 Note: You are always able to download a copy of your digital receipt at any time using the Download button. You can find the Download button both in the Assignment Inbox next to the View button.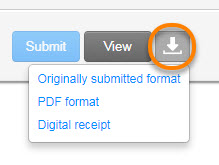 You can also download the receipt from the right hand panel when viewing your submitted paper in the Feedback Studio.