We have switched to a new version of Turnitin.
The new version of Turnitin is being used
for all assignments due 1st August or later – including coursework resubmissions and resit exams
on all Blackboard courses for 2022/23.
For help with the new version of Turnitin please see Turnitin LTI Assignments
It is your responsibility to ensure that work for assessment is submitted by the assignment deadline.
Confirmation of Submission (Your Digital Receipt):
If you have been successful in submitting your work to Turnitin, you will see a receipt on screen, completing the submission process.

---
If you don't see the confirmation screen. You should assume your submission HAS NOT been successful. Please go back to the Turnitin assignment to check and, if necessary, submit the file again. If you continue to have problems, check whether the File format is accepted by Turnitin before logging a ticket with IT.
---
A receipt is also emailed to your student email account.
This email will be sent from TurnitinUK No Reply <noreply@turnitin.com> with the Subject heading 'This is your TurnitinUK Digital Receipt'.
---
If you don't receive an email receipt, please ensure you are checking the correct email account, and check your junk mail or spam folder. The email receipt may have delivered to your junk/spam mail folder.
---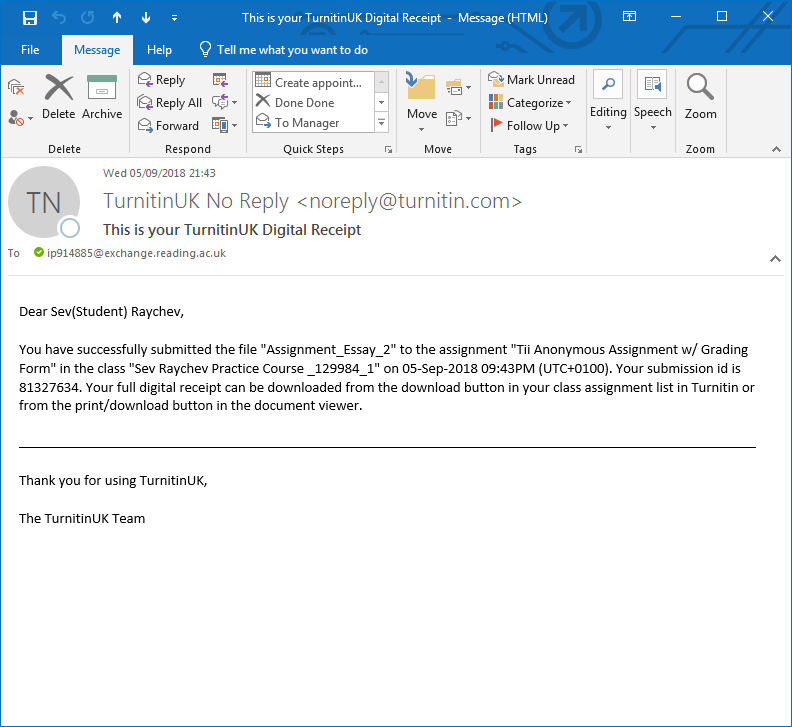 Be sure to keep this receipt in a safe place – it will be vital if there is ever a query about whether, or when, you submitted your work.
This receipt is proof that you made a submission at the given time. But please go back to the Turnitin assignment and view your submission - to make sure that you have submitted the correct file, and that it displays correctly within the Turnitin Feedback Studio.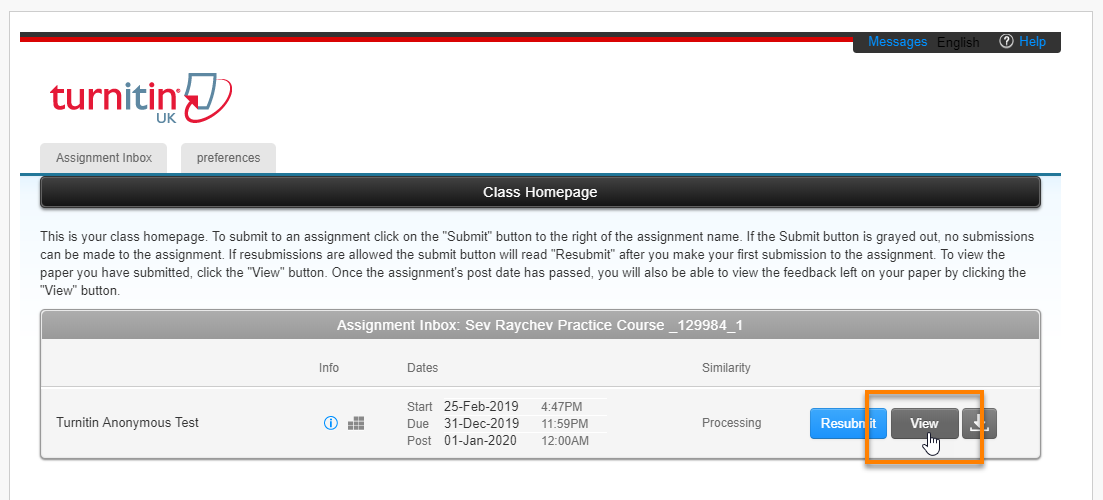 You can download a copy of the digital receipt from within Turnitin.
If you have tried to submit to Turnitin, but are not 100% sure that the submission was successful, go back to the assignment submission point and check your work is there. If you receive an email receipt and the details within about the file are correct, then you can be sure the submission has been successful.