What is the issue?
·        Students have submitted work to a Blackboard Assignment.
·        A marker has used Inline Grading to mark the work, and has attached a feedback file in the FEEDBACK TO LEARNER section.
·        A staff member (e.g. an administrator or moderator, or even the same marker) needs to view the attached file.
You are not able to open the file by clicking on the link shown in the 'Feedback to Learner' text box, because you are viewing this as editable text.
Follow the instructions below to open a preview of the text that will allow you to open the attached file.
To open the feedback file
1.    Go to Control Panel > Grade Centre > Assignments.

2.    Open the student's attempt.
3.    Expand the ATTEMPT area to open the Feedback to Learner text box.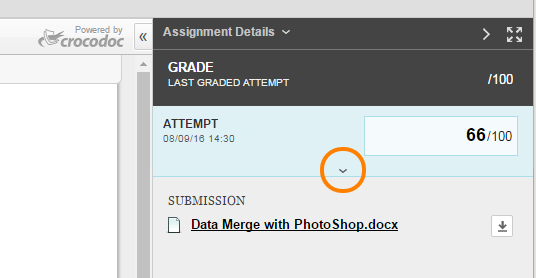 4.    At the bottom of the Feedback to Learner text box, click the Full Content Editor icon.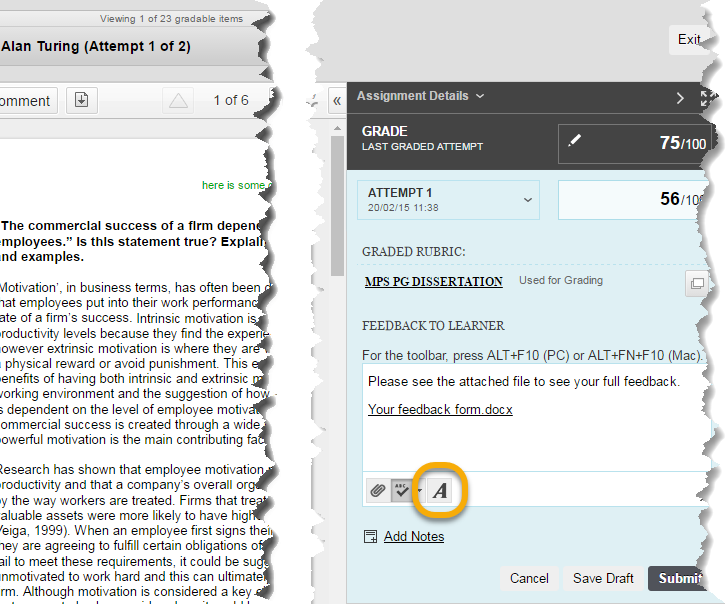 5.    The Feedback to Learner Full Text Editor opens in a pop up box. On the right hand side of the menu, click the Preview button.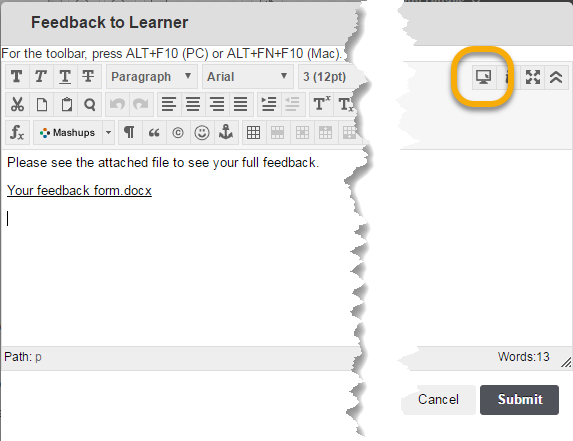 6.    A preview box opens in a new window showing how the feedback will appear to the student. Click on the link to the attached file in this preview to open the file.


Remember to close the file and preview box, and click Cancel to close the Full Text Editor pop up box after you have finished. This will prevent any confusion or technical issues.

---
Page last updated on August 15, 2018 by Peter Moll
---