You have a number of options for customising how you view and access courses from the Courses area on the Blackboard navigation menu.
Changing the view
You can view courses as a list or as tiles.
Use the icons to the left of the Search bar to switch between views.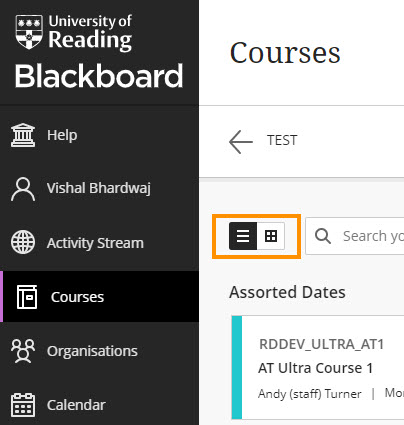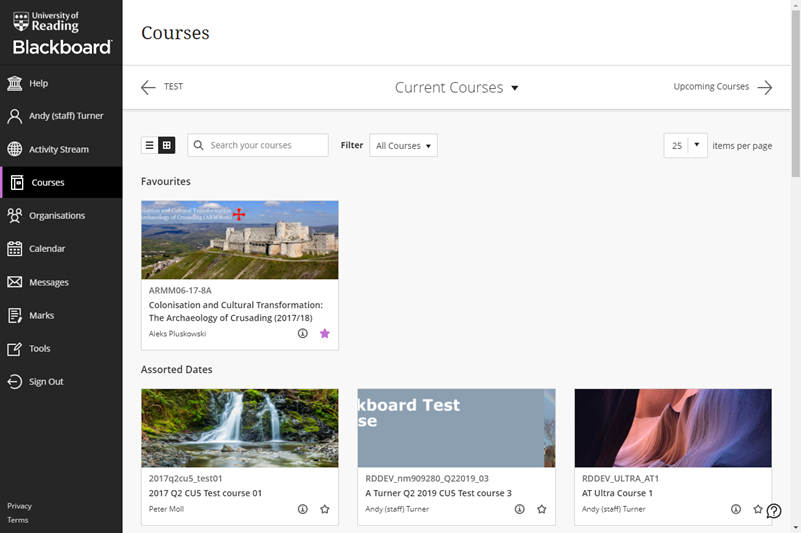 Courses page displayed as tiles
If your course doesn't have a banner, Blackboard will automatically assign an image for your course in this view.
If your course does have a banner, it may not display correctly here. The recommended size for banners is 1200 x 300 pixels, with a maximum height of 400 pixels.
Finding your courses
Because we retain Blackboard courses for several years, all the courses which you still have access to will be listed under 'Current Courses', but you can use the drop-down list to select a specific academic year.
You can also use the Filter to show 'Courses I teach' – this equates to the courses where you are an instructor.
A particularly useful feature is the ability to search for courses.
Courses which you want to access most often can be added to your Favourites, so that they always appear at the top of the list.
Please note: Hiding a course simply hides it from your list, not from other users enrolled on the course.
Private / unavailable courses
Any courses shown here as 'Private' are unavailable to students. You can quickly make them available from this page.


List view

Tile view



For more, see the Blackboard help page: Find your courses.
---
Page last updated on August 11, 2021 by andyturner
---