We have switched to a new version of Turnitin.
The new version of Turnitin is being used
for all assignments due 1st August or later – including coursework resubmissions and resit exams
on all Blackboard courses for 2022/23.
For help with the new version of Turnitin please see Turnitin LTI Assignments
Turnitin grades will flow through to the Blackboard Grade Centre, and you can download grades from there – see Downloading Marks, and Marking offline.
But you can also export marks direct from a Turnitin Assignment Inbox.
Simply click on the export button: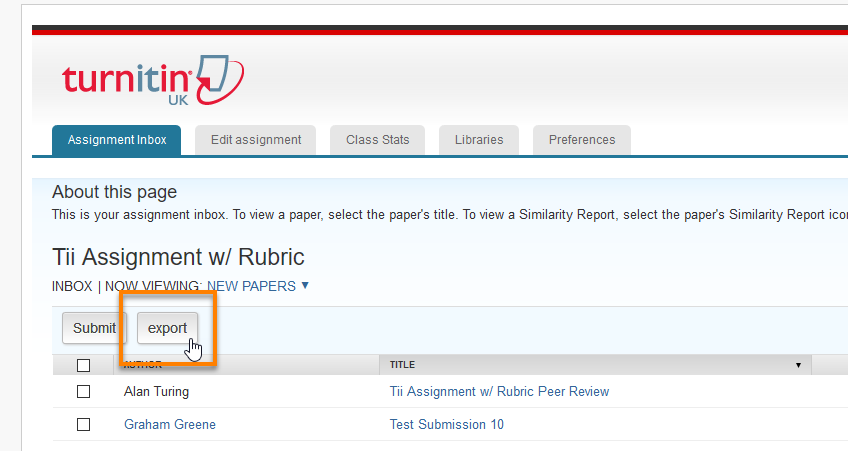 and an Excel file will be generated.
This Excel file shows
students' last name, first name, and Blackboard username
students' Turnitin User ID – you can ignore this
Title and Paper ID for each submission
Date and time of submission
Grade
"Overlap" i.e. the Similarity score, further broken down in the final 3 columns

If you expand the 'Date Uploaded' column, you will see that it displays the precise date and time of submission – very useful when determining late submission penalties.

Please note
The Export function is not available while an assignment has Anonymous Marking enabled (it does become available on an Anonymous Assignment once the Post Date has passed).
The exported file displays the data in the same order as on screen, but can easily be sorted as required in Excel.
The 'Date Uploaded' column is formatted as text, so you can't sort it correctly in date order. You would have to do some manipulation in Excel to convert this to a sortable date format.
---
Page last updated on August 31, 2022 by andyturner
---