Update for 2022/23

For any assessment where you require students to create and submit a video, you should now be using the University's approved media platform, YuJa.

Students are able to upload their video files to YuJa and then embed the file into their submission to a Blackboard assignment.
YouTube is an external platform with which the University has no formal relationship.
However the mechanics of uploading a video and sharing YouTube links are simple and likely to be familiar to many students. If students follow the suggested steps, there is very little danger of their work becoming visible to anyone not involved in the assessment process.
Setting up the submission point
Blackboard assignment
This is the recommended tool for this type of assessment.
Option 1
The simplest route – for both students and staff – is to tell students to paste their YouTube link into the Test Submission area of the assignment (see student instructions below).
Markers can then simply click on the link to open it.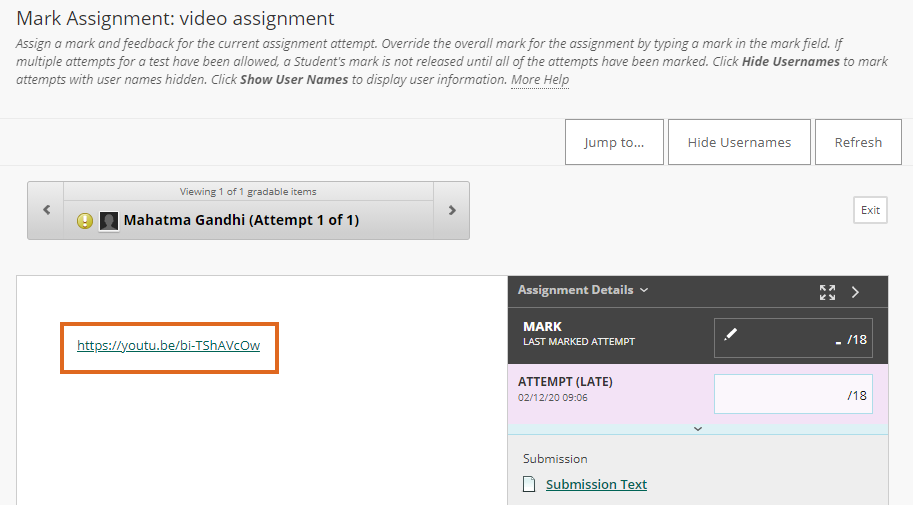 Option 2
Alternatively, students can upload a Word document containing the YouTube link. The document will display inside Blackboard and, again, you can simply click on the YouTube link to open it.
Turnitin assignment
This could be used, but entails a more cumbersome workflow for markers.
Students can upload a Word document containing the YouTube link. Although the document will display inside the Feedback Studio, you will need to download the file in order to click on the link and open YouTube.
Instructions for students
Please adapt section 5 of these instructions in accordance with the mode of submission being used.
You will need a Google or YouTube account.If you do not already have an account, you will need to create one. Do this well in advance of the assessment deadline.Sign up and manage your account (Google help article)
Create your video using your choice of software.Video Presentation: Recording Yourself And Your Screen
Upload the video of your presentation to YouTube.Upload videos (Google help article)IMPORTANT: Save your video as unlisted.See Video privacy settings (Google help article)
Get the YouTube sharing link.See Share videos (Google help article)
Submit the link in Blackboard.Please check the instructions from your lecturer on how you should submit.Options for submitting are are:
Submit to a Blackboard assignment
Click on Write Submission.
Paste the YouTube link into the text box.

Press Submit.
Alternatively, paste the YouTube link into a Word document, and upload the Word document to the assignment.See How to submit to a Blackboard Assignment
Submit to a Turnitin assignment
Paste the link into a Word document. Ensure that the document contains at least 20 words of text.
Upload the Word document to a Turnitin assignment.See How to submit a Turnitin Assignment
Important notice for students
When students are sharing a link from YouTube or OneDrive, rather than directly uploading a file to Blackboard or Turnitin, it is important they are made aware that they must not
delete the file
remove the sharing permissions
until module assessment marks have been confirmed
i.e. shared files must remain accessible until after external moderation has taken place.
Preferably files should remain accessible for the duration of the student's programme of study.
Suggested instructions:
You are responsible for ensuring that access permissions allow markers to view files which you share.

Work submitted for assessment must remain available to those involved in marking and moderation for the duration of your programme of study.

Please ensure that you do not delete the file, or remove the permissions which allow markers to access the file.

If your video includes other students, you must obtain their permission before uploading to YouTube.
---
Page last updated on September 5, 2022 by andyturner
---