Before recording, ask yourself; 
It is worth noting that students are not expecting slick 'high-production' visuals or enhanced audio effects; so avoid the need for post-recording edits by focusing on your approaches to presenting and recording. Whether recording at home or in the office, enhance the quality of screencasts and reduce the need to edit by following the tips on this page.
Approaches to presenting
The following video gives an overview of good practice when presenting: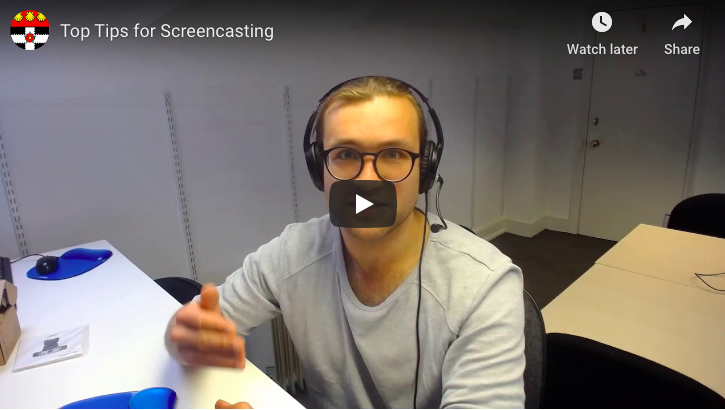 Summary points:
Aim for a 

conversational tone

 rather than descriptive.

 




This is far more engaging for the listener! If you are worried about presenting, perhaps start by co-presenting to generate discussion, for example, one person could take the role of a student asking questions.

A script may lend itself to a more descriptive tone.

 




To achieve a conversational tone, consider using brief prompts; such as post-it notes, a flowchart or a simple bulleted list.

Students are very forgiving about 'mistakes'

 such as coughs and rephrasing. 




In fact, such 'mistakes' may give your video a more 

personable

 sound. 

Don't worry about small mistakes when recording or trying to remove these in editing. (They make things more human!)

If you are using a webcam, ensure you look directly into the camera to engage with your audience.

Address points as they appear on the slides. 

This helps students deal with the cognitive load of listening and reading simultaneously.

 

Describe any key content of slides, 

especially images, t

his is particularly important for accessibility. 

Consider highlighting content as you speak,

e.g. using on-screen annotation tools or enlarging the mouse pointer through your system settings.

Note: 

PowerPoint allows you to draw on slides as you present.
The following LinkedIn Learning  course videos discuss useful approaches for presenting instructional screencasts:
Approaches to recording