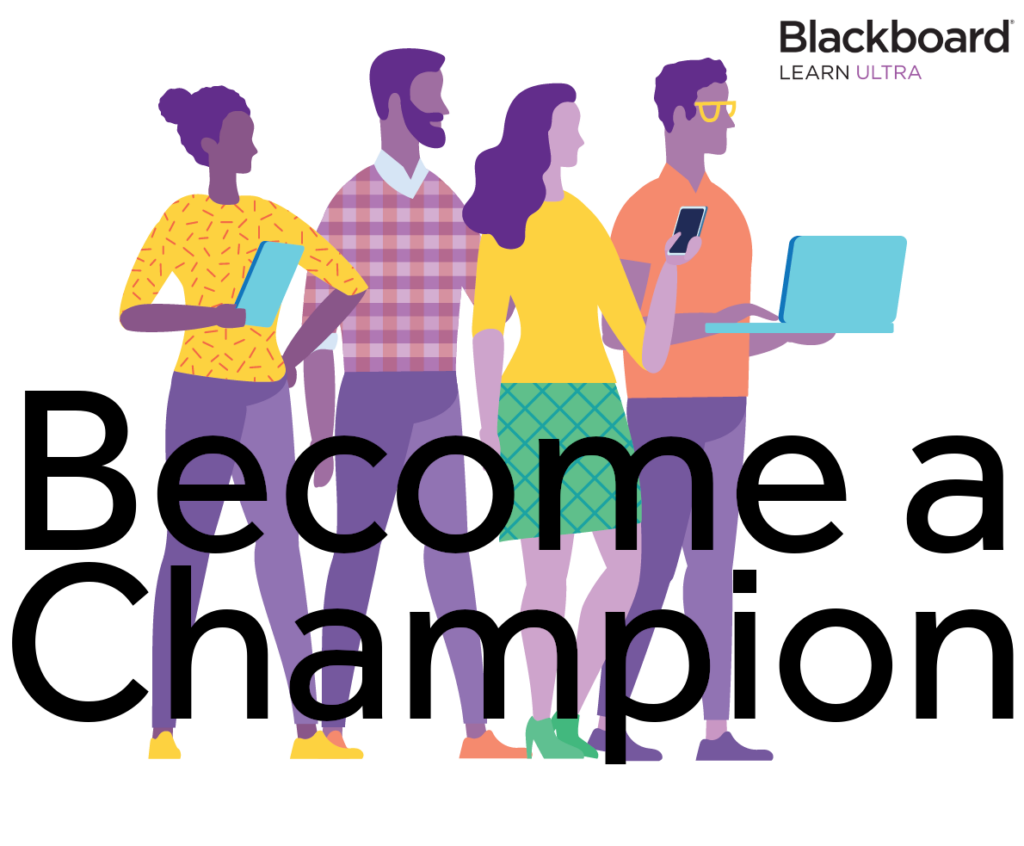 The Blackboard Learn Ultra Champions Group is a community for selected University staff actively involved in developing their use of Blackboard for Teaching & Learning. It provides an opportunity to:  
Discuss, engage with and inform the implementation and ongoing adoption of Blackboard Learn Ultra at the University

Trial, critique, and feed back on the set-up and availability of new and existing features

 

Network with colleagues who wish to learn more about Blackboard Learn Ultra
Why become a Champion?
An opportunity to engage with Blackboard Learn Ultra early, share your interest and gain experience

Enhance your teaching profile (e.g. being a Champion could contribute to evidence for HEA Fellowship applications)

An opportunity to work and network with colleagues across the University

Develop your own digital skills and teaching practice

Contribute to the evolution of the Virtual Learning Environment,

its use at the University, and the establishment of good educational practice

Gain access to bespoke staff development and support around Blackboard Learn Ultra
Profile of a Champion 
The Champions community will benefit from colleagues from diverse teaching contexts with varied perspectives and experiences. We'd like to invite:  
Colleagues with

existing experience of module design with Blackboard Learn

or

enthusiastic beginners

who are keen to learn (training and support will be provided)

Colleagues who are

engaged in module re-design as part of the Portfolio Review Pathway

 

Colleagues who have

identified features or tools in Blackboard Learn or Blackboard Learn Ultra 

which would support their teaching contexts

Colleagues with a

keen interest in pedagogical and technological innovation

, and the desire to bring colleagues on the journey

We are keen to work with a

diverse group of applicants

and particularly encourage applicants from the university's

Diversity and Inclusion staff networks
The role of the Champions
The focus of the Champions Community is to provide a forum to share experiences and ideas around Blackboard Learn Ultra and an opportunity to engage with new and existing features. 
This will contribute to the implementation of Blackboard Learn Ultra at Reading including the availability of tools and features, and will help identify the development of specific guidance, training, and support.  
As a member of the community, you are encouraged to contribute in some of the following ways, depending on your commitments:  
Actively engage with the Blackboard Learn Ultra Champions Course  to develop your own understanding and academic practice, and share your experiences with the community.  

 

Inform the ongoing development of Blackboard Learn Ultra at the University, e.g. by testing and feeding back on features

Identify, document, and share experiments with Blackboard Learn Ultra  and contribute to the critical discourse in this area

Champion the move to Blackboard Learn Ultra amongst colleagues and signpost to further development and training as appropriate

Contribute to University-wide events with other members of the community

Inform the University-wide adoption of Blackboard Learn Ultra for Blackboard courses ahead of its release in the 2024/5 academic year
Support and development for Champions
Training and staff development will be provided in the adoption and use of Blackboard Learn Ultra

Peer support from the Blackboard Learn Ultra Champions community
How to apply and selection
The application process to become a Blackboard Learn Ultra Project Champion has now closed. (Applications closed on 28 April 2023.)
Applicants have now been informed of their selection by email and added to the Blackboard Learn Ultra Champions Course. If you applied to be a Champion and have not yet been contacted, please make contact via DTS@reading.ac.uk