What is Padlet?
Padlet is freemium pinboard app that acts as a virtual noticeboard for students to share text, media, links. It is compatible with some screenreaders, and Padlet are working to make the tool more accessible to everyone. To find out more about getting started, please see our introduction to using Padlet. Please refer to our guidance on using third-party apps before signing up and using with your students.
What can I do with Padlet?
Padlet's simple, collaborative structure can be used to engage and work with your students – we've included some of our favourite uses below. TEL are always looking for examples of good practice – if you have tried a new way of using Padlet which worked well, please contact us and we'd be really happy to hear from you!
Types of activity
Types of Padlet wall
If you are new to Padlet, see our guidance on creating and sharing Padlets with your students.
Wall: content in a "brick-like" layout – like messages on a pinboard, they can be added in any order, in any place on the wall
Stream: content in a top-to-bottom feed – messages are added in order, on top of each other as they are added
Grid: content appears in rows of boxes – messages are added in order, in a grid formation
Shelf: content can be organised under headings, and messages are added under each heading, as selected by the users
Map: pins can be added to a map, with notes, images, sound – messages are added in any order or any place on the wall
Canvas: content can be added, grouped and connected – messages are added anywhere on the board and users can group and connect them with annotations
Timeline: content appears along a horizontal line – messages are added at intervals along the line
Wall settings
Padlet allows you to make changes to the look of your wall by editing the wallpaper, fonts, and colour scheme.
• Use a sans serif font as this is easier to read for most people.
• Changing the colour scheme allows you to change the background of the messages from light to dark. Students can change the contrast of their own view of a wall by using a high contrast browser extension. They can also change the colour of their own messages, but this is limited.
You can edit the title and add a description. Consider including your module code in the title of your wall, as this will help you to find and organise your walls later on. You can use the description to add instructions for students – or you can set up messages to help students to navigate the type of wall you have chosen.
Padlets can be anonymous or include a user's name (if given). Consider the benefits of anonymous posting vs the community-building aspect of sharing names. Think about whether your exercise includes personal or sensitive information, and the aims of your exercise.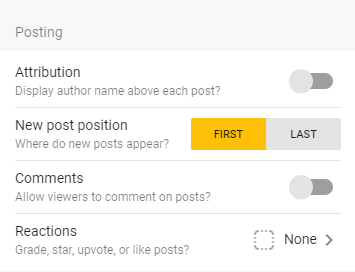 Padlet messages can be edited to allow comments – this aids discussion on individual messages and could be useful for peer review exercises, discussion on a range of topics, or decision-making exercises.
You can also allow reactions to messages eg. Upvote/downvote, star rating, like/dislike or grade. This can be a simple and quick way to incorporate interaction to your Padlet walls, or introduce exercises such as decision-making, peer review, or sharing opinions.