Anywhere that you are given the option to type text in Blackboard, you will be able to use the Blackboard Content Editor to format your work.
This includes
Blackboard Portfolios
Blackboard Blogs, Journals and Wikis
Discussion Boards
short answer questions in Blackboard Tests
when submitting to a Blackboard assignment.
In a few circumstances, the functionality available via the toolbar will be restricted.
Expanding the toolbar
Initially you may only see one row of the toolbar. This gives you access to some of the most commonly used tools, but for more formatting options, and particularly if you wish to upload or embed a file, you will need to expand the toolbar.
Click on the More… icon (3 dots) to display all 3 rows of the toolbar.
What does each icon do?
First Row
1. Bold
2. Italic
3. Underline
4. Strike-through
5. Format
6. Font Family
7. Font Size
8. Bullet List
9. Number List
10. Text Colour
11. Highlight
12. Remove Formatting
13. Cut
14. Copy
15. Paste
16. Find/Replace
17. Expand Toolbar
Second Row
1. Align text
2. Indent
3. Superscript
4. Subscript
5. Insert/Edit Link
6. Left/Right Typing
7. Horizontal line
8. Non-breaking space
9. Spellcheck
10. Maths Editor
11. Show invisible characters
12. Block Quote
13. Symbols, Emoji
14. Anchor
15. Insert table
16. Table Edits
Third Row
Check the Blackboard Help website for further details on using the content editor:
What Does the Editor Do? – details of all the icons
Add and Format Content – how to format text, insert files and media, use the Maths Editor
Editing toolbar keyboard shortcuts
Copying and pasting
You can paste directly from a webpage or Word document into the Content Editor using Ctrl+V.  When you do this you will be asked if you would like to keep or remove the formatting:

Remove Formatting is recommended – this strips out unnecessary HTML code, but retains key formatting (headings, bold, italics) and preserves hyperlinks.
Other features
Accessibility Checker
Before submitting your changes click on the Accessibility Checker. This will show any issues with, for example, images without alternative text, coloured text contrast ratio, and the lack of formatting such as lists and headings, which are used by assistive technology.
See our separate article on the Accessibility Checker.
Code Sample Tool
The Code Sample tool allows code snippets to be displayed and properly formatted inline without being processed as actual code and removed for security reasons. There is an extensive list of programme languages that this tool can display: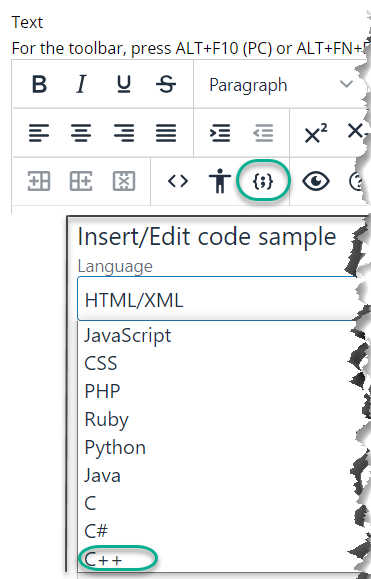 Select the language you want, type or paste the script into the Code Sample tool and it will display formatted inline.