Blackboard toolbar updated from 5 November 2020
If you are working with Blackboard Portfolios or Blogs, or a number of other applications within Blackboard, you will be able to use the Blackboard Content Editor to format your work.
From 5 November 2020 there will an updated version of this editor.
New icons for old functions
Bold, Italics, Underline and Strikethrough

Text colour, Highlighter and Clear formatting

Superscript and Subscript

Mathematics Editor, Symbol, Emoji and Anchor

Preview, Help and Maximise

Attach document, image, video and mashups

Embed

New Upload button

The new editor deals with uploading files, images etc. in one place rather than having a separate screen for each type of upload.
Clicking on the upload icon will open the Add Content pop-up page: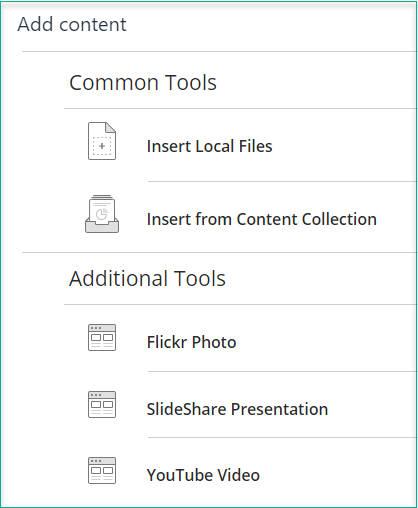 From here you can upload any files.  As all files are uploaded in the same way, editing options such as the image size and choosing if a document opens in a new window are selected in the Content Editor once the file has uploaded.  See Upload Images, Videos and Files for more details.
As before you can paste directly from a webpage or document into the Content Editor using Ctrl+V.  Now you will be asked if you would like to keep or remove the formatting:

Even when Remove Formatting is selected some formatting (headings, bold, italics) and links remain.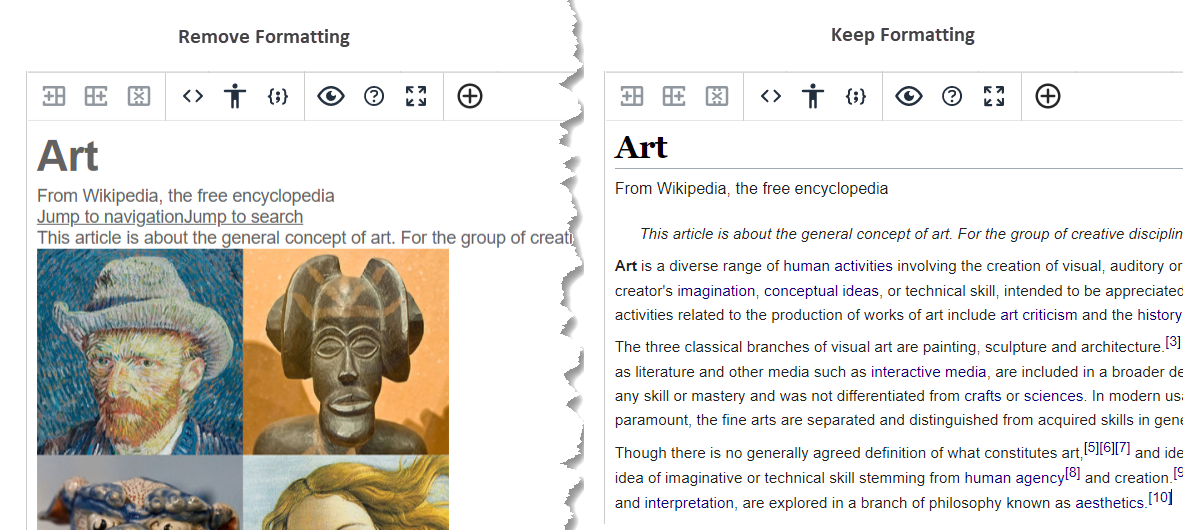 New Features
Accessibility Checker
Before submitting your changes click on the Accessibility Checker. This will show any issues with, for example, images without alternative text, coloured text contrast ratio, and the lack of formatting such as lists and headings, which are used by assistive technology.
The checker uses WCAG 2.0 guidelines. For further details see Blackboard Content Editor: Accessibility Checker.
Code Sample Tool
The new Code Sample tool allows code snippets to be displayed and properly formatted inline without being processed as actual code and removed for security reasons. There is an extensive list of programme languages that this tool can display: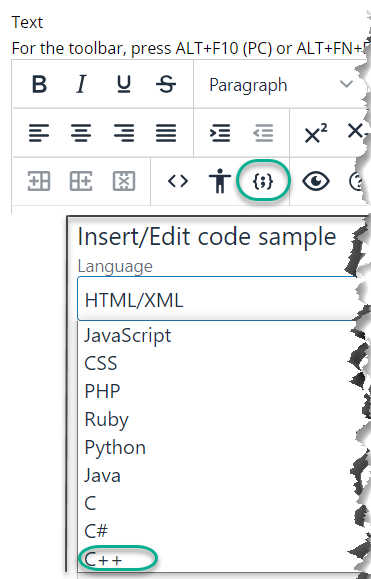 Select the language you want, type or paste the script into the Code Sample tool and it will display formatted inline.