Introduction
You can create a Calculated Column in the Grade Centre to:
apply weightings to multiple assessment tasks
calculate average, highest or lowest grades
create a total score
When setting up a Turnitin assignment, you should always tick 'Reveal grades to students only on post date?'. As a result the Grade Centre column for that assignment will be hidden from students until the Post Date.
However, selecting this option also prevents marks from being included in any calculated Grade Centre column – the Turnitin assignment simply will not be listed when you select the assessments to be included in your calculated column.
There is a simple change which needs to be made to fix this.
This guide assumes that you have already:
created one or more Turnitin assignments in your course
created a Calculated Column – see the separate user guide Using Calculated Columns.
Edit Turnitin Grade Centre columns
Locate the Grade Centre column for your Turnitin  assignment and, from the contextual menu, choose Edit Column Information.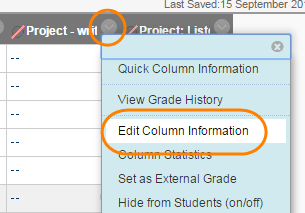 In order for marks from this assignment to feed through to a calculated column, you need to ensure that  Include this Column in Grade Centre Calculations is set as Yes.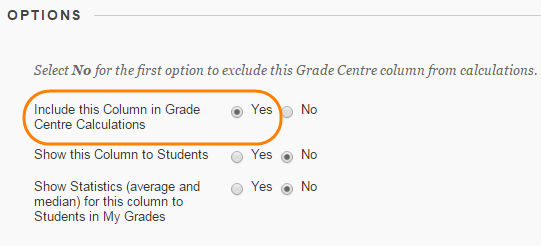 Leave 'Show this Column to Students' as No.
Press Submit when done.
When you configure your calculated column, you will now be able to select and apply a weighting to your Turnitin assignment.
---
Page last updated on August 15, 2018 by Sev Raychev
---