This guide gives an overview of the question types that are compatible with the Blackboard App. Using the app allows students to take a test or survey using a mobile device. This makes taking tests more flexible for students. For example you could provide in class quizzes or ask questions whilst on location.

What are Mobile tests?
Blackboard provide a test tool and specific question types can be taken on a mobile phone using the Blackboard App.
·         The results from a mobile test will appear in the Grade Centre for easy analysis or marking.
·         A mobile friendly test can only be set-up using Blackboard on a computer. Here is a guide for creating a test in Blackboard.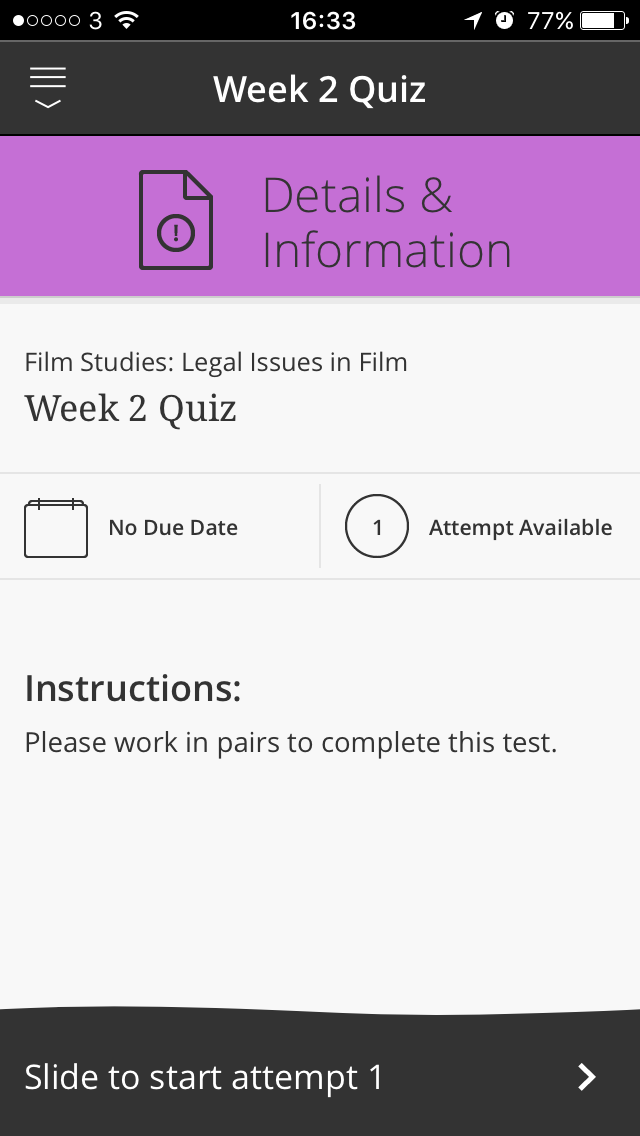 Mobile friendly question types:
·         Multiple Choice.
·         Either/Or.
·         True/False.
·         Short answer
·         Essay

Please be aware that:

·         Mobile tests will only function if they include mobile friendly question types.

·         Compatible question types can be copied and re-used in a different test.

·         Exisitng question types can be copied to or made into a mobile friendly test (if they are a compatible question type).

 
If tests contain other question types, the student is taken to a browser view of the test on their device.

Taking a mobile test
The interface for tests on a mobile device has a user friendly look and feel, and is useful for formative quizzes.
To quickly access a test, students can view the Activity Stream in the Blackboard app, where the test will be displayed.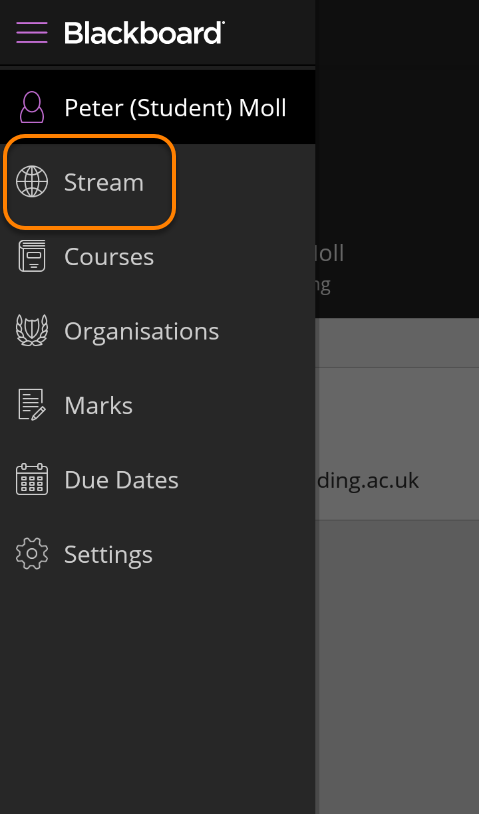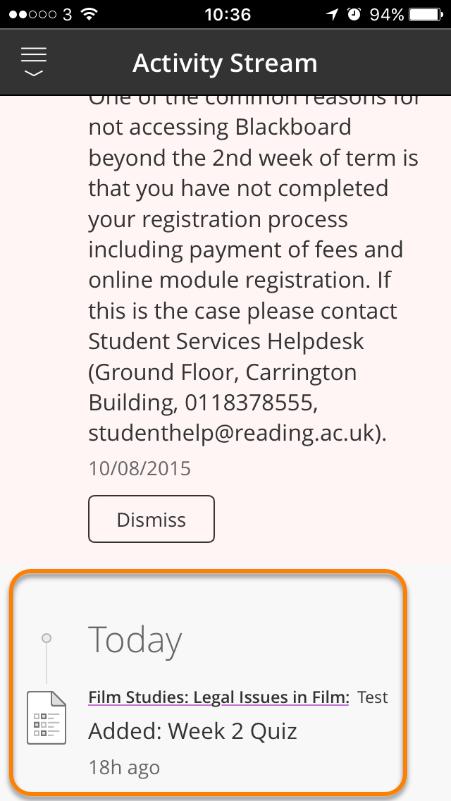 If you wish to direct students to the test via the 'Today' notification feature, you will need to check the test set date corresponds to the day of intended use.  The 'Today' notification link will be displayed at the bottom of the Activity Stream page, alongside a feed of the most recent activity notifications.
Alternatively, students can navigate to the test via their course pages.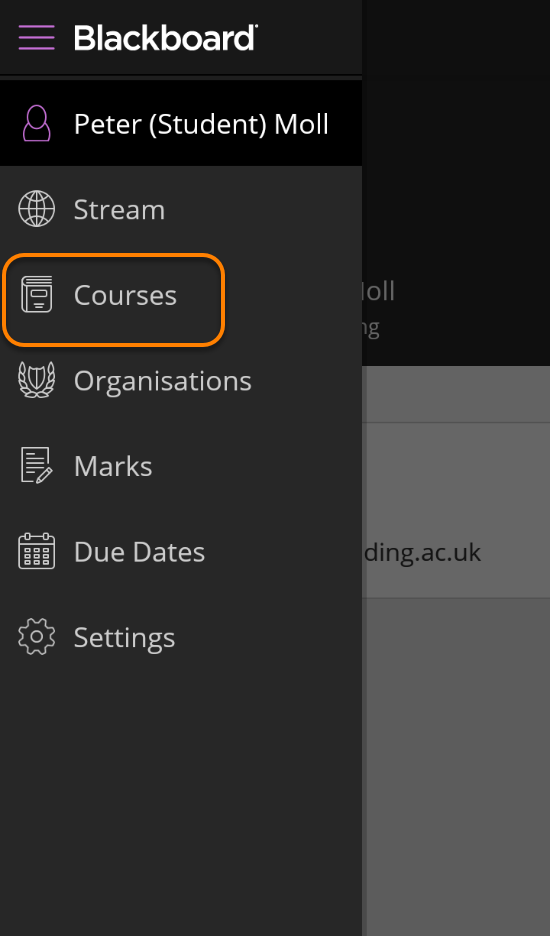 Students may see the test link displayed at the bottom of their app homepage when returning there after completing the test. This link will disappear when another activity is visited within the app.
The test link will be displayed in the folder in which the test was created.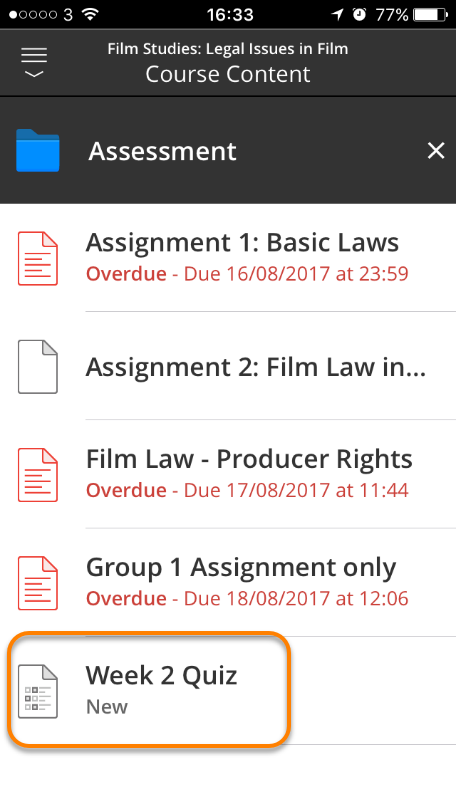 Take the mobile test by swiping right on the bottom bar.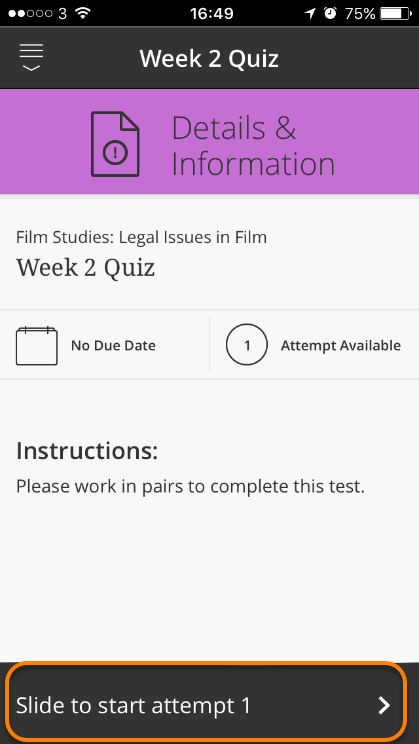 NB: Swiping right on the test information screen may result in some devices exiting the app.
Scroll down to move to the next question.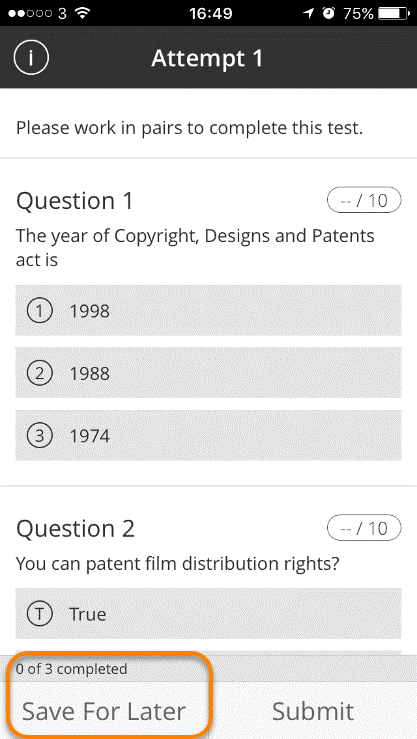 Students can 'Save for Later' at any point, which will allow them to leave the app and return to the test.
If multiple attempts have been enabled then students can retake the test by tapping 'Try Again'.
Overview of screens and questions when taking a test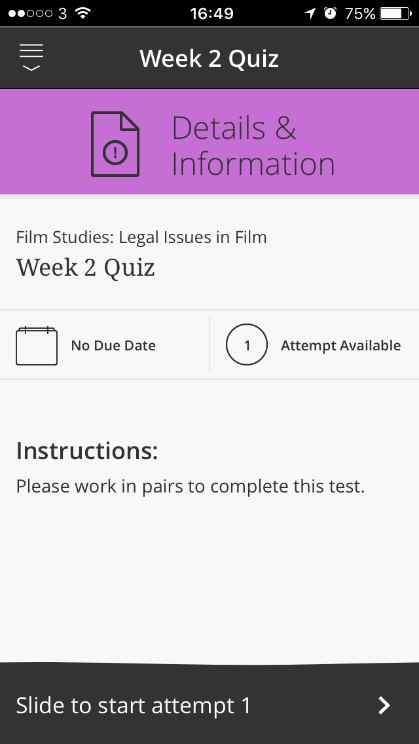 Test start screen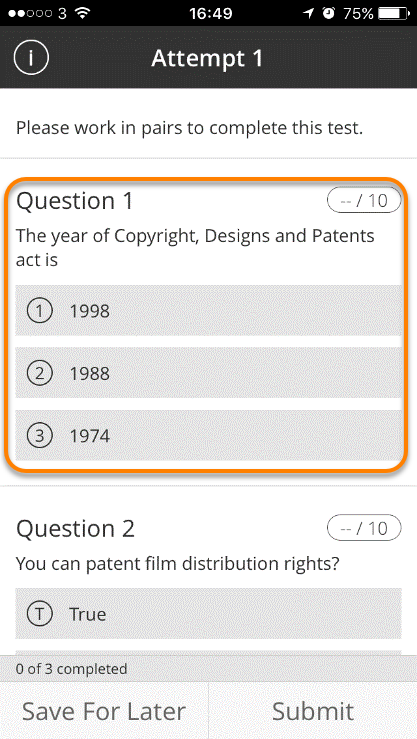 Question type:Multiple choice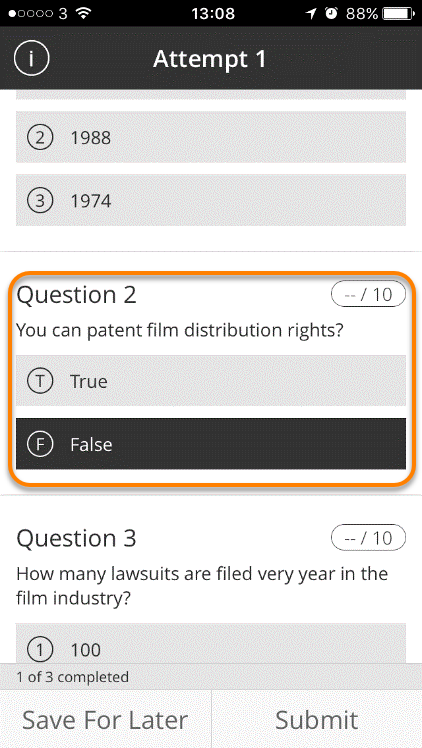 Question type: True/False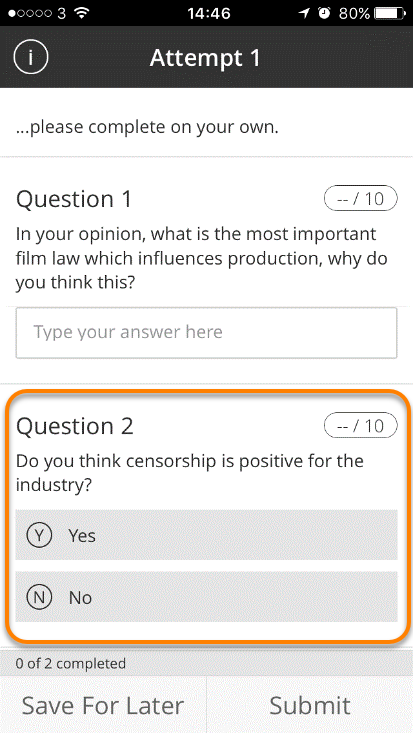 Question type: Either/Or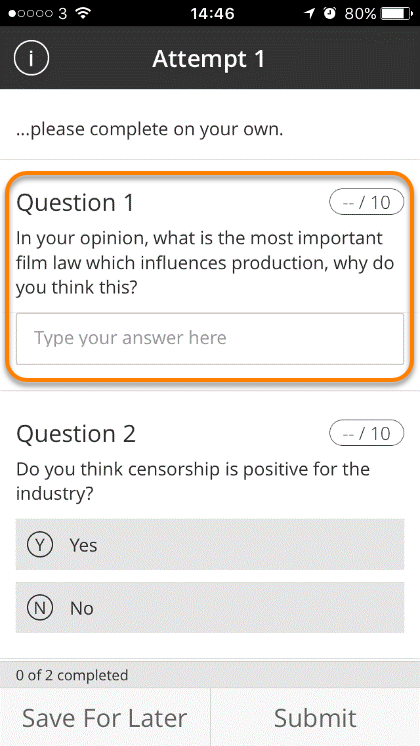 Question type: Short Answer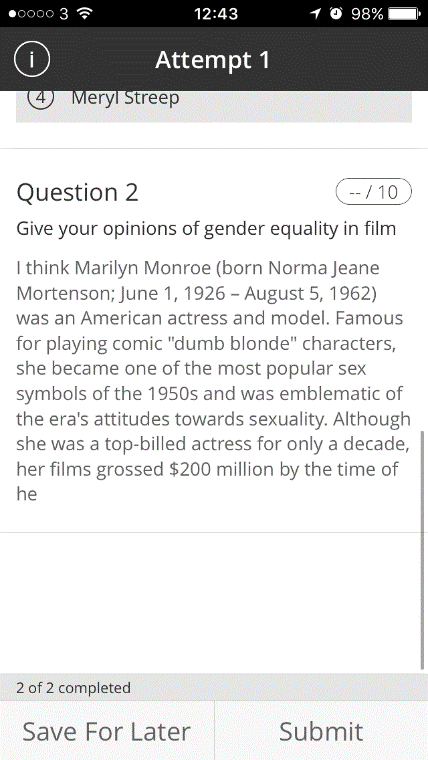 Question type: Essay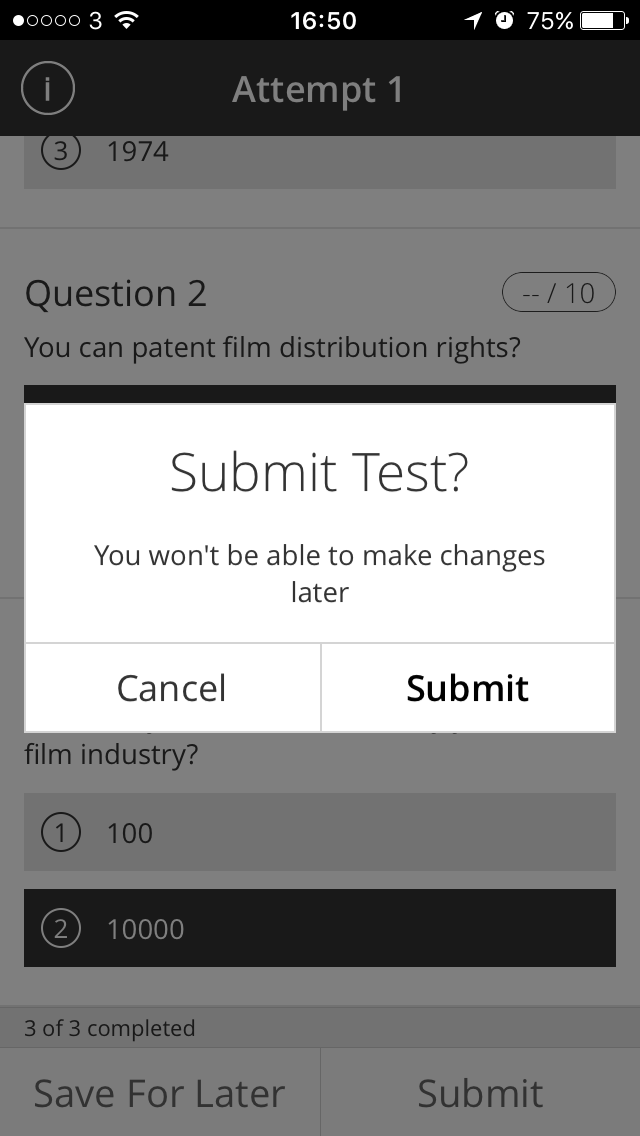 Submit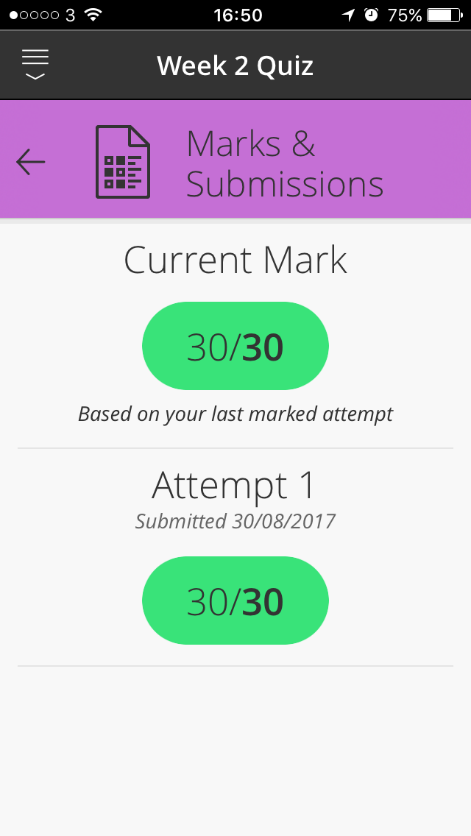 Completed test