We do not expect to licence the Campus Pack tools beyond the 2020/21 academic year. Please contact us via the Service Desk for advice on alternative solutions.
Introduction
The Campus Pack Blog is designed to provide an online space for individual or a group of students to reflect on or write about a particular topic. The blog author builds and updates the blog by adding blog posts (entries), which can be made up of text, pictures, files, links, and embedded audio and video. The readers or viewers of the blog can respond to these posts and leave comments or feedback.
How to set up the campus pack
In the course area set up Click the Tools menu and Campus Pack Blog.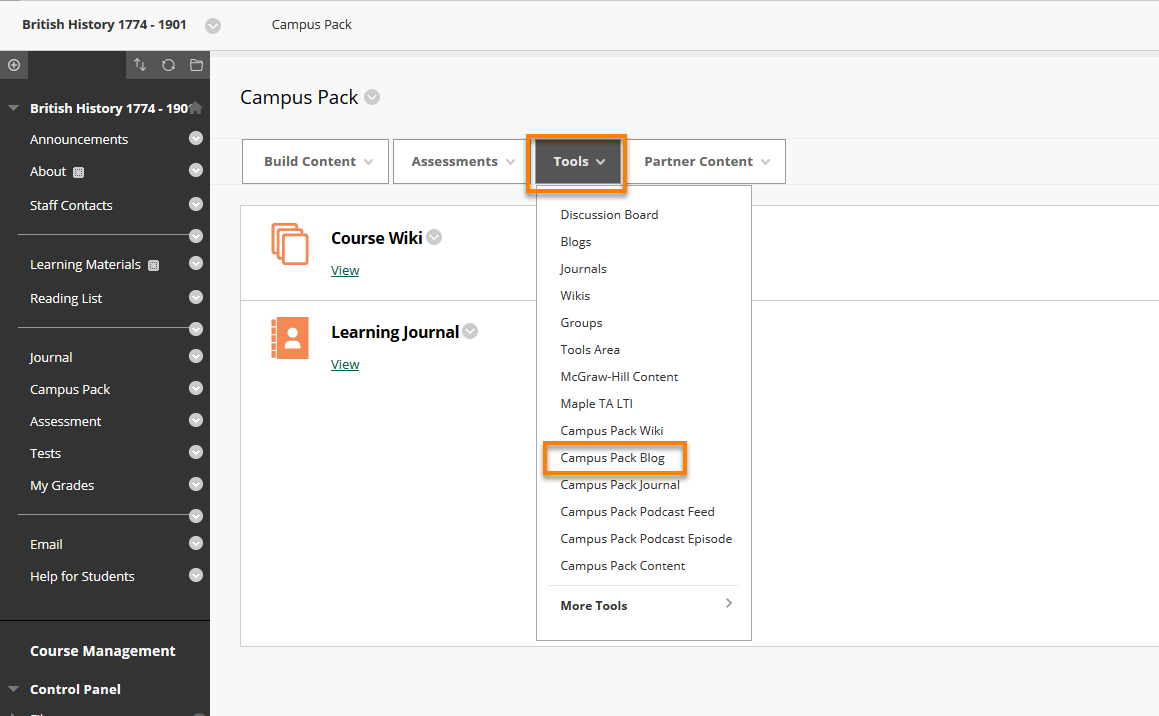 Fill in the Title and Description of your blog.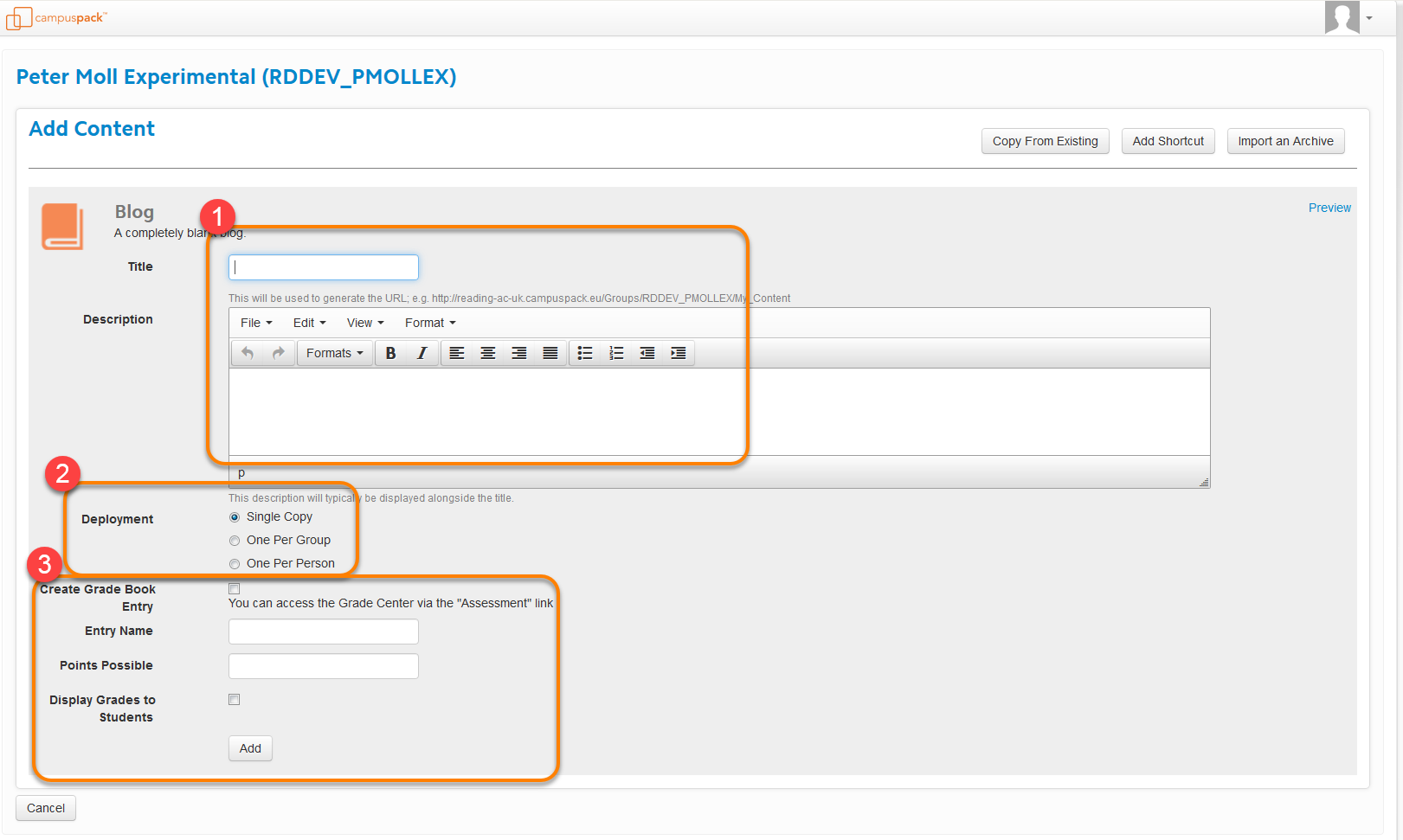 2. When you create a blog, you have the option to create three different types of blog:
Single copy – produces a course blog where everyone can write and view posts
One per group – creates blog/s based on existing Blackboard groups in your course. Students in different groups will not be able to see each other's work. You can create an assignment template to pre-populate this blog.
One per person – creates a separate, individual blog for each person on the course dependent on course role (e.g. all students), which other people in the course will not be able to see unless given permission. You choose this option once when you create the blog, and all the wikis are created at the same time. You can also create an assignment template to pre-populate this blog.
3. Choose whether you will be grading the blogs.  The details you add here – Name, Points Possible and whether to Display Grades to Students will be automatically sent to the Grade Centre in your Blackboard Course.
4. At the top right of the set up screen there are three alternative options for blog creation.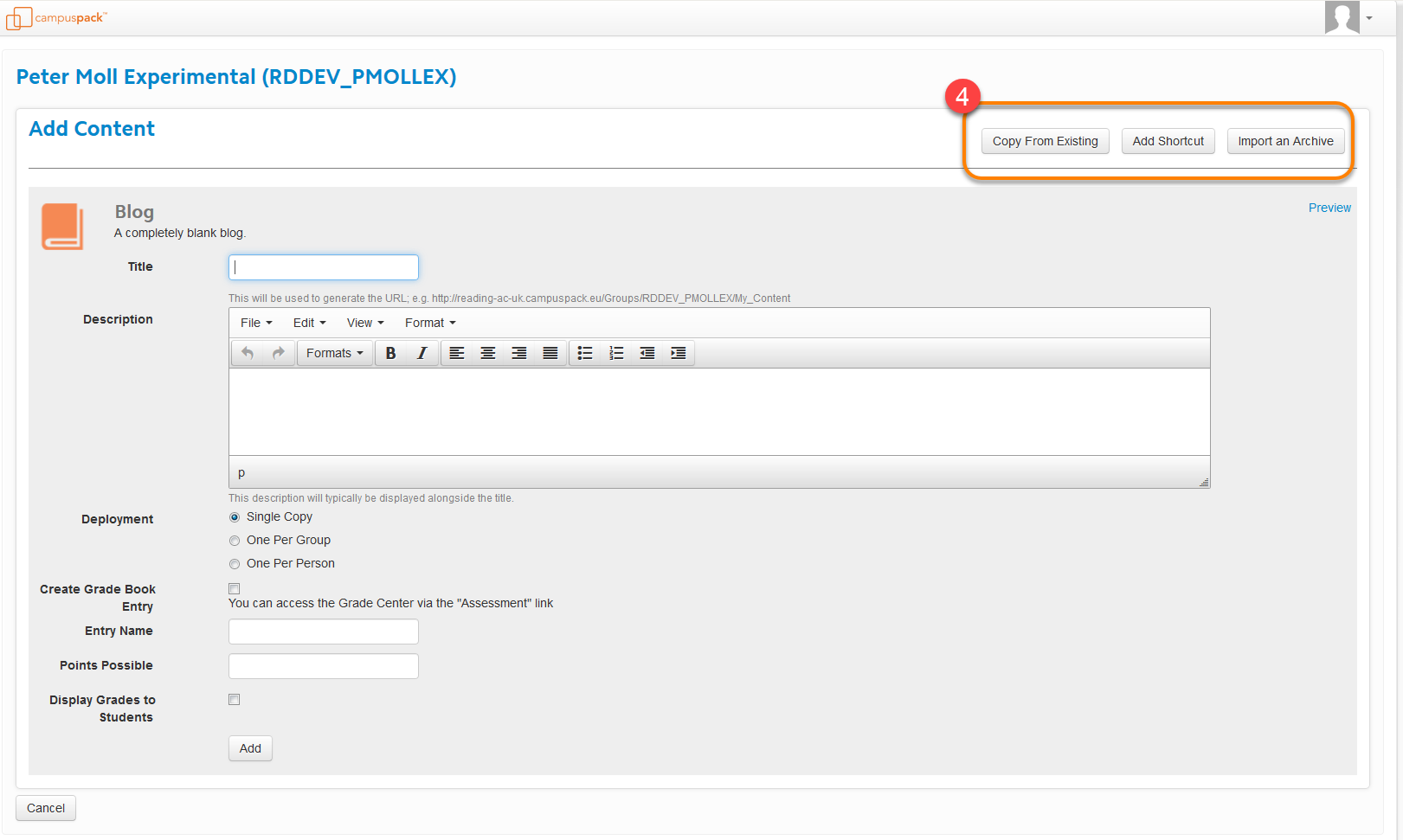 Copy from Existing allows you to choose from any other Campus Pack material and copy this as your Blog style and settings.
Add Shortcut Creates a link to an existing campus Pack Blog in a course area.  This can be used to allow students to access the Blog from different content areas in your course.
Import an Archive allows you to import from your computer any previously exported materials compatible with Campus Pack.

Preview

You can preview the Blog page in the set up screen. Click Preview and a Pop-Up window will show you your work.



When you have filled in the details Click Add to complete the page.

What is the difference between a Campus Pack journal and a 'one per person' blog?
A blog created using the 'one per person' option works in a very similar way as a journal. However:
In a personal blog the tutor has access to a dashboard (assignment monitoring page), where they can see and filter the posts made to the blog separately, based on who has made a contribution: However, in a journal, the tutor can see a list of all the posts in that journal on one page, which includes the title, author and date of each entry, number of comments left on the entry and whether there are any attachments (students can only see their own entries):
In a personal blog the tutor can set an assignment template that pre-populates all of the blogs, and each student can build their blog within the framework the template provides. This option is available for blogs and wikis with either 'one per person' or 'one per group' settings. The template option is not available for journals, course blogs or course wikis.