We have switched to a new version of Turnitin.
The new version of Turnitin is being used
for all assignments due 1st August or later – including coursework resubmissions and resit exams
on all Blackboard courses for 2022/23.
For help with the new version of Turnitin please see Turnitin LTI Assignments
If the assignment you are setting up either gives the option to students or requires them to scan in their work you may have to make note of the submission point options.
Turnitin Assignment
When setting up the scanned work submission point you should choose "Allow any file type"  in the settings.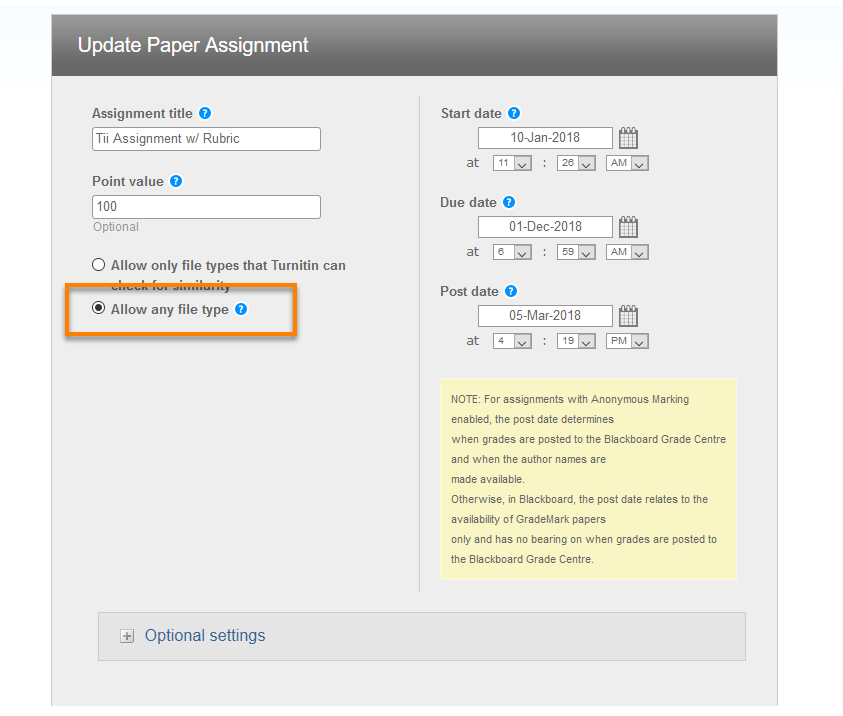 You will also need to advise students to include 20 words of selectable text in their submission to ensure it is accepted by Turnitin and that it renders (displays inside the browser window) correctly for the markers.
The supported file type which will render inside Turnitin are:
Microsoft Word® (.doc/.docx)
OpenOffice Text (.odt)
WordPerfect®  (.wpd)
PostScript (.ps)
HTML
Hangul Word Processor file (.hwp)
Rich text format (.rtf)
Plain text (.txt)
Google Docs via Google Drive™
Adobe® PDF
Microsoft PowerPoint® (.pptx, .ppt, .ppsx, and .pps)
Microsoft Excel® (.xls and .xlsx)
More help: Turnitin: Allow any file type
Blackboard Assignment
If you are using a Blackboard Assignment, you can set up the submission point as usual. The supported file types which will render in the Box View are over 100 and listed here:
File types that you can also fully annotate with floating comments and freehand drawing are:
Microsoft® Word (DOC, DOCX)
Microsoft® PowerPoint® (PPT, PPTX)
PDF
Image files can also be annotated with floating comments.
---
Page last updated on August 31, 2022 by andyturner
---