Once you have enabled Gradescope in your Blackboard course you can add a link to Gradescope to your course menu and/or in any content area.
Where to create a link
You should add a link to Gradescope inside the Assessment area of the course.
Where Gradescope is being used for an exam, you will need to add a link inside the Exam folder which appears on the day of the exam.
You can also add a link to Gradescope on the course menu for use by staff involved in the assessment process.
Please note: when students follow a link to Gradescope they can see any assignments which are currently open. You do not need to restrict access to Gradescope, but it is essential that Gradescope assignments are set up correctly, so that they only become visible at the right time.
Add Gradescope to a content area
Click on Tools > More Tools > Gradescope.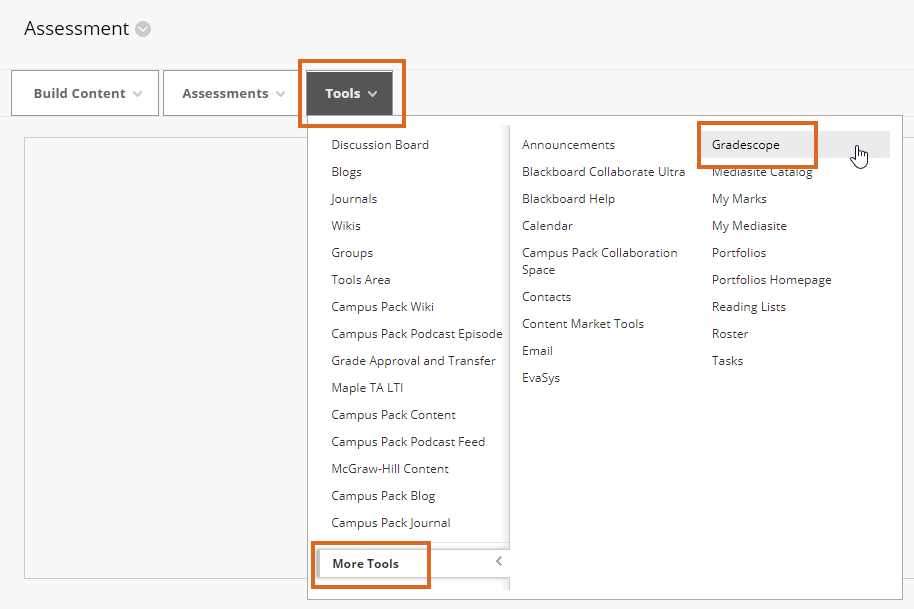 On the weblink editing screen you can accept all of the defaults and just press Submit.
If you are still familiarising yourself with Gradescope, and do not want students to have access yet, you can select Available = No.
This creates a link to Gradescope.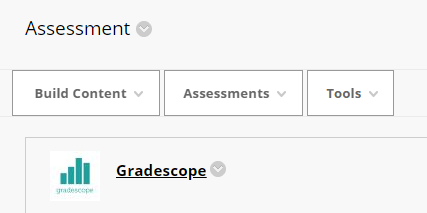 Click on this link to open Gradescope in a new window.
If this is the first time that Gradescope has been accessed from the course, you can link the Blackboard course to a Gradescope course.
Add Gradescope to the course menu
This kind of link will normally be purely for the convenience of staff, not for use by students.
Click on the + sign at the top of the course menu. Choose Add Tool Link.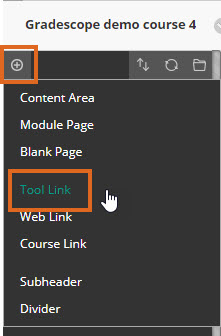 Type 'Gradescope' in the name field.
Select 'Gradescope' from the drop-down list.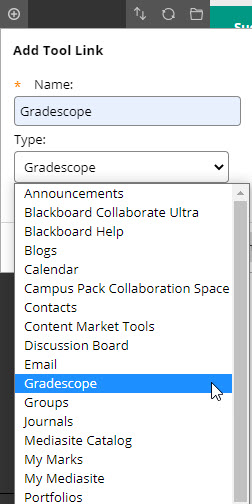 Leave the 'Available' box unticked – this makes the link visible only to staff.
Press Submit.