The clear signposting and structure that you have curated in your menu and folders should be continued in the way you name and describe your files and content items.
When your students interact with your teaching materials for the first time, or revisit content for revision, ensuring that your titles, file names, and descriptions give as much relevant information as possible will reduce stress and lower the need to contact you for clarification.
Design items in your course in the same way you would create other learning materials, paying attention to SCULPT principles. The WYSIWYG editor in Blackboard allows you to embed media and structure content with headings to reduce the number of separate items on a page and help organise the release  of related content.
Simple, Obvious, In Context
Generic, unclear, or out of context titles and file names will make it much harder for students to engage with your module content in a meaningful way. 
Titles
Titles on your items and folders are the headings on your module's Blackboard pages and aid navigation and access to materials. 
Name your items in a way that easily marks content and activities so that students can quickly find key material.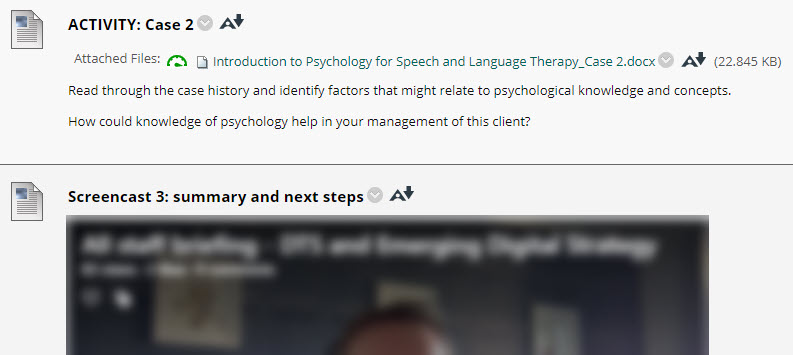 Descriptions
The description on an item, folder or file is the main source of asynchronous information for your student when interacting with your content. Ensure that these are relevant and concise.
Give context to files and embedded media and signpost to learning activities with thorough and concise descriptions.

File Names
Descriptive file names allow your students to easily identify the contents of a file. Your file names should be consistent to avoid ambiguity.
Name your files in a way that links to learning activities and assessments and allows for easy cataloguing and collating when your students download them.
You may wish to consider:
Including the module code or name
Including the week or topic
Referencing a relevant lecture or seminar