You should use MS Stream to store and share your screencasts with your students. This is a browser-based streaming service, similar to YouTube, accessible to anyone with University of Reading login. 
If you have previously uploaded your screencasts directly into a Blackboard module and you want to use them in the current acaedmic year, these must be uploaded to Stream in order to meet accessibility regulations.
Be aware that when uploading content to Stream, you may see a lower resolution version of the video whilst the upload is still processing. Once the video has finished processing, you should see the highest resolution version. This can take some time, depending on the size of the video.
When you upload content to MS Stream, your video will only be available to you (or to you and anyone who was involved in the recording, for instance in a recorded Teams meeting).
Before you share your content, you should:
Turn on noise suppression - this will improve the accuracy of auto-generated captions and improve the student experience.

Check auto-captions

 for accuracy. 

Check that the transcript makes sense and

 ensure that any subject specific terms have been transcribed correctly.

Ensure the screencast is 

clearly labelled

. If uploading a series, 

carefully name each file before uploading.

Add tags, using #hashtags, to aid searchability

To control access to your uploaded content, you will need to:
add and edit permissions

 to share Stream content with individual people (staff or student)

add permissions for a Group

 to associate content with a Blackboard module. This will create a playlist of all associated videos, which will be embedded automatically into  your Blackboard module. We would not recommend creating and embedding your own playlists (channels) in Blackboard as this is not fully accessible currently - providing a link to Stream that opens in a new window will provide full functionality for all users.
Be aware that if you wish to share a video link with an individual, you must specify their email when sharing the link. Do not make the video available to "everyone in my company" unless you want everyone to see it. This might pose an information security risk.
Associating videos with your module Group in MS Stream will automatically associate it with your module and create a playlist of all videos associated with that module in the content menu. We recommend also following this guidance to improve the student experience and provide  context for screencast content.
E

mbed individual screencasts

 in line with your Blackboard content

, this helps students make links between the screencast and related content.

'Frame' the resource

 

by making use of the 

Blackboard text field and formatting options

 to display information about the screencast e.g. learning outcomes, related tasks/assessments or other relevant material and resources.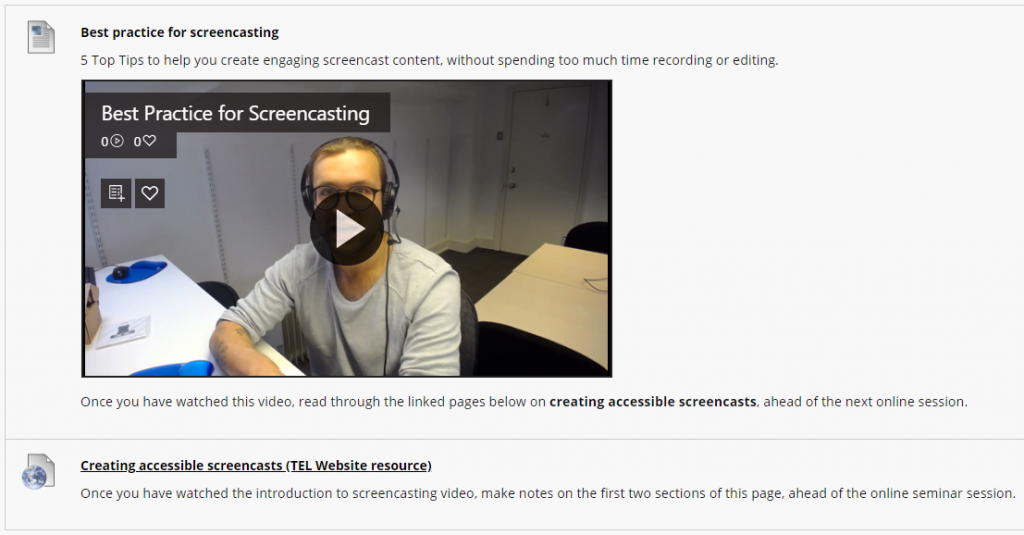 See the TEL Support website for an index of MS Stream support guides. 
If you are using material that you did not create yourself in your capture, check whether it can be recorded – for example, commercially purchased music and commercially purchased film content cannot be recorded and redistributed.
If you are unsure, specific queries can be directed to copyright@reading.ac.uk.
Always cite your sources. Put Copyright citations at the end of your presentation or within relevant slides.