You should use YuJa  to store and share your screencasts with your students. This is a browser-based streaming service, similar to YouTube, accessible to anyone with University of Reading login. 
If you have previously uploaded your screencasts directly into a Blackboard module and you want to use for Teaching & Learning, these must be uploaded to YuJa in order to meet accessibility regulations.
Content on Stream that you want to make available to students in the new academic year should be transferred to YuJa,
Embedding YuJa Content into Blackboard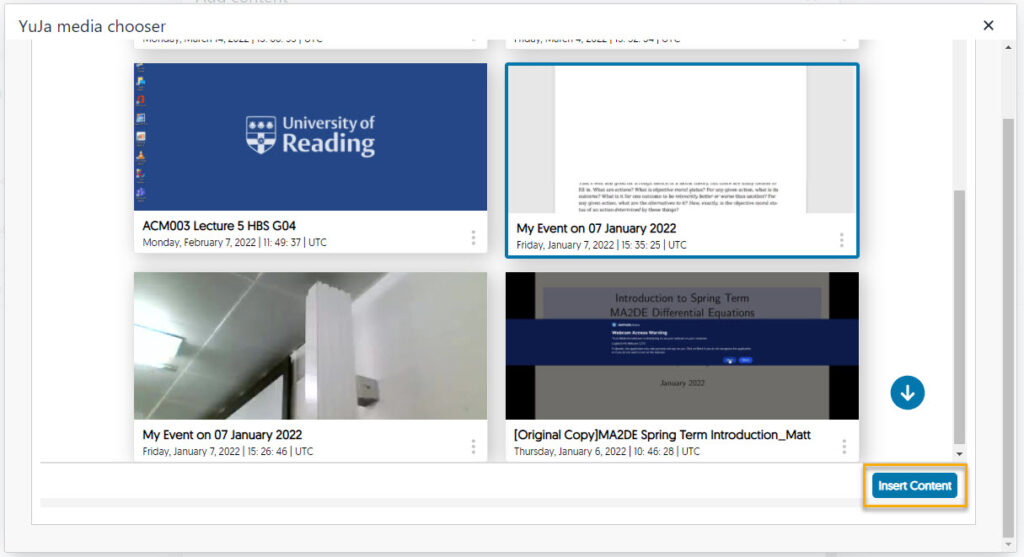 YuJa content can be embedded directly into Blackboard using the YuJa Media Chooser.
We recommend embedding Personal Capture content into Blackboard in this way, as content copied on rollover will automatically be made available to students in the new cohort.
There is no need to edit or add any kind of permissions to a video to make it available to your students in Blackboard.
Be aware that Classroom Capture recordings should not be made available to students on a new cohort and Classroom Capture content should only be shared using your Module's Channel, as this will not be copied forward on Course Rollover.
See the TEL Support website for an index of YuJa  support guides. 
If you are using material that you did not create yourself in your capture, check whether it can be recorded – for example, commercially purchased music and commercially purchased film content cannot be recorded and redistributed.
If you are unsure, specific queries can be directed to copyright@reading.ac.uk.
Always cite your sources. Put Copyright citations at the end of your presentation or within relevant slides.