From 2022/23, YuJa is the University's Learning Capture system for creating, storing and viewing your videos for teaching and learning. You should consider which videos you'd like to share with your students and transfer these from Stream to YuJa. Not all videos need to be transferred, and you won't lose access to items currently in Stream. 
The following steps explain this process: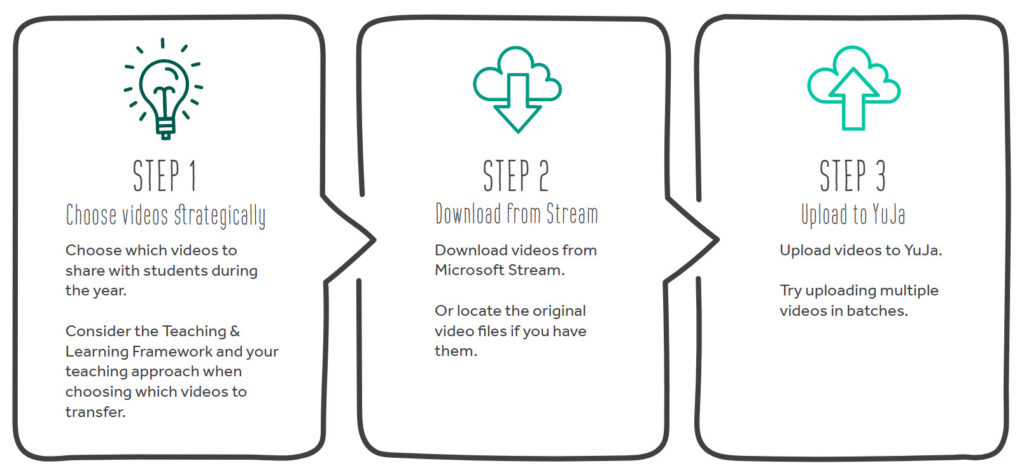 Step 1  – Choose videos strategically
The Teaching and Learning Framework for 2022-24

sets out a return to mainly face-to-face teaching. This means you may not need to transfer all of your videos from Stream.

 

With the Framework in mind, consider which videos you need to bring over to YuJa to share with students in 2022/23 as useful resources to support and enhance in-person teaching. 

For

information on the kind of content you

might carry over, please

see our artic

le Reusing Video Content in 2022/23.

If you are teaching in one of

the Learning Capture-enabled teaching spaces

, from 2022/23 you can record your live face-to-face sessions for your students. 

 

Note: Last year's live recordings, such as demonstrations or sections of lecturer presentation, must not be shared with next year's students.

 

Step 2 – Download from Stream
Download your chosen videos from Microsoft Stream

.
If you already have local copies of the original videos files (e.g. converted from PowerPoint or mp4 files), you can upload these straight to YuJa.

 

TIP! You don't have to download your videos all at once.

Your videos in Stream will not be deleted

, so you can transfer them when it's best for you. 

 

TIP! Consider using

adaptive release

 to make content available progressively through Blackboard. This will give you time to manage your videos, on a week-by-week basis, for example.

 

Step 3 – Upload to YuJa
Upload the videos to YuJa. For step-by-step guidance, please see the TEL article on

Uploading to YuJa

.

 

You'll be able to share your videos with your 2022/23 modules after Blackboard rollover. TEL's guidance on

Making videos available with YuJa

explains how to publish content so your students can view it.  

 

TIP! If you have a number of short videos (under 15 mins), consider uploading them to YuJa in batches. With a good internet connection, you can upload two or three short videos at once. Always keep the browser tab open during the upload process!