Welcome to Evaluation and Impact at Reading: For Teaching,  Learning and the Student Experience.
This site is dedicated to helping staff become more systematic in their approaches towards evaluation, which in turn, enables impact to be meaningfully demonstrated. 
To skip forward to further help evaluating, click here.
Evaluation for Impact Cycle
E&I Framework Overview
The following diagram represents the Evaluation and Impact Framework for T&L in visual form. It sets out each of the components which make up the Evaluation and Impact Framework. The Framework has been built around the idea that it should be, flexible, accessible and easy to with engage with. Therefore a layered approach has been adopted whereby detail progresses as users move through the Framework. At the top levels content is accessible to all colleagues whether new or experienced to evaluation.
The Framework begins with the 'Evaluation for Impact Cycle'. This resource serves as a conversation starter about evaluation practice, and helps users understand the essential stages of evaluation. It also reinforces the idea that evaluation should be designed into activities/initiatives from the outset.
The 'Why Evaluate' and 'Principles of Evaluation' remind users how evaluation helps enhance practice and help users to consider the important principles which underpin how they should evaluate.
The 'Impact by Design Steps' is a practical resource which helps users answer key questions before beginning an initiative or activity so that evaluation is embedded as part of its design. It also helps users reflect after they have completed an initiative and consider ways to disseminate the findings. It is supported by the getting started with the steps template which gives further prompts to consider and space for you to write down your thoughts/plans.
Within the Resource Bank, there is a suite of resources aimed to help both new and experienced colleagues design evaluation successfully or enhance their evaluation practice. This includes guidance forming objectives, information on evaluation methods and guides for where to find data amongst a number of other resources.
The Framework has been developed in conjunction with Student Services to ensure it's components are suitable beyond teaching and learning areas.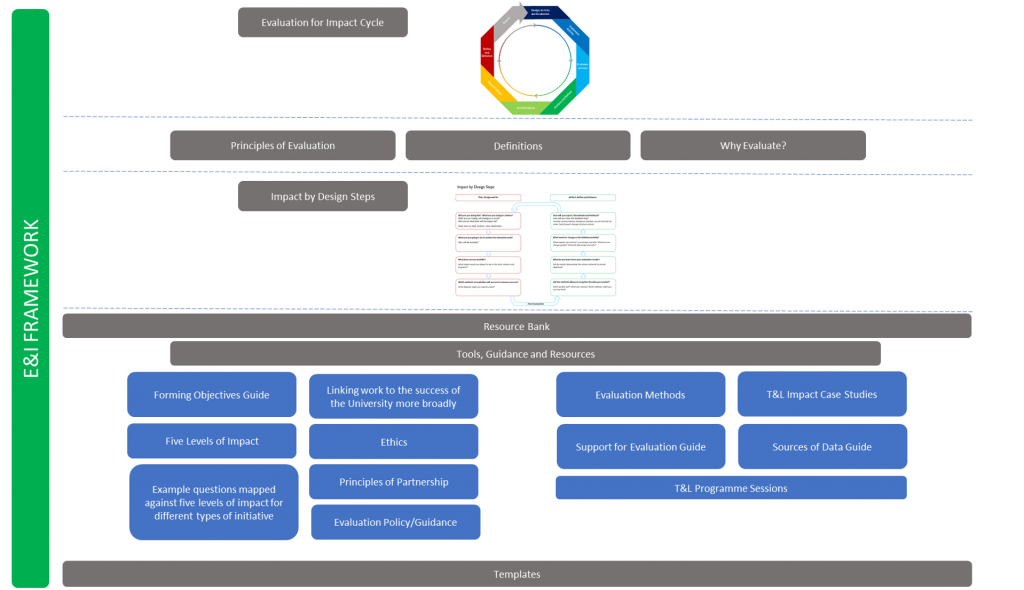 The Evaluation for Impact Cycle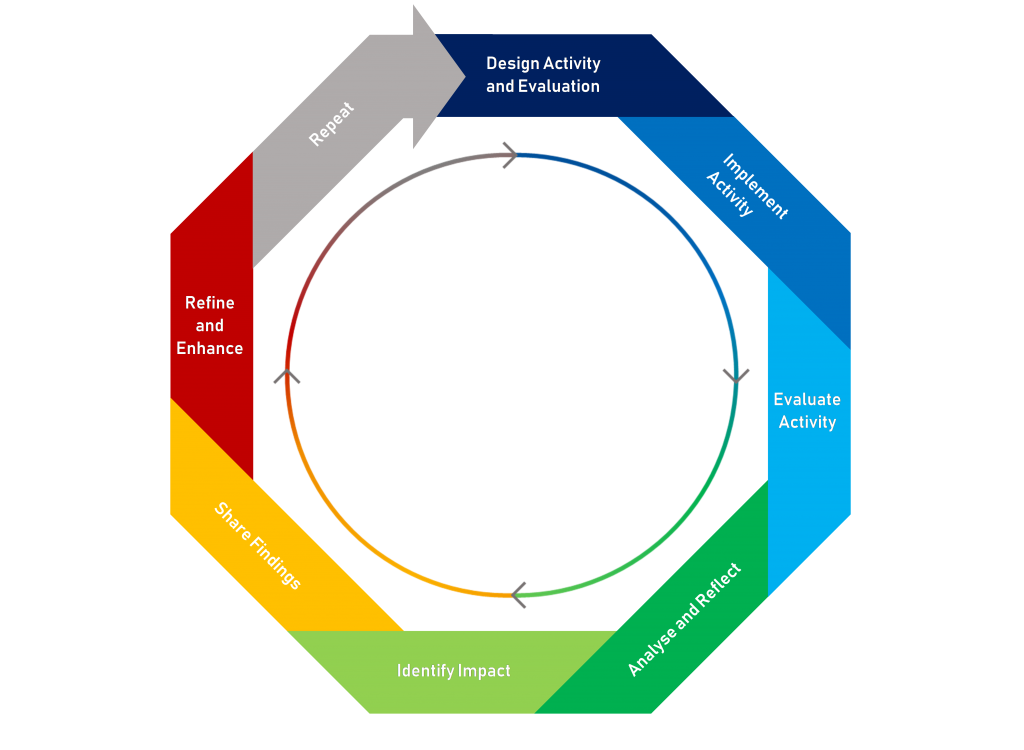 To download a printable version of the diagram above, please click here.
Principles of Evaluation
When thinking of evaluation or before beginning an evaluative exercise it is useful to have the following principles, which have been adapted from AdvanceHE, in mind.
Purposeful-       

Seeking to achieve clear aims.

Objective-

          Engaging with what your evidence shows rather than what you would like it to show.

Transparent-

     Providing clarity about what you have done and how you have done it.

Credible-

             Undertaking your evaluation in a way that all stakeholders can see is principled and appropriate.

Useful-

                  Ensuring you use your results to develop understanding, inform decision making and shape practice.

Inclusive-

             Ensuring you recognise the different experiences of, and impacts on, diverse groups.

Ethical-

                  Ensuring your evaluation is conducted to high moral, ethical and legal standards.
We have also added the principle of being Impact focused.
This means at Reading, we embed evaluation into the design stage of activities. This enables us to create clear objectives which are connected to success indicators, track impact systematically and confidently communicate our impact.
Definitions
At Reading, we define Evaluation and Impact as:
Evaluation:
 "A process of reflection on what has been done against predefined objectives. An opportunity to consider impact and to rethink how things can be done in the future. An assessment of the effectiveness and impact as a result of an activity." (Amended from the HEA now AdvanceHE)
 Impact:
 "An effect of an initiative, or intervention, whether it be positive or negative, direct or indirect, intended or unintended, on an outcome." (Gabarino and Holland, 2009)
Why Evaluate?
It is important to evaluate the impact of our teaching, learning and student support activities consistently and systemically in order to:
identify, share and build on good practice across the institution
use resources effectively to maximise the benefit for both students and staff
confidently report the impact of our work to key stakeholders and within quality assurance and enhancement processes
At Reading, evaluation provides us with an opportunity to reflect on what's working well and identify what we need to improve across our activities. Successful evaluation supports us in improving our teaching and enhancing our students' learning experience.
---
Explore the areas below for further help with evaluation: