When are my marks and feedback made available?
Your marks and feedback only becomes available on a set date and time – referred to in Turnitin as the Post Date. For assignments, this is usually 15 working days after the submission deadline.
Remember: All grades provided to you in Blackboard are provisional and have not been ratified. This means that they can be subject to change.
How can I access my marks and feedback?

This guide shows the different ways that you can use to access your marks and feedback within Blackboard.
We recommend using either the My Marks and Feedback link on the course menu, or clicking on the View / Complete link where you originally submitted your assignment.
Remember: Even if you have submitted your work using a Turnitin assignment submission point, your mark and / or feedback may not be returned to you using Turnitin. If in doubt, please check with your lecturer.
On the next screen, click on the "My Paper" icon to open the submission

Some Turnitin assignments may be marked online by your tutor but feedback is provided separately as an attached file . This can only be accessed by going to My Marks, click the assignment title to open the Review Assignment page. Look under Feedback From Instructor to find an attached file.
If you receive this error: Error 124: Object ID missing or invalid go directly to the Turnitin Assignment and click on View/Complete (as you did when you submitted your work). 
Please also get in touch with your Support Centre. This error means that Turnitin has not passed the grades back to Blackboard yet. The Programme administrators can manually initiate this process.
How to view my feedback and use the Feedback Studio in Turnitin
Can't see your feedback? Remember to click on the Instructor Feedback Layer button to make your feedback appear. Click the Feedback Summary button (looks like a speech bubble) to open the feedback panel to reveal any general comments. They are highlighted in blue when selected.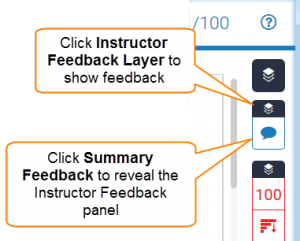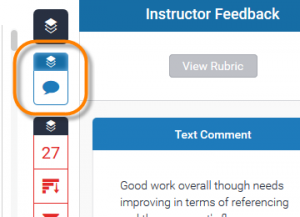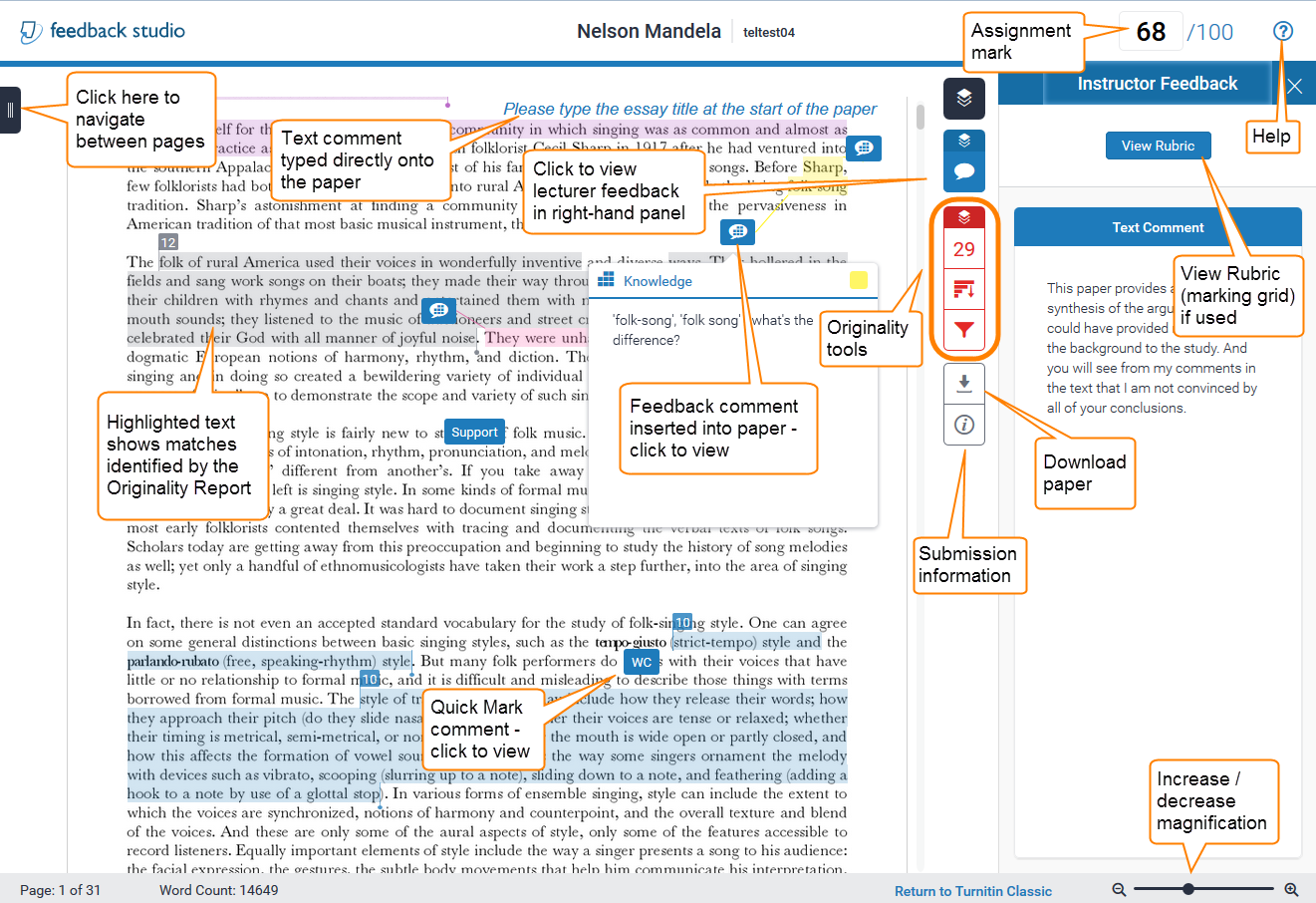 Instructor Feedback
1. Click on the speech bubble icon in the right-hand menu to open the 'Instructor Feedback' panel.
If a Rubric or Grading Form was used to provide feedback on your work, click on the View Rubric button.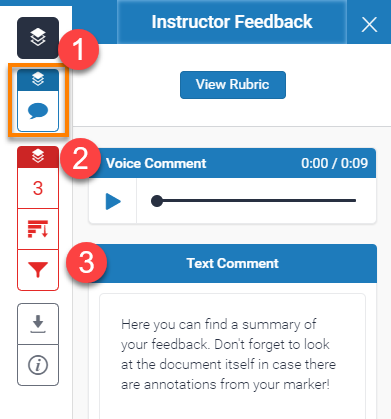 2. If a Voice Comment has been left, click the Play button to listen to audio feedback from your lecturer.
3. The Text Comment area provides a space for a summary on your assignment as a whole.
Rubric
The Rubric scorecard shows the assessment criteria used to mark your assignment. You can use this to see how you were marked on each of the criteria used.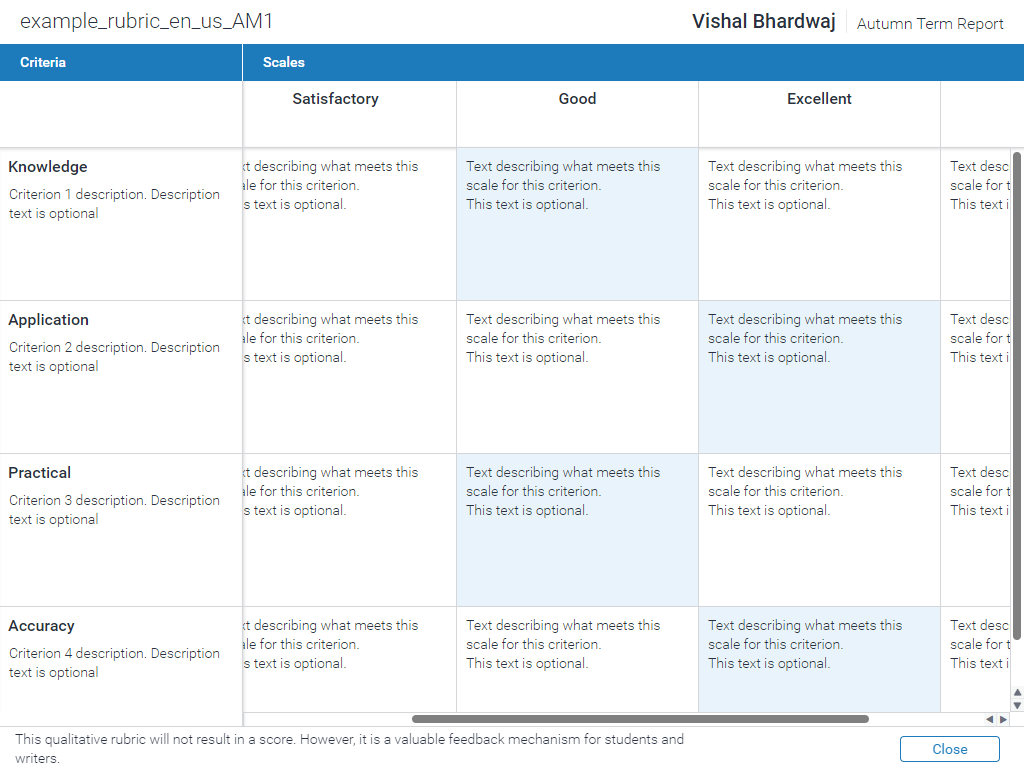 Comments inserted in the text of your paper may be linked to one of the Rubric criteria.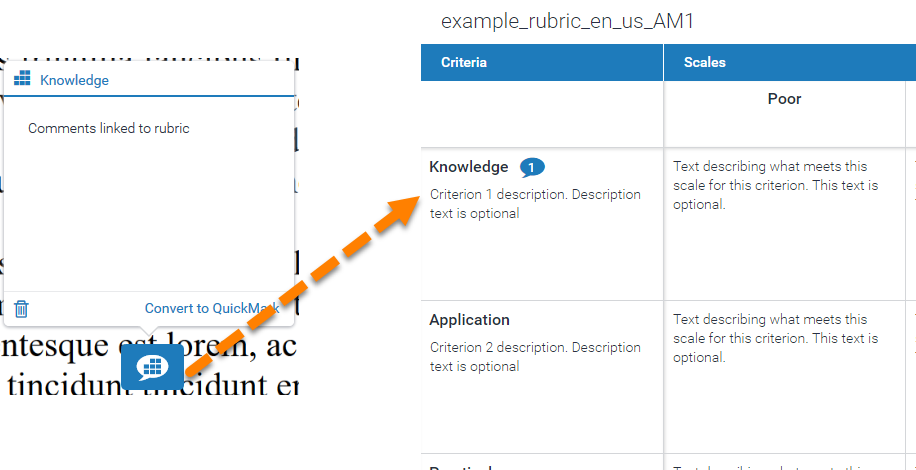 Download your marked paper
You can download a copy of your marked paper to keep on your computer or print out along with any feedback and comments made.
Make sure you have enabled the Grading and Similarity Layers – meaning you can see the similarity report and QuickMarks on the paper in the window.
Click on the Download button on the toolbar.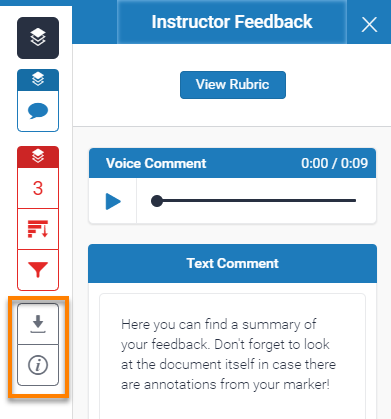 Click on Current View from the menu that appears.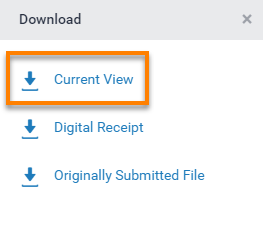 A PDF copy of your assignment – with feedback comments – will be downloaded to your computer. When viewing the PDF, feedback is listed at the end of the document.
If you want to download a copy of the work you submitted – without any marks or feedback – choose 'Originally Submitted File'.