Having uploaded a video to Stream, you control who can view it. Normally you will share your video with specific people – your lecturers, or fellow students.
Sharing with specific individuals
Go to My Content > Videos, then select Update video details.

Under Permissions choose People from the drop-down list.
Start typing a name into the box, then press the Search icon (magnifying glass).
Select the correct person from the search results.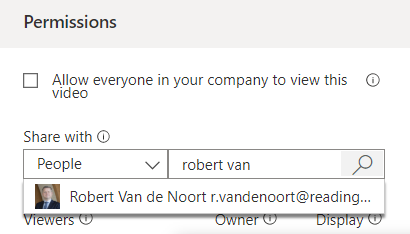 You can continue to search for other people with whom to share the video, and add them all at the same time.
When done, press Save.
Do not tick the box next to 'Allow everyone in your organization to see this video' – that will make your video visible to literally everyone at the University.
You may find following guides useful: