This article relates to Blackboard Assignments. See separate instructions for sending reminders for Turnitin assignments.
You can send email reminders to any students who have not yet submitted to a particular assignment.
Reminders can be sent even when you cannot see the students' names, because the assignment is set for anonymous marking.
 1. Access the Full Grade Centre from the Course Menu Control Panel.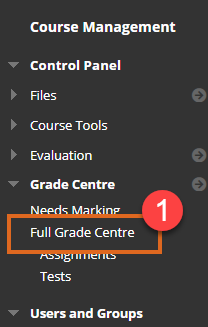 2. Open the Context Menu for the Assignment you want to send a reminder for.
3. Click Send Reminder.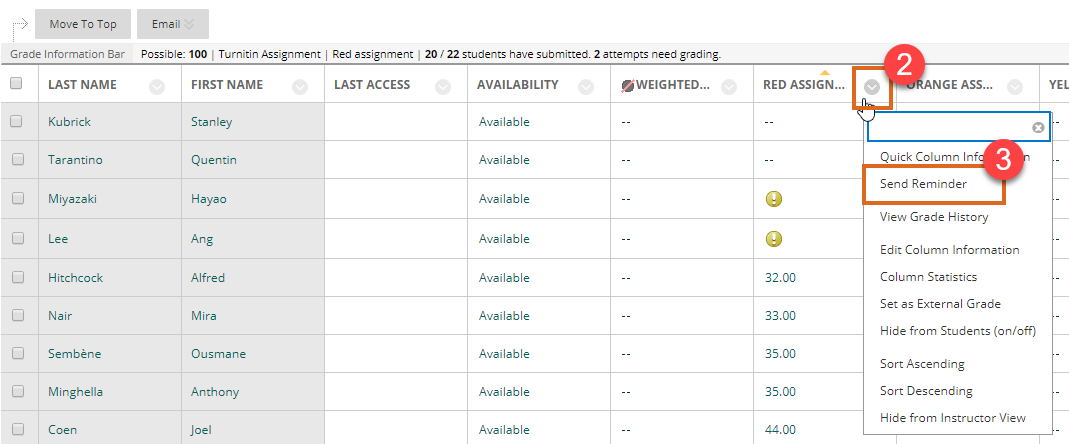 4. Click OK when prompted if you want to send a reminder

5.  A green confirmation message appears at the top of the screen to let you know the reminder has been sent successfully.

6. The email will be sent with the title 'Subject <course name>: Reminder to complete coursework', and will display the following text:
Dear Student

If you have an agreed extension for this assessment, or you are not formally assessed on this module, please ignore this email.

You have not yet made a submission for this assignment.

Title: Informatics Assignment
Course: Development area for Andy Turner (Administrator)
Course ID: adminart_DEV
Due date: 05-Apr-2015

If you receive this email before the deadline please submit your assessment as soon as possible.
If you receive this email after the deadline you are still able to submit your work but a late penalty will apply.

You are advised to submit work in an unfinished state, rather than fail to submit any work. This includes if you are awaiting the outcome of an extenuating circumstance request (the submission will then be withdrawn if your extenuating circumstances request is approved).

Please do not reply to this email.

Getting help
If you have any queries about your assessment submission please contact your Support Centre as soon as possible.

If you're a Henley Business School student, please contact your programme administrators in the Admin Decks in the HBS or ICMA buildings.

Late Penalties
If your assignment is submitted late a penalty will be applied to your work. Please view the University policy below:

Penalties for late submission for Postgraduate Flexible programmes (except REP)

Apply for an Extension

If you have encountered problems that are outside your control which have meant that you have been unable to submit your work, I encourage you to submit an extenuating circumstances request.

Students must normally submit any extenuating circumstances request before the deadline for submission of the coursework; late extenuating circumstances requests will be considered only if there is a valid, evidenced reason (hospitalisation, incarceration or equivalent physical or mental incapacity).

Further information about the process can be found on the Essentials website.
Y

ou are not able to customise the text of the email reminder – reminders will always contain the standard text as shown above.