Viewing the Assignment
The Assignment will appear in the browser window.  If an unsupported file format is uploaded, you will be prompted to download it locally to your machine.

Click on Assignment details to expand the details of the Assignment as necessary.
Click on the icon to collapse the grading panel/expand the Assignment across the screenClick on the icon to further enlarge the viewer within the screen.
At the bottom of the page, you will find the navigation bar:

3. Zoom in and out
4.Navigate between pages
5.Enter full screen (hides the toolbar at the top of the page)
Using the Inline Grading tools to annotate the Assignment
During week beginning 10th August 2020, Blackboard will introduce a new improved marking interface, Blackboard Annotate.

Check out our blog post: 

Blackboard Annotate Quick Start FAQs
The Assignment can be annotated directly within the viewer using the tools provided:

Free Drawing Tool
Floating Comment Tool
Highlight selected Text
Highlight and add comment to selected Text
Print Paper (no annotations)
Download Paper (no annotations)

 1a. Click and drag the pointer on the paper to draw a line.
When finished click Save to place drawing or Delete to remove it.
After you click Done, you can always hover on each drawing to delete it later.
1b. You can use Undo and Redo controls to go forward and back.
1c. When you're finished press Done.
Please be aware that before you click Done all drawings you make are considered one whole picture. This means that if you click Delete, everything drawn will be removed.

To avoid this, when you are finished with one drawing, click Done before starting a new one.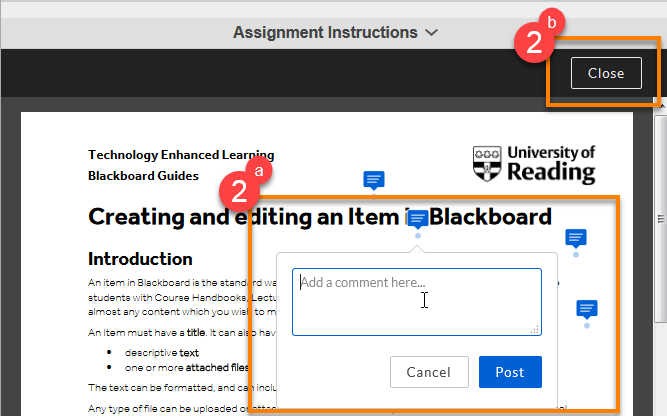 2a.  In Comment Mode, click anywhere on the paper, type a comment and click Post to finish. You can keep clicking and adding comments in this mode until you are finished.
2b.   When you're done, click on Close
2c.  When posted you can add a reply to your comment to add to it
2d.   Hover over a posted comment and click the Delete Icon in the top right to remove it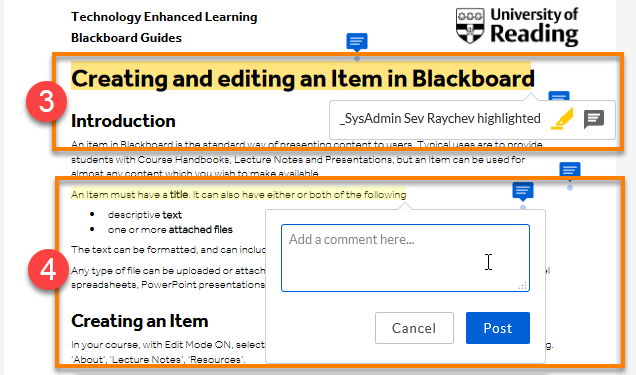 3.  Select text and use the Pen icon to highlight it.
You can Always add a comment to a highlighted piece of text later on by hovering over it
4.   Select Text and choose the comment too to highlight it and then add a comment to it.
Type your comment and press Post