Viewing the Assignment
The Assignment will appear in the browser window.  If an unsupported file format is uploaded, you will be prompted to download it locally to your machine.
Click on Assignment details to expand the details of the Assignment as necessary.
Click on the  icon to collapse the grading panel/expand the Assignment across the screenClick on the icon to further enlarge the viewer within the screen.

At the bottom of the page, you will find the navigation bar: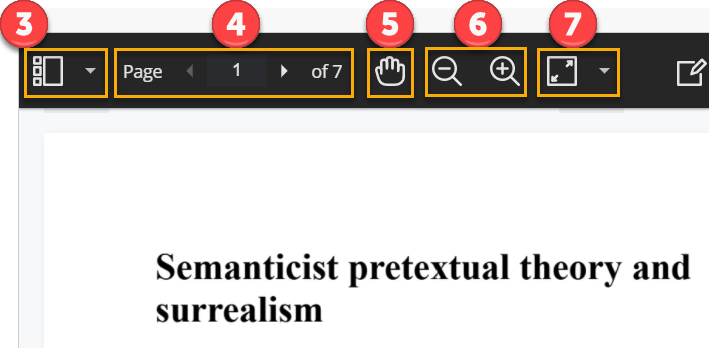 3. Page & outline thumbnail view
4. Navigate between pages
5. Click and grab to move page view
6. Zoom in & out of page
7. Make assignment fill the screen
Using the Inline Grading tools to annotate the Assignment
Blackboard Assignments have now been migrated to a new improved marking interface, Blackboard Annotate.
Check out our blog post: Blackboard Annotate Quick Start FAQs
and our support article for Blackboard Annotate.
---
Page last updated on October 27, 2020 by danielbarker
---