A quick guide to the Blackboard Instructor app for staff
What is the Blackboard Instructor app?
You can access Blackboard Instructor on your mobile device by downloading a free app.
The mobile app is designed to complement your use of Blackboard on a desktop computer or laptop.
For example you can
Preview course content on the go, such as assignments and tests.
Participate in discussions.
Send announcements.
Interact with your class in Blackboard Collaborate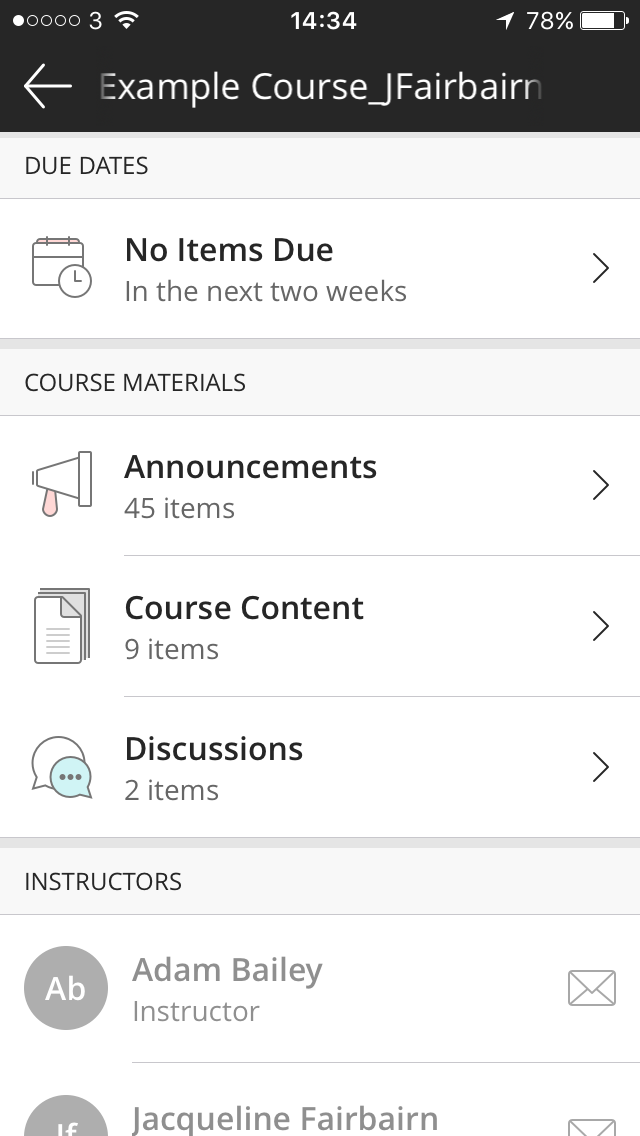 How do I get the app?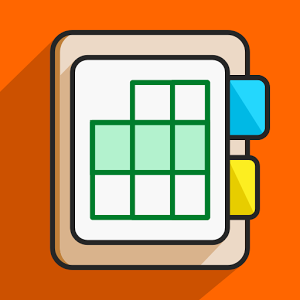 The app is available for Android, and Apple smartphones and tablets.
To download and log in to the app:
1.    Search for "Blackboard" in your device's App Store:
Android Play Store
https://play.google.com/store/apps/details?id=com.blackboard.android.bbinstructor&hl=en
Apple App Store
https://itunes.apple.com/gb/app/blackboard-instructor/id1088457824?mt=8
Microsoft Store
https://www.microsoft.com/en-gb/store/p/blackboard-instructor/9n0p65p3g4fv
2.    Click to install the app.
3.    When opening the app for the first time, tap on Search for your School, type in 'Reading' and select University of Reading from the results.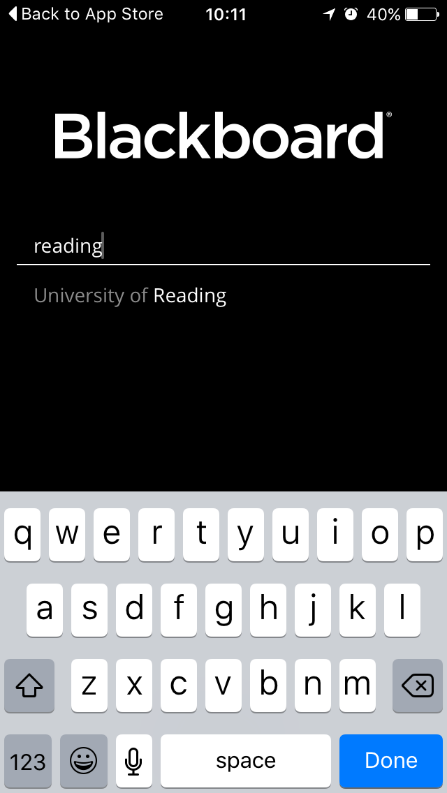 From August 2020, when you sign in to the Instructor app you will need to click on the Web Login button.



You will then be taken to the University's Microsoft sign in page inside the app.
Using the App
Viewing Courses
When you have logged in, you will automatically see all of your Courses listed by title. You will be prompted to hide courses you do not wish to see.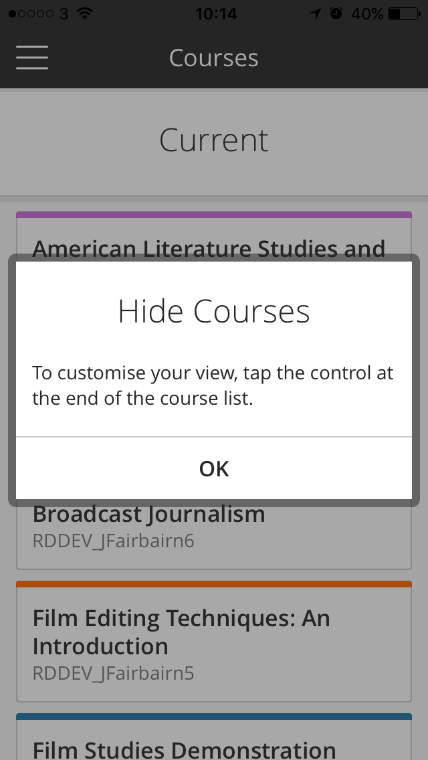 Simply scroll to the bottom of the page, and tap 'No Hidden Courses'. You will now be able to select courses you wish to hide from view.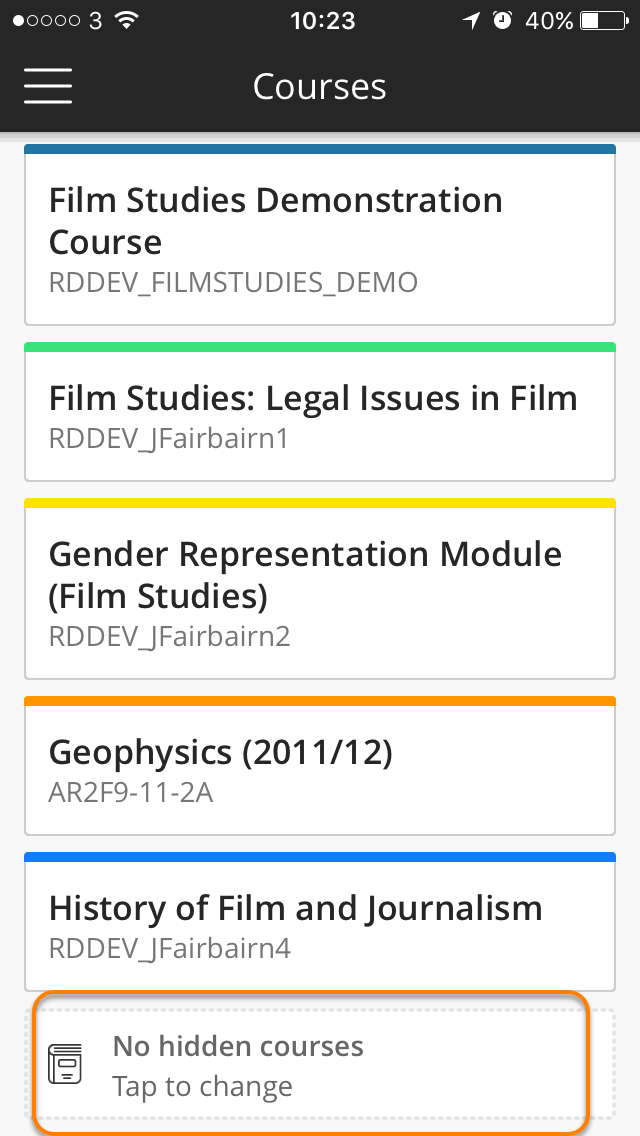 You may need to scroll up to see all of your courses. Just tap on a title to hide that course, it will grey out and allow you to Cancel or Save.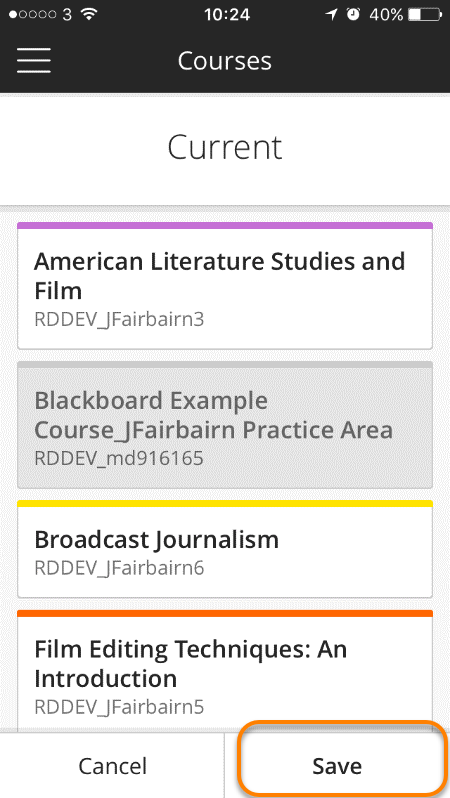 In the Courses section of the app, courses are listed by title. Just tap on a title to open that course.
Course Overview
Inside the course you'll see a concise overview of the app's functionality. The Course Overview provides quick access to:
·         Due Dates
·         Announcements
·         Course Content
·         Discussions
Below this you will see a list of instructors enrolled on your course. You can send an email to them by tapping on an instructor's name.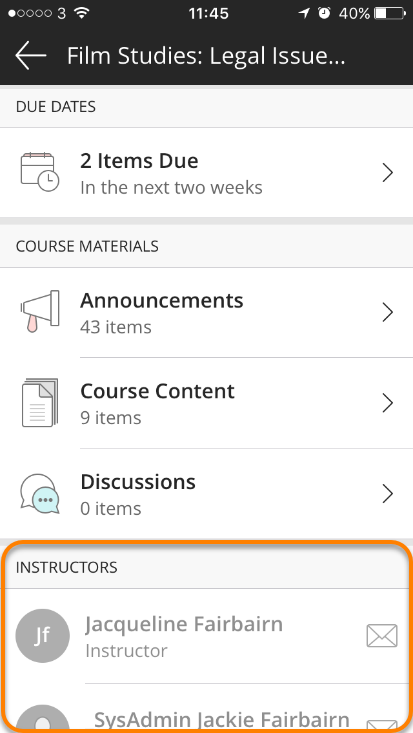 Due Dates – Blackboard Assignments
You will be able to see a list of all Blackboard Assignments and tests in the app, and students can submit to any assignments on your course that use the Blackboard Assignment and test tools.

Please note that Turnitin assignments cannot be accessed via the Blackboard app, and are not displayed in Due Dates. See Course Content section of this guide for further Turnitin details.

To preview the upcoming assignments (due in the next 14 days) tap 'Items Due'.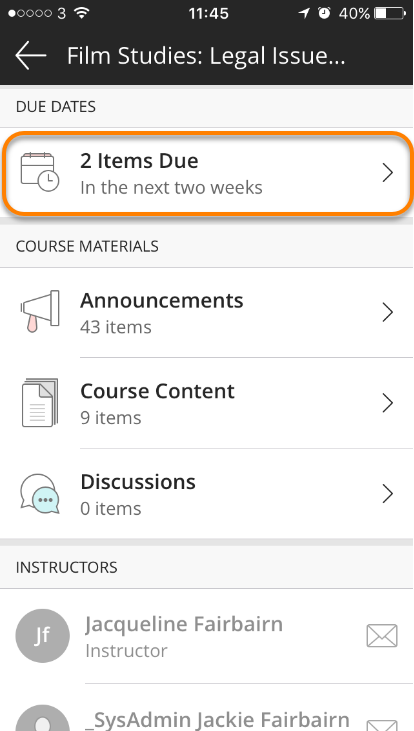 The app will display a list of the due Blackboard Assignments, Simply tap to preview the assignment details.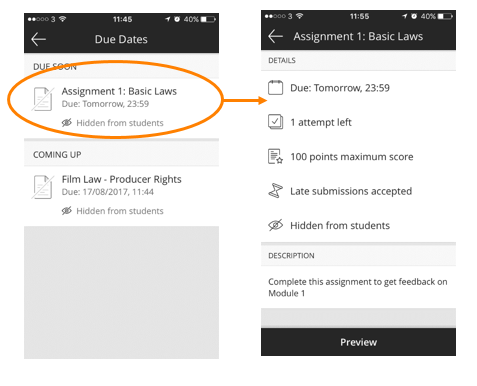 You can Preview assignment details, to see your student's view of the assignment instructions.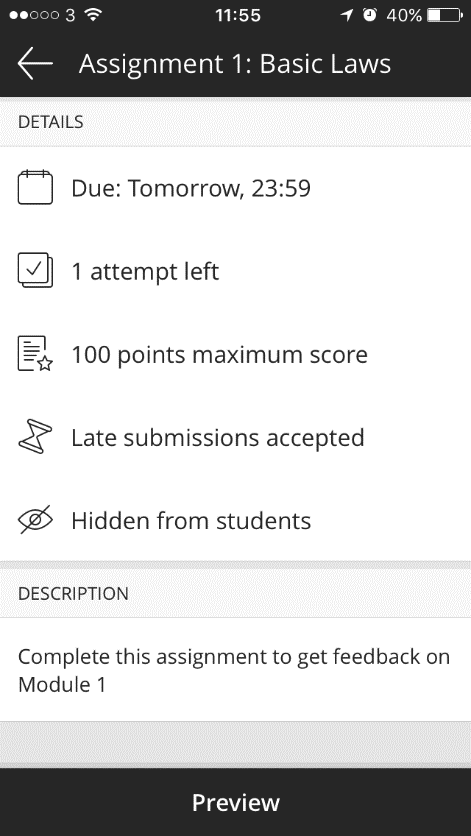 This allows you to see what students experience when they complete a test or assignment in the student app. All of the assessment details are available to view, such as due dates, attempts, points possible, and instructions.
Tests and assignments indicate if they are hidden from students or not available to students. You can preview hidden or unavailable assessments in Blackboard Instructor, but students don't see this content in the student app.

Some test features aren't available in the mobile app. We suggest you preview a test in Blackboard instructor before you recommend that students take it in the Blackboard app for students.

Announcements
You can quickly create course announcements to keep your students on track.
Students see announcements in the Activity Stream in the Blackboard Student app.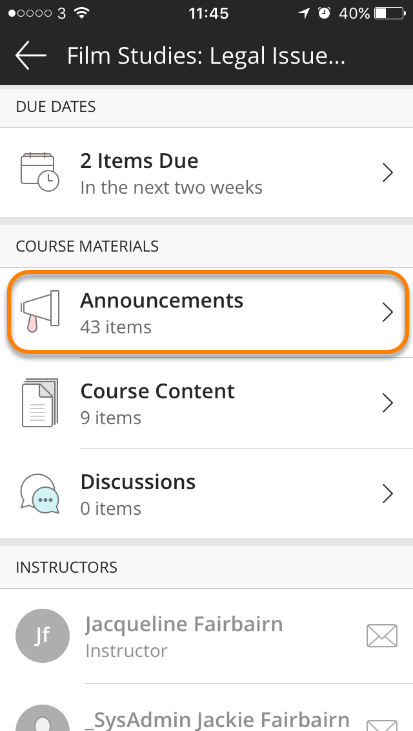 To quickly create a new announcement, tap on the 'Create' button at the bottom of the feed.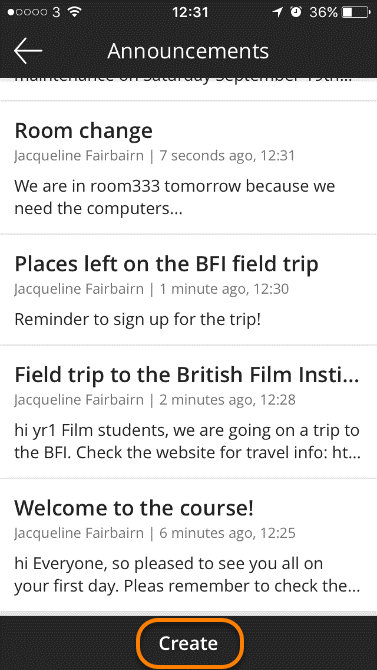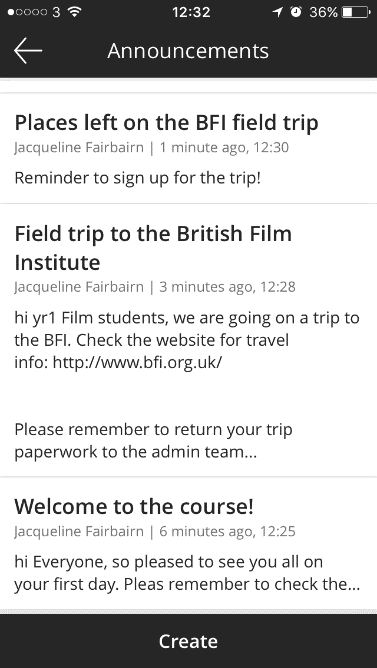 The most recent announcement will appear at the top of the feed,
To view details of an announcement, tap on a title to expand. You can view previously sent announcements including sender, date, and message.
Using voice recording
When recording an Announcement, or any other text, look out for the Dictaphone button in your keyboard.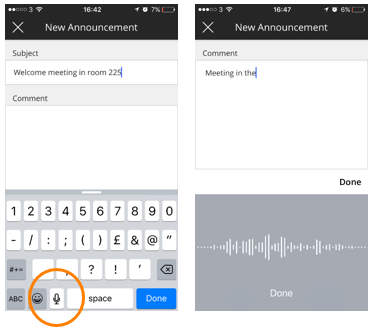 Course Content
Within the app, you can view the folders, documents, assessments, and other items you previously added.
To create these items, you must do so in Original Website View of the course, by logging into Blackboard Learn on a laptop or desktop computer.
It is good practice to preview items in the app, to be sure they appear as you intend on mobile devices.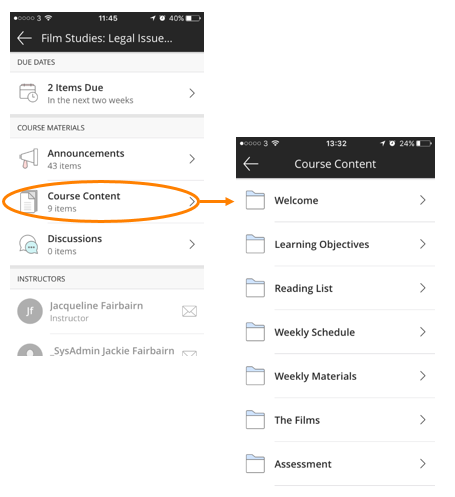 Students can view all course content and are able to complete assessments in the Blackboard app for students.
 
Some tools in Course Content aren't available natively in the app. When you tap a link to one of these tools, you're directed to the original website view of the course.

Course tools and content which cannot be viewed in the app
Some Blackboard course tools cannot be viewed directly within the app, but instead will open the course within a browser. These include
·        Blogs, Journals and Wikis
·        Contacts
·        Turnitin assignments – these cannot be accessed via the Blackboard app
There are some types of course content which do not display as well in the mobile app as they do on a laptop or desktop computer or behave differently on different devices and/or depending on other apps you have installed on your device (e.g. Microsoft Office files).
However, PDFs, MP3 (Audio) and MP4 (Video) files embedded within a course should be accessible on any device.
Discussions
Discussions are accessed from the Course Overview in the app,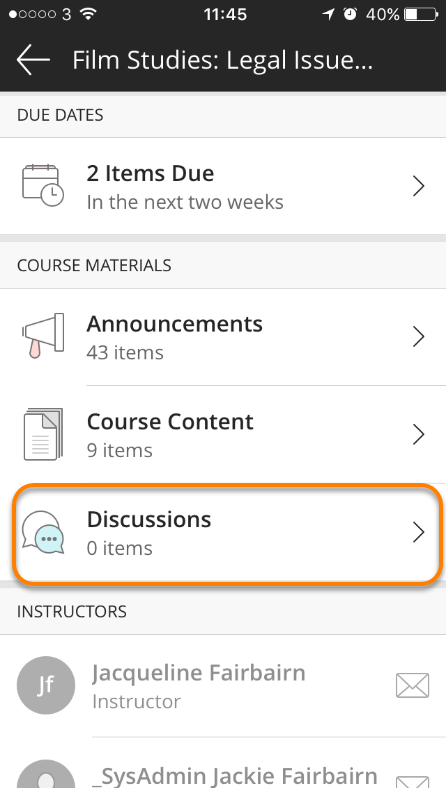 You will see existing forums created in the Original Website View of your course, tap on a Forum to view the thread.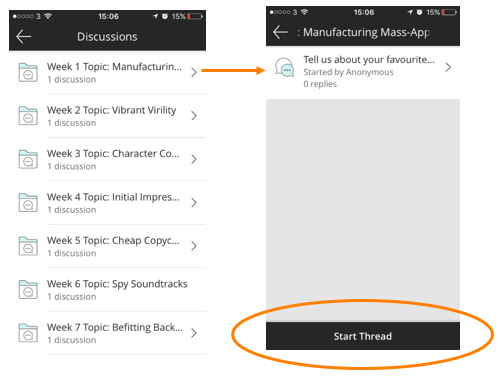 You can start a new thread in a Forum, by tapping the 'Start Thread' button.

Compatible features - such as post first, rubrics, graded forums, and graded threads are compatible with the app.


Forums for Discussions - these cannot be created in the app. To create a Forum for a Discussion, you must do so in Original Website View of the course, by logging into Blackboard on a laptop or desktop computer.
 
Attachments - You can't add discussion attachments from the app. Please access the web browser view of your course to add attachments. If you want a discussion attachment to be viewed in the app, add it with the Attach File function outside of the editor. Attachments that are added in-line with text are not linked in the mobile app at this time.