What is a course role?
Each user is assigned a role for each course they participate in. For example, a user with a role of 'Teaching Assistant' in one course can have a role of 'Instructor' in another course.
The role a person is given will affect what tools they can access and actions they can carry out in a course. It is important to allocate the most suitable role for a member of staff, based on what they need to be able to see and do in a course.
Roles are course specific. A person can only have one role per course but they can have a different role in each course they are enrolled on.
The course role is set when a user is enrolled. After enrolment, you can change a user's role from Control Panel > Users and Groups > Users.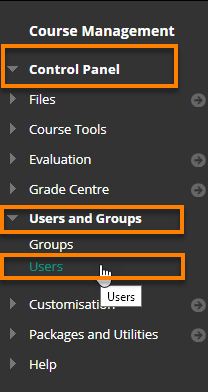 Choosing the right role
The following tables describe what each role can do, what access they have to the tools within a course and who would typically be given a particular role.
They are designed to help you select the appropriate level of access you require or want to give to a person on a course.
Role
Who should have this role?
What can you do?
Instructor
Module Convenor

or

Lead Tutor/s teaching on the module

Course availability

Turn on/off course availability

Control Panel

Access to all of the available options

Content

Post announcements
Send email
Add, edit and delete all content, tools and assessments

Enrolments and Groups

Create groups and add members to a group
Enrol others on the course
Change the role of other users in the course

Assessment

Set up and edit assignments
Mark online
Manage and edit Grade Centre
Reconcile grades when delegated marking is used (this is the only role that can do this)

Monitoring

Produce usage & access reports on student activity

Note: Members of staff with the role of Instructor will be listed with the information shown about a course within Blackboard (e.g. on the 'Courses' tab on the 'Enrolment' page, and in the results of a 'Course Search')

Teaching Assistant
Staff involved in teaching aspects of the module or providing administrative support
Course availability

Turn on/off course availability

Control Panel

Access all of the available options

Content

Post announcements
Send email
Add, edit and delete all content, tools and assessments

Enrolments and Groups

Create groups and add members to a group
Enrol others on the course
Change the role of other users in the course (except Instructors)

Assessment

Set up and edit assignments
Mark online
Manage and edit Grade Centre

Monitoring

Produce usage & access reports on student activity

Note: This role has the same permissions as the Instructor role but is used to distinguish between lead staff and those supporting the course

Marker
Staff marking assessments that do not teach the module
Course availability

Cannot change course availability
Cannot enter a course if it has been set as unavailable

Control Panel

Access to Grade Centre
View only access to Course Tools (but can access Turnitin Assignments and Tests, Surveys and Pools from this section for marking purposes)

Content

Can view but not edit content (including access to unavailable content)
Can use tools as a student would (e.g. email, blogs, discussion boards, wikis)

Enrolments and Groups

No access to Users & Groups in the Control Panel
Cannot set up groups or add members
No access to enrol others on the course
No access to change role of users in a course

Assessment

Mark online
Manage and edit Grade Centre

Monitoring

Produce usage & access reports on student activity

Course Builder
Staff who need access to upload content to a module but are not involved in marking or teaching the module
Course availability

Turn on/off course availability

Control Panel

Access to:

Files
Course Tools (except Turnitin Assignments)
Users & Groups
Customisation

No access to Grade Centre and Evaluation

Content

Add, edit and delete all content, tools and assessments (including Turnitin)
Send email
Post announcements

Enrolments and Groups

Create groups and add members to a group
Enrol students on the course

Assessment

Set up and edit assignment settings in a content area only

External Examiner
External Examiners
Course availability

Cannot change course availability
Can enter a course if it has been set as unavailable

Control Panel

Access to Grade Centre and Evaluation
View only access to Course Tools (but can access Turnitin Assignments)

Content

Can view but not edit content (including access to unavailable content)

Enrolments and Groups

Assessment

View marks and feedback
Manage and edit Grade Centre

Monitoring

Produce usage & access reports on student activity

Periodic Reviewer
Internal and external staff involved in Periodic Review
Course availability

Cannot change course availability
Can enter a course if it has been set as unavailable

Control Panel

Access to Grade Centre and Evaluation
View only access to Course Tools (but can access Turnitin Assignments)

Content

Can view but not edit content (including access to unavailable content)

Enrolments and Groups

Assessment

View marks and feedback
Manage and edit Grade Centre

Monitoring

Produce usage & access reports on student activity

Mentor
Staff acting as a mentor – principally designed for use with the Academic Practice Programme
Course availability

Cannot access an unavailable course

Control Panel

No access to Control Panel

Content

Cannot view unavailable content areas
Cannot view unavailable content items
Cannot edit content
No access to Discussion forums
Limited access to tools such as Blogs and Wikis

Enrolments and Groups

Assessment

Sees only student view of assessments
No access to Grade Centre

Non-UoR Staff
Staff affiliated with the University at a partner institution (e.g. NUIST) who need limited access to course content
Control Panel

No access
Cannot enter a course if it has been set as unavailable

Content

Can view but not edit content (including access to unavailable content)
Use tools as a student would (e.g. email, blogs, discussion boards, wikis)

Note: No personal user information or grades are accessible to this role

Student
Students

(automatically assigned and enrolled)

Control Panel

No access
Cannot enter a course if it has been set as unavailable

Content

Can view but not edit content – only if content has been made available
Use tools (e.g. email, blogs, discussion boards, wikis)
Submit assignments
View released marks and feedback via 'My Grades' tool

Note: Do not give University staff this role to enable them to see a course area

Users given the role of student will be listed to take any assessments, and this can affect the statistics for the course

Guest
Limited use

Staff or students (not enrolled on the module) who need limited access to view specific content areas (e.g. lecture notes)

Note: Enrolling someone as a Guest on your course will not provide them with sufficient access to course materials. By default, content in a course area will not be available to guests. You also need to give the role access to specific content areas.

Control Panel

No access
Cannot enter a course if it has been set as unavailable

Content

View content that has been made available to guests on the course menu
No access to tools (e.g. assignments, tests, rubrics, My Grades, groups, email, blogs, discussion boards, wikis)
Role
What sections can the role access and use?
Files
Course Tools
Evaluation
Grade Centre
Users & Groups
Customisation
Packages & Utilities
Instructor
Yes
Yes
Yes
Yes
Yes
Yes
Yes
Teaching Assistant
Yes
Yes
Yes
Yes
Yes
Yes
Yes
Maker
Yes
View Only*
Yes
Yes
No Access
Not Visible
No Access
Course Builder
Yes
Yes**
No Access
Not Visible
Yes
Yes
Yes
External Examiner
No access
View Only***
Yes
Yes
No access
Not Visible
Not Visible
Periodic Reviewer
No access
View Only***
Yes
Yes
No access
Not Visible
Not Visible
Non-UoR Staff
No access
No access****
No access
No access
No access
No access
No access
Student
No access
No access****
No access
No access
No access
No access
No access
Guest
No access
No access
No access
No access
No access
No access
No access
*  Can assess Turnitin Assignments section to mark and build a test/survey (but not deploy it for students to take)
**  No access to Turnitin Assignments
***  Can access Turnitin Assignments from this section
****  Can participate and comment on blog, journal, discussion board and wiki deployed in content areas