| | |
| --- | --- |
| ✓ | Technically possible, supported but not recommended, due to the complexity of workarounds required. |
Updated June 2022 to incorporate Turnitin LTI changes.
Roles
First marker
Use the Paper ID to flag papers which you wish to be moderated.
Record details in Moderation Form.
Email the Moderation Form to the Internal Moderator.
Inform the Programme Admin team when first marking is complete.
Administrator – when all first marking complete
Hide the Turnitin submission point.

Remove anonymity on the assignment

Edit the Turnitin assignment, click on Submission point then open Settings. 
Bring the "Feedback Release Date" forward to today's date.
Make sure you set the post date in the future, by at least a few minutes. Setting the post date in the past can be problematic.
Student names will now be visible in the Turnitin Assignment Inbox.
Once the 'Post Date' has been brought forward, go to the Full Grade Centre and ensure that the column remains hidden from students. This will prevent students from accessing their grades and feedback in My Grades.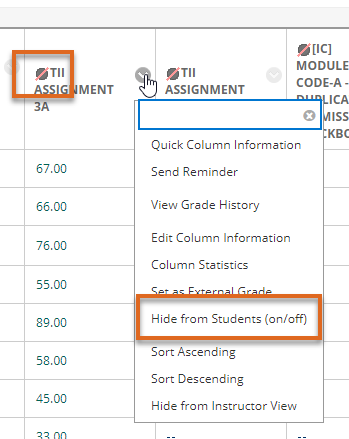 Moderator – once Anonymity has been lifted
To find specific papers flagged by the first marker

Sort by Paper ID
Use Ctrl+F to find the required Paper ID


N.B. Remember that you may need to look on more than one page in the Assignment Inbox to find all submissions - or you can change your settings so that all papers display on a single page.
To find papers on grade boundaries: sort the Turnitin Assignment Inbox by GRADE
Record details of moderated papers on the Moderation form.
If you wish to change marks awarded by the first marker

Email the Moderation Form to the first marker.
Follow your School's procedures to agree a final mark, and record this in the Moderation Form.

If marks need to be changed as a result of the moderation process, apply these changes directly in Turnitin:

Locate and open the relevant student attempts from the Assignment Inbox.
Edit the grade in the Feedback Studio.

Email the Moderation Form to the Programme Admin team.
Administrator – after 15 days
After 15 days, when the Post Date has been reached, check that the Grade Centre column for this assignment has been revealed to students.
Edit the moderation form – where paper IDs have been recorded, insert the relevant student names and numbers.
Use the Moderation form to create a Moderation Smart View, including all students' whose work was moderated.
Upload the Moderation Form to the Blackboard course and/or External Examiner Organisation.