If you see a black exclamation mark next to the title of an assignment in your Turnitin assignment inbox, there are three possible explanations.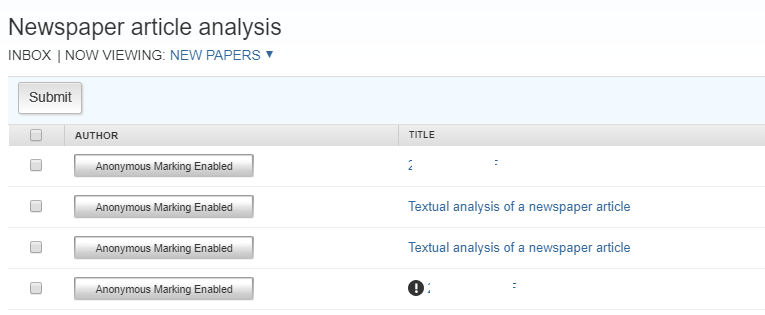 Hover your mouse cursor over the exclamation mark to see why it is appearing for a piece of work.
More than 15% of the text is in the bibliography


If you have chosen to exclude the Bibliography when generating a similarity report for an assignment, you may see this message. Turnitin's text recognition software discounts references and bibliographies by recognising headers using specific words and excluding all content after that word from its similarity report.
This error occurs if more than 15% of the paper is recognised as being bibliographic material. This can occur if there is an exceptionally short essay with a large amount of references, or if one of Turnitin's bibliography trigger-words appears as a heading at an earlier point in the essay than it should.
The service encountered an error when processing this paper


If Turnitin cannot properly process the original file, then this message will be generated. Clicking the exclamation mark next to the paper should attempt to reprocess the paper. If this does not work, please contact IT@reading.ac.uk. For academic staff, please contact your administrator in the first instance.
If this error occurs, the paper will open, but in a rich text format of Turnitin, this view of the paper is not incompatible for use with the feedback studio.
Turnitin has flagged this paper as having word usage patterns that sometimes interfere with normal match detection

If Turnitin cannot recognise the text in a submission, or can only recognise certain parts of the text, then this message will be generated. It can be an indication of an intentional attempt to avoid similarity checking, but also occurs when converting files to PDF using online converters, saving PDFs from Photoshop files with text boxes, or in other instances of file conversion.
---
Page last updated on February 22, 2019 by Sev Raychev
---