Introduction
You can share video content with your students via a Blackboard Course.
DTS create a Stream Group for every 2020/21 Blackboard course representing one or more modules (i.e. all courses ending 20-1MOD). This creates a course 'playlist' in Stream. Inside the Microsoft Stream content area of your course you will find
a link to the 'playlist'
videos from the 'playlist' embedded into the page.
Staff and students enrolled on the Blackboard course are added to the Stream Group each night, with the appropriate permissions, so all students on the course should be able to access these videos without difficulty.
Important:

If you have manually added staff or students to the Stream Group, please ensure that they are also enrolled on the Blackboard course. Otherwise these permissions will disappear when the Blackboard-Stream integration becomes fully operational (expected week beginning 14th September 2020).

If you have shared videos with specific individuals who are not in the Stream Group, those sharing permissions will be unaffected by this.
Inside Blackboard you will find a content area, created by DTS, with a link to the Module 'playlist'.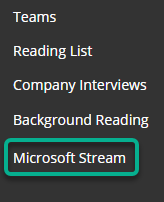 It is essential that the Microsoft Stream content area is not deleted or renamed. You can hide the content area (set it as unavailable) if you do not want students to access Stream content in this way.
To set permissions in Stream
In the Video Content area, Click Update video details

When in the video update area, go to the Permissions area and Select My groups from the Share with drop down menu.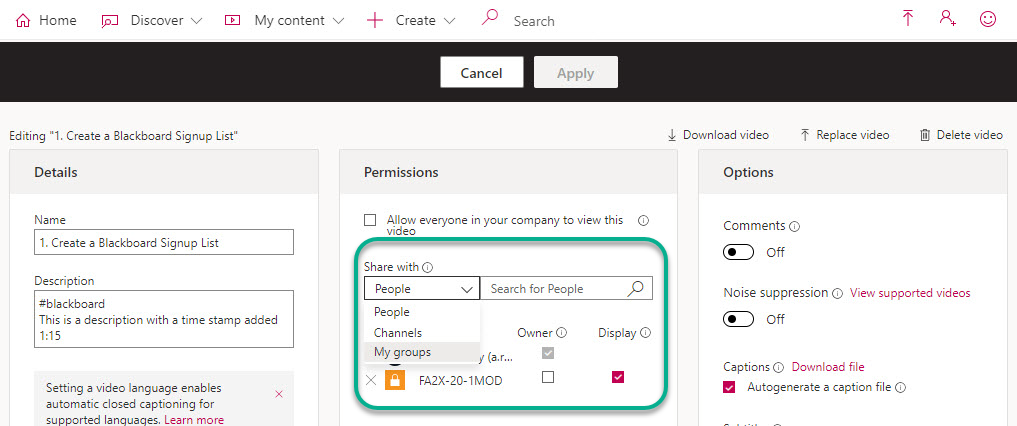 Start typing 'COURSE_' and then the module code and press Enter to return the results. Select the group which will show.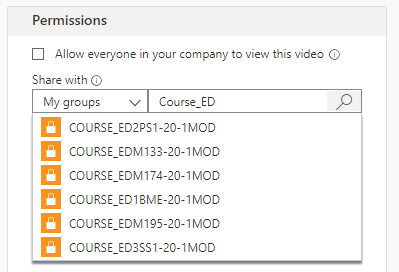 Check the Permissions are set to Display only, otherwise students on the course will have full access to the video editing.

Click Apply at the top of the screen.
You cannot manually edit the membership of Stream Groups created by the Blackboard integration. If you need other students or colleagues to be able to access the Stream Group, you will have to
* ensure that they are enrolled on the relevant Blackboard course
* or share specific videos with specific named individuals.